BOLOGNESE News Roundup 10/07/2019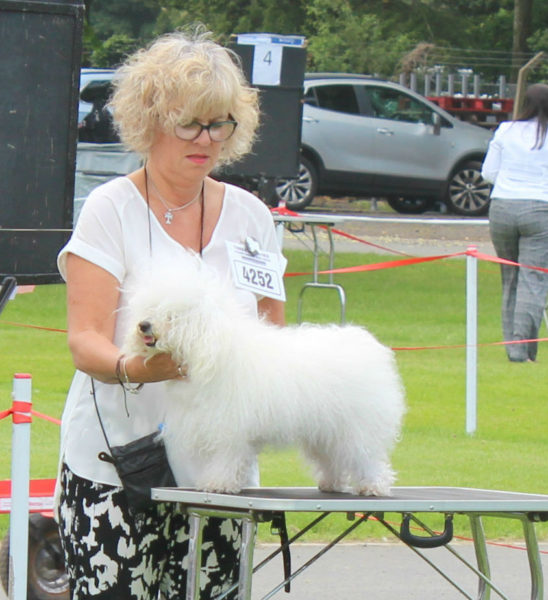 In this report, you will find news on Bath, Three Counties, Border Union, Blackpool, Windsor & East of England Championship shows where we had classes for Bolognese as well as Southern Counties for the AVNSC classes. UK Bolognese have also been picking up awards in Ireland, Hungary and Austria!
Entries have been down at a good few championships shows, even at those that are usually much better attended. We have had a core number of exhibitors attending shows, but with a few dropping out this has really made a difference to numbers. Low registrations of litters, low numbers at shows and a shortage of Breed Specialist Judges coming through the ranks is surely contributing to our breed remaining a Rare Breed in the UK.
The British Bolognese Club will be holding an OPEN SHOW to be held in conjunction with City of Birmingham Championship show on the 30th of August, their judge is Carl Sparrow and entries close 1st August.
BATH 27th June 2019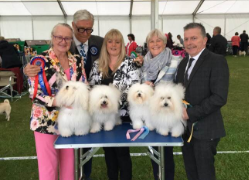 Our judge at Bath Sigurd Wilberg had judged the breed many times in Europe, but this was his first time in the UK. We started at 9am, which meant an early start for most of us, but the weather was good. BD/BOB Little White Wonder Othello Matteo, BB Clynymona Jo I'm Alone and BV Bolognese Star Donald At Havanese Stars were all owned, or co-owned by club member Virginia Dowty. Other members to win their classes at Bath were, Deana Mee & Hilary McArdell Blondechino Geminian (PD), Hilary McArdell Phendelle Photo Finish (JD), Deana Mee & Hilary McArdell Little White Wonder Tosca Stefania (JB), Jane Towers Enjanicka Toscana Mio Caro (LB). In his critique Sigurd Wilberg said, "I was positively impressed with the overall quality and I want to congratulate the breeders with a job well done." CLICK HERE for full critique.
Southern Counties 31st May June 2019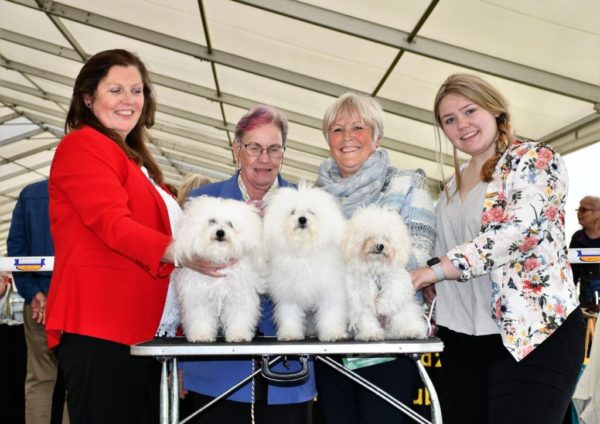 Southern Counties is a show where we do not have Bolognese classes. Most other toy breeds are scheduled at this show, so Bolognese have a good chance in the AVNSC category. 2019 was a great year for Bolognese at Southern Counties as Carol Mulligan's DONOCIELO SERAPHINA went Best AVNSC, Jane Towers ENJANICKA MIDNIGHT BLUE BD and Dean Mee's LYCKALOTTE CHASE Best Special Beginners. 10 Bolognese were entered in AVNSC classes at this show under Marja Talvitie from Finland.
Three Counties Championship Show 6th June 2019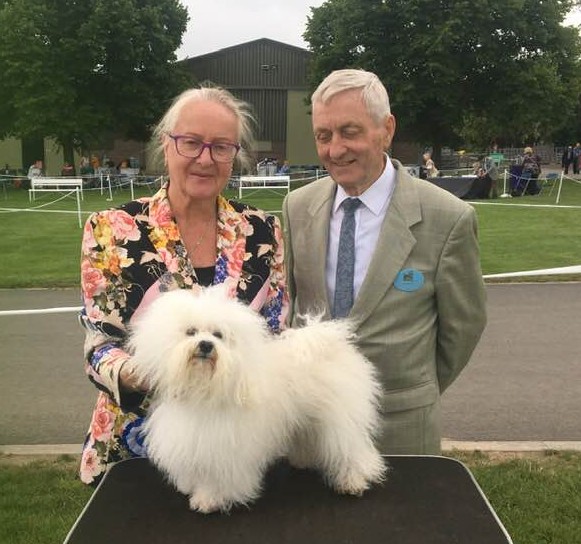 Only a hand full of Exhibitors went to the lovely Malvern Hills for Three Counties show where the judge was Mr K J Bartlett. Our judge was thorough when going over our dogs and did seem to be checking for the key breed requirements. Virginia Dowty's Little White Wonder Othello Matteo again took the BOB place. BB this time went to Greta Franklin's  Starexpress Italian Skies. Belstown Harry The Potter took PD, Bolognese Star Donald At Havanese Stars BV, Chris Thatcher's Gonni Torre Delle Passere With Devonia PGB. We showed outside and it was a bright sunny day.
Border Union Championship Show 16th June 2019
Jane Towers was up in Scotland for Border Union Championship Show.  Jane's girl ENJANICKA TOSCANA MIO CARO took the BOB and ENJANICKA MIDNIGHT BLUE the BD under MR DERFEL OWEN.
Blackpool Championship Show
At Blackpool BOB was won by LAFFORD HERO who is C0-owned by Virginia Dowty, BB CLYNYMONA JO I'M ALONE also a Virginia Dowty dog. Bolognese Ottie & Josie won the Brace Stakes.
Windsor Championship Show 27th June 2019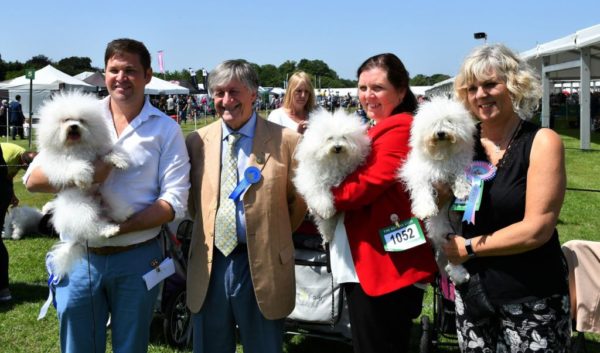 It was a hot day at Windsor this year, but we managed to find enough shade and an ice cream van was at hand. Our judge was Geoffrey Curr and he found his BOB in Lafford Hero who is co-owned by Virginia Dowty and his BB in Donocielo Seraphina owned by Carol Mulligan. BP went to my Belstown Harry The Potter. Deana Mee & Hilary McArdell's Blondechino Geminian was JD, Donocielo Giulietta PGB, Donocielo Cassia LB and Paul & Jacky Fuller's Rhosynangel Cerys  JB. It was nice to see a few more exhibitors at Windsor, but still less than normal at this lovely show overlooked by Windsor Castle. From the top 5 principle winners at Windsor, 4 dogs had very similar breeding and the same sire making for a happy family affair.
East of England Championship Show 6th July 2019
Mark & Dianne Whately managed to get to East of England show where their boy ARKADIAN MARCUS MAXIMUS 'Max' was Best Special Beginners. Our judge was ROBERT DUNLOP. LITTLE WHITE WONDER OTHELLO MATTEO went BOB, CLYNYMONA JO I'M ALONE BB and BOLOGNESE STAR DONALD AT HAVANESE STARS BV. Dowty & Mee's LYCKALOTTE CHASE PD and LITTLE WHITE WONDER UNICA FELICE JB from the same partnership. Jane Towers ENJANICKA TOSCANA MIO CARO took PGB and BELSTOWN BELOVED AMEE AT ARKADIAN owned by Mark & Diane Whateley Special Beginners Bitch. It was nice to see Bette Hopkins veteran boy STROPHAIR LUIGI at this show. Unfortunately, there doesn't seem to be a picture from East of England show.
OVERSEAS – Only Mad Dogs and English Men
June 2019 – Our road trip to Hungary & Austria, by Virginia Dowty
As they say, 'Only mad dogs and English Men go out in the midday sun'. However, a group of us from UK, Isle of Man and Ireland braved it with 4 breeds (12 dogs) to Hungary for 4 shows held on the European Circuit and then on to Wels in Austria for the European shows where the temperatures soared to over 35 degrees. Without our Totalcools we could not have survived it, they were our lifeline for humans and dogs.
CLICK HERE
to read the full story
Bolognese in Ireland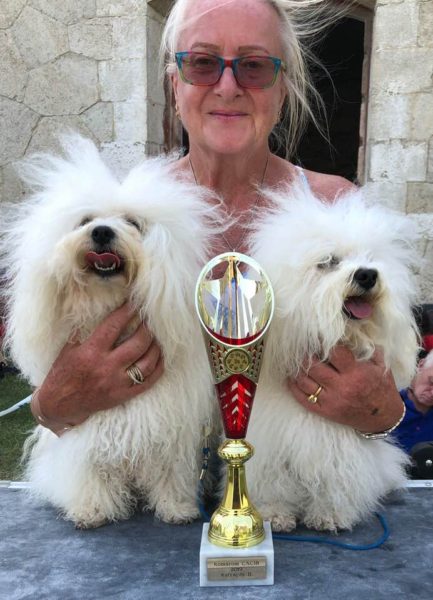 In Ireland the show scene is quite different, throughout the year there are approx 20 General Championship shows scheduling classes for all Breeds, some of which are not recognised in the UK. In addition there are some speciality Championship shows, often one for each breed or group. The Irish Kennel Club is overseen by the FCI. CLICK HERE to find out more about showing in Ireland. Everyone in Ireland is very friendly, all the Championship shows schedule all breeds on the same day so in stakes classes the competition is very high.
Virginia Dowty has attended many Irish shows this year and obtained Excellent for all her dogs at all the shows. So far this year LITTLE WHITE WONDER OTHELLO MATTEO has won 10 x BOB and Green Stars , Otti and Josie have won 3 x Brace Stakes, Donald Veteran Stakes, and new puppy Vito has won Best Baby Puppy in Show. This May and June Virginia was in Ireland for Deise, Kilkenny, Portadown, Hibernian, Cork & Munster Championship shows.
CRITIQUES
Three Counties Championship Show 2019
Bath Championship Show 2019
WELKS Championship Show 2019
Full results from all shows can be found in either www.highampress.co.uk or www.fossedata.co.uk
In the next feature, we will be reporting on Leeds, Paignton, Bournemouth Welsh Kennel Club, City of Birmingham & Richmond shows as well as OPEN SHOWS, lets hope our Bolognese continue to do us proud! I am not attending all of these shows, so please let me know any news about the day and also take some pictures.
Thanks goes to all contributors. We have been running this feature for over 2-years now providing a lovely way to remember the dogs and their achievements for years to come. If you see any errors in the information provided, please email info@bolognesedogclubuk.co.uk and we will make the changes straight away.
Previous NEWS
BOLOGNESE News Roundup 24/05/2019
BOLOGNESE News Roundup 06/04/19
BOLOGNESE News Roundup 24/12/18
BOLOGNESE News Roundup 22/10/18
BOLOGNESE News Roundup 9/9/2018
BOLOGNESE News Roundup 16/8/2018
BOLOGNESE News Roundup 14/6/2018
BOLOGNESE News Roundup 16/5/18
BOLOGNESE News Roundup 09/4/18
BOLOGNESE News Roundup 28/2/2018
BOLOGNESE News Roundup 30/1/18
BOLOGNESE News Roundup 13/12/17
BOLOGNESE News Roundup 14/11/17
BOLOGNESE News Roundup 8/9/17
BOLOGNESE News Roundup 18/8/17
BOLOGNESE News Roundup 7/8/17
BOLOGNESE News Roundup 20/7/17
BOLOGNESE News Roundup 29/6/17
BOLOGNESE News Roundup 21/6/17