BOLOGNESE News Roundup 22/10/2018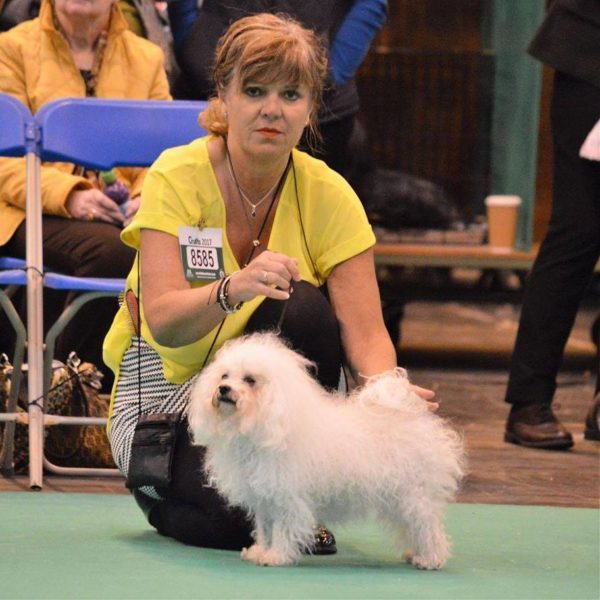 Compiled by Melanie Thomas
The show season is tailing off now, with only a few more shows before Crufts in early March. I'm not showing at the moment, so please take pictures and send me bits of news from any shows that you attend. In this roundup, we can report on Darlington & SWKC Championship Shows as well as some snippets from Open Shows about the country.
Darlington Dog Show Society CH Show 16th September 2018
At Darlington the Bolognese judge was Mr J Murdoch, who is the Chairman of the Coton De Tulear Club. There were no veterans, puppy dogs or junior dogs at Darlington and the rest of the classes were small. Virginia Dowty's Multi Ch Little White Wonder Othello Matteo took the BOB with BB going to Ir Ch Clynymona Jo I'm Alone from the same kennel. Jane Towers Enjanicka Toscana Mio Caro was Best Puppy and also short listed in the Puppy Stakes. Jane said she went to Darlington for the first time and thought it was a fabulous venue, well laid out and easy parking. Jane also told us that her boy ENJANICKA MIDNIGHT BLUE who was Reserve Dog Bolognese was then 4th in the Eukanuba non CC breeds Reserve Best of Sex Winners (thats a new one on me). Apparently it was great fun and they got a fiver prize money!
SWKC Championship Show 6th October 2018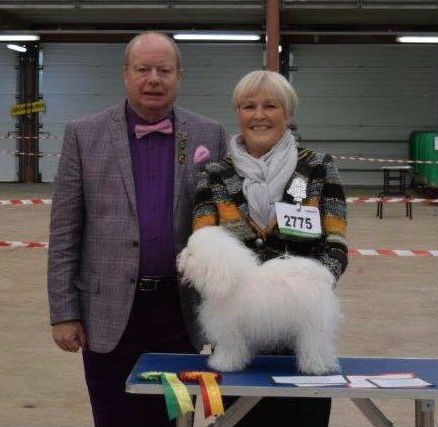 BOB & BP at SWKC with judge Terry Burgess
Sadly there wasn't a great entry for our judge TERENCE D DOMINIC BALFOUR-BURGESS in Wales which is a real shame. Wales is a bit of a trek for most people so it's difficult to get to. Jane Towers ENJANICKA MIDNIGHT BLUE was BOS and ENJANICKA TOSCANA MIO CARO was awarded BOB and BP at just 10-months old.
Two New Champions
Hero & Senga in Gibraltar with judge Blandine Van de Plas and handlers Adam Davidson & Alex Forth
Virginia Dowty reported that 2 of her dogs Lafford Hero and Senga (Clarchien Rock With You) have recently been made up as Gibraltar Champions. Virginia was also at MKA (Mannin Kennel Association) Open Show in the Isle of Man on the 23rd of September where Multi Ch BOLOGNESE STAR DONALD AT HAVANESE STARS made his return to the ring in Veteran winning BVIS.
Westbury & District Canine Society 16th September 2018
Chris Thatcher, Peter Haig & Caroline Cockwell at Westbury Open Show
A few of us met up at Westbury  Open Show on the 16th of September 2018, we also had a committee meeting at the show. BOB & BP went to Chris Thatcher's Gonni Torre Delle Passere With Devonia who also went on to be pulled out 3rd in the Toy Group. RBOB went to Caroline Cockwell's boy Lucca. Peter Haig joined the bolognese team with his boy Boswell. It was an outdoor show, but stayed dry and there was not too much hanging around.
Bedford and District Canine Society 22nd of September 2018
Ruby & Max
Jane Towers met up with Diane Whateley at Bedford and District Canine Society open show. There were 4 Bolognese in a very big AVNSC class. ENJANICKA MIDNIGHT BLUE went BOB and was pulled out 2nd in the toy group, great result for the breed. Diane & Mark Whateley's granddaughter Ruby Fletcher handled Max the Bolognese in the Junior Handling competition at Bedford and District Canine Society. Ruby & Max were placed 5 out of an entry of 14, which is a brilliant result for Ruby's first time. Leah Scales was the handling judge and Ruby competed in the Junior Handling Association 6-11 yrs class. CLICK HERE for full story.
Scottish Toy Dog Society Premier Show  7th October 2018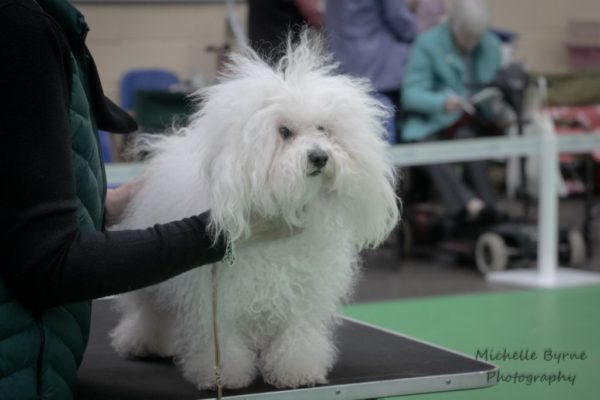 Belstown Merlau Black Bird
Kathleen Holliday's boy Belstown Merlau Black Bird represented our breed as BOB in Lanark Scotland on the 7th of October. Kath said she thoroughly enjoyed her day with Reggie, especially when he was picked out in the final round up.
Isle of White Canine Association Open Show 20th October 2018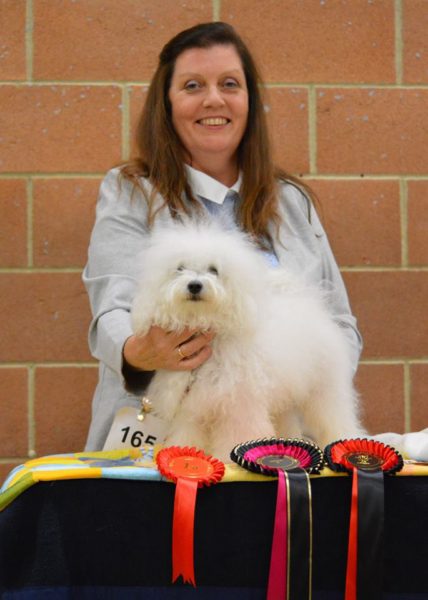 Carol & Dennis Mulligan were at the IOW Canine Association Open Show on the 20th of October. They reported it to be a really lovely, friendly well run show popular with both islanders and exhibitors from the mainland. The young Donocielo Giulietta was awarded BOB AVNSC Toy in a strong class and then went on to get Toy Group 2 under judge Mr Eddie Bishop.
Other Open Show that had Bolognese classes since our last News Roundup have been Thame District Canine society and Hitchen and District Canine Society. We do seem to be having more Open Shows with Bolognese classes, so hopefully more people will attend as the Open Shows are really good fun, less pressure than the Championship Shows, friendlier, cheaper to enter and easier to navigate. Bolognese have been shortlisted at Open Shows quite a few times this year, we are giving other rare breeds a run for their money!
Midland Counties next Sunday is usually a well attended show. We have 26 entries from 19 dogs under Val Blore, good luck everybody who is going to be there.
Remember, if you are interested in the show side of the breed, you can find show news, results and judges critiques on the website. Go to the 'Our Dogs' area from the top bar and then choose the 'Show Results' option.
If you see any errors in the information provided, please email info@bolognesedogclubuk.co.uk and we will make the changes straight away. Also, please let us know your show news, as much input from members as possible please and remember to take pictures!
Previous NEWS
BOLOGNESE News Roundup 9/9/2018
BOLOGNESE News Roundup 16/8/2018
BOLOGNESE News Roundup 14/6/2018
BOLOGNESE News Roundup 16/5/18
BOLOGNESE News Roundup 09/4/18
BOLOGNESE News Roundup 28/2/2018
BOLOGNESE News Roundup 30/1/18
BOLOGNESE News Roundup 13/12/17
BOLOGNESE News Roundup 14/11/17
BOLOGNESE News Roundup 8/9/17
BOLOGNESE News Roundup 18/8/17
BOLOGNESE News Roundup 7/8/17
BOLOGNESE News Roundup 20/7/17
BOLOGNESE News Roundup 29/6/17
BOLOGNESE News Roundup 21/6/17