BOLOGNESE News Roundup 18/8/17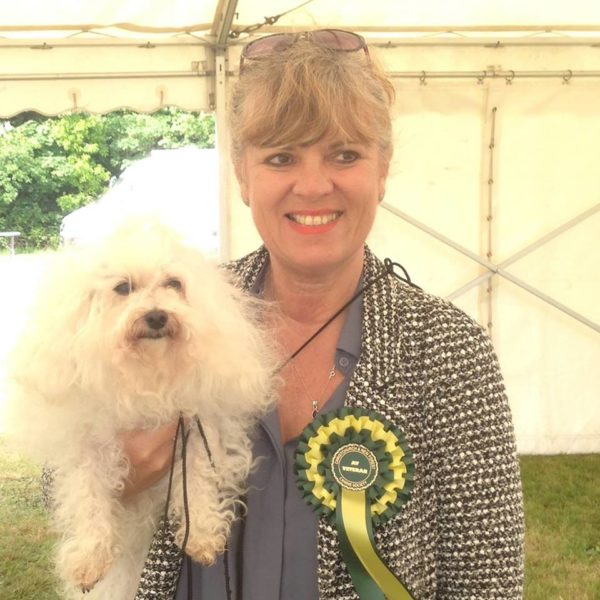 compiled by Melanie Thomas
A group of loyal exhibitors made the journey to Devon for Paignton & District CH show on Tuesday 8th of August. Bolognese were judged by Tim Ball.  At Paignton the DOWTY Kennel took top honours. Ir Ch Little White Wonder Othello Matteo was BOB and Lafford Hero BP. Jane Towers girl Tumbril Tennessee Honey was BB. Chris & Brian Thatcher's Devonia's Siena won the junior class. I know a few more Bolognese had been entered, but didn't make it on the day.
Only a a couple of days later came Bournemouth Canine Society Championship show, where we did have a change of judge. At Bournemouth it was lovely to see Tumbril Tantrums n Tiaras at Phendelle 'Polly' take the BOB spot, this bitch is owned by Hilary MCARDELL. Best Puppy at Bournemouth was Jane TOWERS  Enjanicka Midnight Blue. Also at Bournemouth club members Deana Mee and Carol Mulligan won their classes. Well done everybody for supporting the shows at Paignton & Bournemouth.
OPEN SHOWS
Don't forget to enter Westbury & District CS show by 19th Aug (postal) or 3rd Sept www.fossedata.co.uk. DATE OF SHOW Sunday 17th September. We have Puppy, Special Yearling and OPEN. The show is to be held in Leighton Recreation Center, Westbury, Wiltshire. The society's website is at www.westburycaninesociety.org Would be great to see a few of you there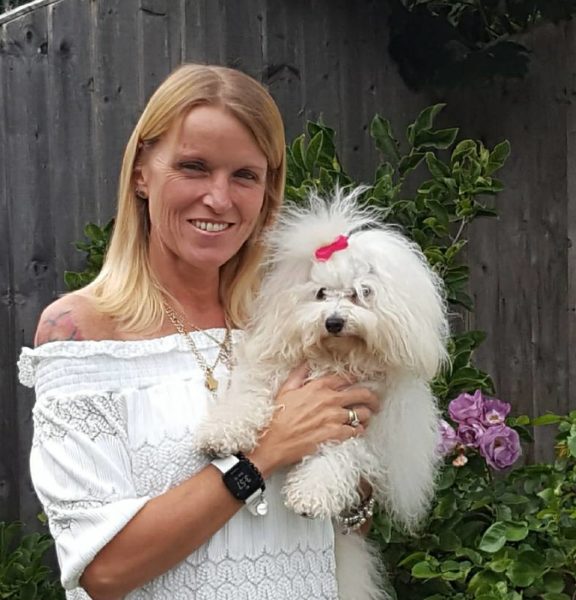 Siena & Jacky Johnson
Also on the OPEN show front, we have brilliant news from Jacky Johnson, her Biancopale Shining Star (Siena) came 1st in her Junior class at Preston and District Open Show then went on to win BOB. Jacky, rightly so, is very proud. Siena is just 16-months old and is bred, owned and shown by Jacky!
News from The Isle of Man came through this week that Ir Ch Little White Wonder Othello Matteo was BIS (for the 2nd year) and Audrey BVIS at The Royal Manx Show 2017. Seen in this picture with owner Virginia Dowty and judge Ray Wilkinson. Virginia said, "Really great to win at our big OPEN SHOW of the year and for 2nd year running". Amazingly, Audrey has just celebrated her 11th birthday and she is still going strong in the show ring!
It's just a few weeks now before City of Birmingham CS Championship show in Stoneleigh where we have a great entry of 39 dogs. On the same day The British Bolognese Club have their 2nd OPEN SHOW of the year, so it's a great chance to show at 2 shows on the same day and even in the same venue. Our judge for City of Birmingham is Pinto Telxeria from Lisbon in Portugal. Mr. Teixeira has judged over 600 shows world-wide including The World Show many times. He was Chairman of the Judges Commission for the Portuguese Kennel Club from 1991 to 1996. President of the Portuguese Kennel Club from 1989 to 1990 and has given seminars and lectures about dog breeding, conformation breeds and regulations.
Next time we will report on Welsh Kennel Club CH show where we have 14 Bolognese entered, good luck everybody!
Please send your news for this feature to info@bolognesedogclubuk.co.uk
Links to previous News Rounds
BOLOGNESE News Roundup 7/8/17
BOLOGNESE News Roundup 20/7/17
BOLOGNESE News Roundup 29/6/17
BOLOGNESE News Roundup 21/6/17
If you find any errors in the information included, please let us know on info@bolognesedogclubuk.co.uk and the appropriate changes will be make straight away.