BOLOGNESE News Roundup 28/2/2018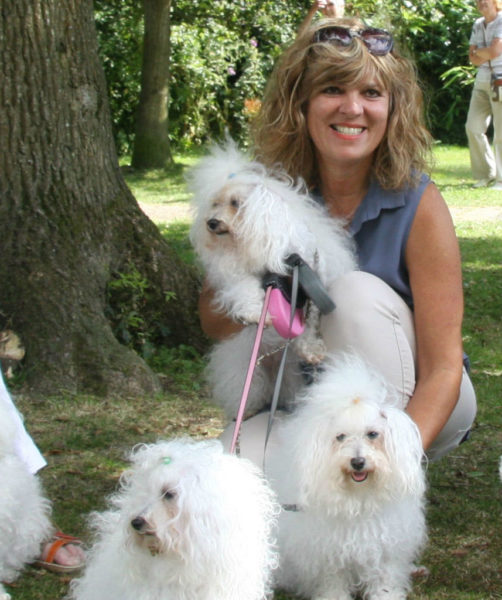 compiled by Melanie Thomas
The plan was to wait until after Crufts for a BOLOGNESE News Roundup, but so many Bolognese wins have come through in February from OPEN SHOWS meaning we have plenty of show news to share right now. Several Bolognese have gone through to win AVNSC BOB and we have also seen a Bolognese win a Toy Group this month, so it's been a great month for our club members and our breed. I have seen the happy announcements of quite a few Bolognese litters recently, so hopefully this will mean that we will be seeing a few promising puppies in the ring in a few months time and new club members.
On Saturday 17th of February at Ilfracombe & District OPEN SHOW Rosa Devonia's Red Hot Summer owned by Chris Thatcher won BOB in AVNSC from the PG class beating her mother. Rosa's mother Zita Giselle Veronesi with Devonia will become a veteran this year. AVNSC judge was Rosemary Alexander (Treveth).
We can also report on a very well attended Cheltenham and District Canine Society OPEN SHOW on the 25th of February held at The Kennel Club building Stoneleigh Park, Warwickshire. We only had AVNSC for Bolognese but were lucky to have rare breed classes too. There was stiff competition in AVNSC, two Bolognese in attendance along with 5 cotons, a couple of Havanese and Maltese. Jane Towers ENJANICKA MIDNIGHT BLUE Hector was awarded a respectable 1st in Junior and also 1st in Rare Breed Junior. The Rare Breed classes were very well supported and the organisers held off the judging for the Cotons and Bolognese to finish in AVNSC. Jane Towers reported it to be, "friendly competition and a great day". ANVSC was judged by Rob Mcleod and Rare breed Tom Mather.
Also on the 25th of February at Kent County Canine Society OPEN SHOW, Donocielo Seraphina went from 1st in AVNSC OPEN to win The Toy Group under Mr C Jones (Kushira), who Dennis Mulligan said was, "so lovely with the dogs and very complimentary". 
Donocielo Giulietta wins BP AVNSC
Donocielo were also at  the East Kent Canine Society Open Show on the 4th of February where 7-month old Donocielo Giulietta was awarded BEST PUPPY AVNSC Toy in a very strong class under judge Mr Steven Seymour. This was also a very well attended show with nearly 700 dogs entered.
Kaylo Van Het Balgzand wins BOB
We have had a few reports from exhibitors at Blackpool and Fylde Toy Dog OPEN SHOW also on Sunday 25th of February. Bolognese judge was Magda Maganyork. Jacky Johnson reported that her girl Siena, Biancopales Shining Star came 1st in her PG class. At the same show, Kathleen Holliday reported that her boy Reggie Belstown Merlau Black Bird won his Junior class. BOB at Blackpool and Fylde Toy Dog went to Karen Golden's Kaylo Van Het Balgzand. All reports came back that people enjoyed their day.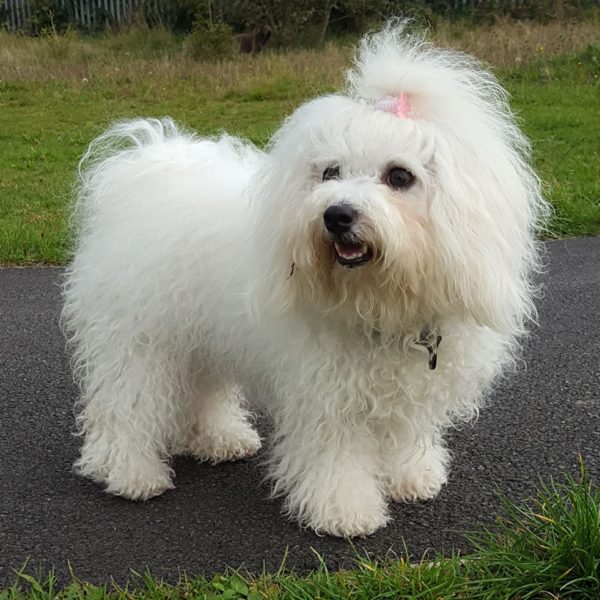 Siena Biancopale Shining Stars
Jacky Johnson was also very proud of Siena Biancopale Shining Stars as she came 1st in her class PG in AVNSC at  St Helens Open Show on the 17th of February and then went on to win BOB in the AVNSC classes.
There will again be a Bolognese picnic at Crufts, this is being coordinated by Jane Owen this year. Jane says, "after the Bolognese have finished in the ring, there will be an informal picnic to share, for those who would like to join in. If you would like to bring some simple nibbles/drink along, please let Joy and I know so that we can coordinate. Just so we don't end up with 5000 sausage rolls and nothing else! We'll bring disposable cups and plates and make sure everything is tidy at the end". You can find Jane Owen on Facebook, or email her on janieowen@hotmail.co.uk.
At Crufts we have 60 entries from 56 dogs under Mr J Horswell, we expect to be in the ring after lunch. Hopefully we will find a nice place to have a group picture after the judging. It will be sad not to see club member Julie Epstein and her dog Bentley at Crufts this year as we have to report that she sadly passed away a few weeks ago. Julie will be sadly missed by Bolognese exhibitors as she was at many shows and was well known and liked by all of us. Messages of condolence can be left on her bench at Crufts and these will be passed to her family.
Our UK Toy judge is Peter Young and the judge for The British Bolognese OPEN Show on the same day is Mr K Berry. The next BOLOGNESE News Roundup will contain a Crufts 2018 report, lets hope everybody has a good day!
If you see any errors in the information provided, please email info@bolognesedogclubuk.co.uk and we will make the changes straight away. Also, please let us know your show news, as much input from members as possible please and remember to take pictures!
Previous NEWS
BOLOGNESE News Roundup 30/1/18
BOLOGNESE News Roundup 13/12/17
BOLOGNESE News Roundup 14/11/17
BOLOGNESE News Roundup 8/9/17
BOLOGNESE News Roundup 18/8/17
BOLOGNESE News Roundup 7/8/17
BOLOGNESE News Roundup 20/7/17
BOLOGNESE News Roundup 29/6/17
BOLOGNESE News Roundup 21/6/17