BOLOGNESE News Roundup 21/6/17
We are launching a new regular feature bringing you news related to world of the Bolognese breed. We will be covering news, views, show results, events and developments on health issues. Members are encouraged to provide input for this feature, so please let us know what your dogs have been doing in and out of the show ring. We will also be able to include pictures.
Bolognese were featured on the BBC Rip of Britain programme recently, nothing bad, I might add. At UK Toy show, there was a vet and a film crew asking people about their dog's diet and some filming was done around the Bolognese ring.  Jane Towers puppy Hector was one of the dogs on the show. The subject was raw feeding opposed to manufactured cooked food. It was an interesting programme, no Bolognese owners were interviewed on the show, but there was quite a bit of coverage of our dogs.
Above – Hector on Rip off Britain
It is the height of the show season, so there are plenty of results from Championship shows coming through.
SHOW NEWS
Our Club Secretary Chris Thatcher's  homebred girl Rosa or Devonia's Red Hot Summer went Best of Breed Bolognese at Three Counties Championship Show on the 9th of June under judge under Judge Mr. W. Browne-Cole.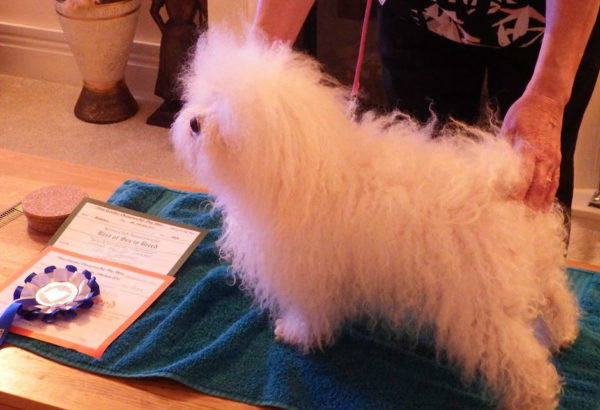 Above – Devonia's Red Hot Summer
Best Dog at Three Counties went to Ms V DOWTY  Ir Ch Little White Wonder Othello Matteo known as Otti (owned in partnership) and Best Puppy to Mrs V DOWTY Lafford Hero (also owned in partnership).
Above – Ir Ch Little White Wonder Othello Matteo
Also at Three Counties Otti won the Eukanuba Champion Stakes on the Hound and Toy day under judge Andrew Brace meaning that he was one of 4 finalist on the last day of the show (one from each day of the show). Although Bolognese cannot be made up as a UK Champion as the breed are not yet awarded CC's, they can in Ireland and Otti is an Irish Champion, so this is how he could enter The Eukanuba Champion Stakes. Otti also won the Champion Stakes at the St Patrick's Day show in 2017.
Up at Border Union Champion Show in Kelso Scotland on June 18th young Hero went Best Puppy Bolognese under Chris Toynton and then went on to be 4th in the Toy Group under Lorraine Gillespie. Hero was bred by Carol Lees and is owned and shown by Virginia Dowty (in partnership). Ir Ch Little White Wonder Othello Matteo was Best of Breed Bolognese in Kelso. Best Bitch in Kelso was TUMBRIL TENNESSEE HONEY owned and showed by club member Jane Towers.
Lafford Milky Bar Kid litter brother of Hero, owned and bred by Carol Lees went through from AVNSC to be pulled out 3rd in the Toy Group at Newmarket & District Open Show on the 11th of June. As you can see in this picture, it was a very windy day!
Above – Lafford Milky Bar Kid
Blackpool & District Champion Show is on Friday where 21 Bolognese are entered, under Richard Haynes, have a great day everybody, let's hope the weather cools down a bit by then!
CLUB NEWS

Above – picture from Hampton Court MEET UP 18th June 2017
On Sunday our club had its MEET UP in Hampton Court, where we had 10 dogs and their families. We knew the weather was going to be very hot today, so we slightly changed our plans to keep the dogs in the shade as much as possible. Deana and Melanie met Paul Irvine and his wife Neelu and son Khushie, along with Carol & Gary Martin in Hampton Court Station car park as planned. Teresa Strzepkais had problems with the trains, so we met up with her about an hour later. Teresa is from Poland and she brought her dog Pusio with her when she moved to the UK. Although a pet dog Pusio was in fabulous coat. Paul brought his new puppy Minnie and Gianna. Minnie was very confident for a youngster and was not fazed by the hussle and bussle of the area. CLICK HERE for full report and visit our Facebook Page for lots of pictures!
HEALTH ISSUES – PRA (Progressive retinal atrophy)
Responsible breeders have been having their dogs' eyes physically examined for some time looking for signs of disease. A certificate is issued by a qualifying vet under The British Veterinary Association (BVA) screening programme for hereditary eye disease in dogs run in conjunction with the Kennel Club and the International Sheep Dog Society. This examination says that the dog is free at the time of examination, but cannot tell if the dog is a carrier.
However it is possible now to have a DNA test done for one kind of PRA, Prcd-PRA. This new test is carried out with a blood or saliva swab. Further research is being carried out in several counties to determine which kind, or kinds, of PRA affects Bolognese (there could be several kinds), but this takes time and resources. In time there should be a more specific DNA test for our breed.
This is how it works, basically you download a form from a laboratory called Optigen, go to your vet for blood to be taken (or order a swab kit) and post the sample to their agent lab in the UK called Animal DNA Diagnostic (ADD). The test takes about 3-weeks and they are given to you by email.
There is a facebook group offering more information on the situation with PRA in Bolognese search 'PRA in Bolognese'. This facebook page is run by one of our members Jessica Van Driel from Holland. For the UK Jane Towers or Virginia Dowty are helpful contacts for help and advice as they have been through the procedure.
Here are the useful links
Optigen.com
Optigen.com
ADD
To Supply input for this feature, please email info@bolognesedogclubuk.co.uk or phone 01243 265378. You can also add comments in the comment box at the end of the post, members please log in first so we know who you are.
We have linked to members' profiles where they are mentioned. Don't forget guys to update your profiles with new pictures and information on your dogs. With the addition of this feature, more readers will be viewing your profiles. Also there are spot prizes for a nice updated profile.
The next BOLOGNESE News Roundup will be published shortly, so keep an eye on the website and The Club's Facebook Page.
All the best
Melanie Thomas
CHAIRMAN