BOLOGNESE News Roundup 30/01/2018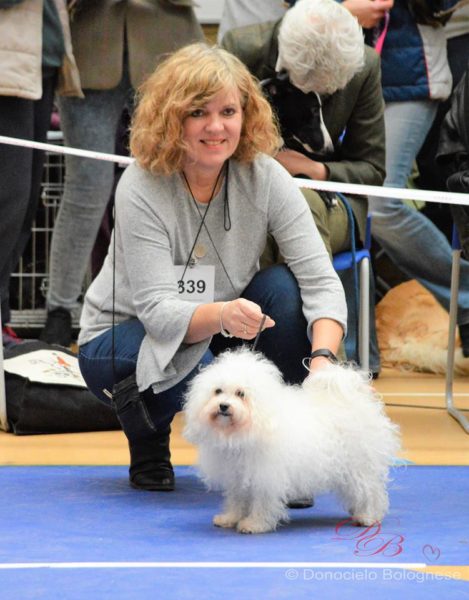 compiled by Melanie Thomas
We are pleased to be able to report on Manchester Championship show where we had Bolognese classes and Boston & District Champion Show where unfortunately this year we didn't have classes. There have also been several open shows to report on in this News Roundup. We are pleased to say that several of our club members have had real successes in the show ring. Well done to you, your dogs, handlers and of course your dogs' breeders.
It's worth noting that if you enter West of England Ladies KC (WELKS) before the 7th of February the fees are reduced, so you will save money. Our Bolognese judge at WELKS is Mrs Raye Parry. Enter at www.fossedata.co.uk, or contact welkssecretary@gmail.com for a show schedule. At UK Toy on the 31st of March we have Peter Young judging Bolognese and there will be a British Bolognese Club OPEN SHOW on the same day.
Boston
Jane Towers contacted me after Boston show in Peterborough on Sunday the 7th of January saying "ENJANICKA MIDNIGHT BLUE Hector won BOB in A.V. RARE BREEDS TOY/TERRIER up against about 12 cotons. Hector was the only Bolognese in Rare Breeds. Also under judge Tim Ball Hector was awarded RBD in AVNSC Toy beaten by a yorkshire terrier who is already a champion. In AVNSC there were 3 other Bolognese, Yorkshire Terriers and English Toy Terriers". Boston & District used to have Bolognese classes, but unfortunately cut them this year, but it didn't keep us away. Jane added, "the Boston show society gave all BOB winners a lovely pin badge".
Group picture from Manchester Dog Show
Manchester
There was a nice entry at Manchester Championship show on Friday the 19th of January under breed specialist  Greta Franklin. BOB went to Kaylo Van Het Balgzand (Imp NLD) owned by Karen Golden, BD Enjanicka Midnight Blue owned by Jane Towers and PB to Stanhome Katharine Hepburn  owned by Janis Stanley.
Birmingham & District
Mark Cocozza judged Bolognese at the final show in 2017 at Birmingham and District Toy Dog Society OPEN SHOW. Jane Towers had a good end to the year with a BOB with Hector Enjanicka Midnight Blue as well as first in the Junior Stakes.
Quite a few people have been showing their Bolognese at OPEN SHOWS in January.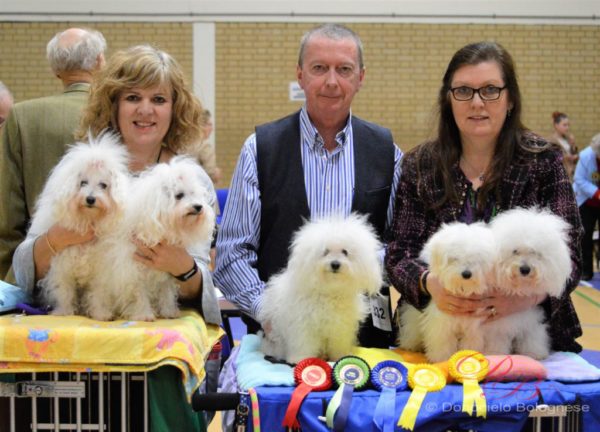 Belstown & Donocielo Bolognese at Chichester OPEN SHOW
Chichester
On the 28th of January Donocielo & Belstown Bolognese met up at Chichester & District CS OPEN SHOW. We entered AVNSC, Rare Breed and AV Veteran. Donocielo Seraphina, shown by Dennis Mulligan, was RBOB AVNSC Toy under Mrs C A Greenway and Donocielo Cassie 2nd in AV Rare Breed under Mrs Christina Chapman.
BOB winner at Stockport with judge Jude Reyes
Stockport
On the 15th of January Mr Jude Reyes (Queenslake) judged Bolognese at Stockport ToyDog Association show in Stockport. I was told by Shirley Hewitson that it was the shows 90th anniversary show and the last show for current secretary Liz Stannard.  BOB at Stockport went to Karen Golden's girl Kaylo Van Het Balgzand (Imp NLD).
Lichfield
On the 27th January Sue & Jacky Johnson & Jane Towers where at Lichfield CS Open Show in Stafford where the Bolognese classes were sponsored by The British Bolognese Club. Both exhibitors reported good results under breed specialist Vikky Marshall RVN. Jacky Johnson said she had a lovely day with Siena Biancopale Shining Star coming 1st in her Open Class then went onto get RBOB. BOB went to Hector Enjanicka Midnight Blue. Hector was also awarded second in Junior Stakes under Melanie Spavin. Vikki attracted a good entry for an OPEN SHOW and all winners went away with packs of Mutleys treats, including Gourmet Sausage and Hydrated Duck Wings! Jane said,  "Vikki was lovely with the dogs and got the best from them giving everyone a detailed assessment. This is a long journey but a fantastic open show and definitely one worth doing".  CLICK HERE for Critique for Lichfield OPEN SHOW.
Coalville
The day after Lichfield Jane Towers took Hector to Coalville and District Canine Society OPEN SHOW at the Kennel Club building. Jane said we went with no expectations as we were in AVNSC. However, Hector showed his socks off to take Group 1 in Toy breed under judge Ann Mynard. The judge was reported as being gentle with all the dogs and a pleasure to show under. Great result for the Bolognese winning the Toy Group at an all breeds OPEN SHOW!
Crufts Friendly
Jane Owen has kindly said she will coordinate the Crufts picnic/get together this year to give me and Chris a break. So it's definitely happening…
Annual membership was due on the 1st of January 2018. Many people have now paid. Please use the MEMBER Payment area to pay on PayPal, or you can send a cheque or a direct payment. CLICK HERE for details of how to pay, if you have not done so.
If you see any errors in the information provided, please email info@bolognesedogclubuk.co.uk and we will make the changes straight away. Also, please let us know your show news, as much input from members as possible please and remember to take pictures!
Previous NEWS
BOLOGNESE News Roundup 13/12/17
BOLOGNESE News Roundup 14/11/17
BOLOGNESE News Roundup 8/9/17
BOLOGNESE News Roundup 18/8/17
BOLOGNESE News Roundup 7/8/17
BOLOGNESE News Roundup 20/7/17
BOLOGNESE News Roundup 29/6/17
BOLOGNESE News Roundup 21/6/17