BOLOGNESE News Roundup 16/5/2018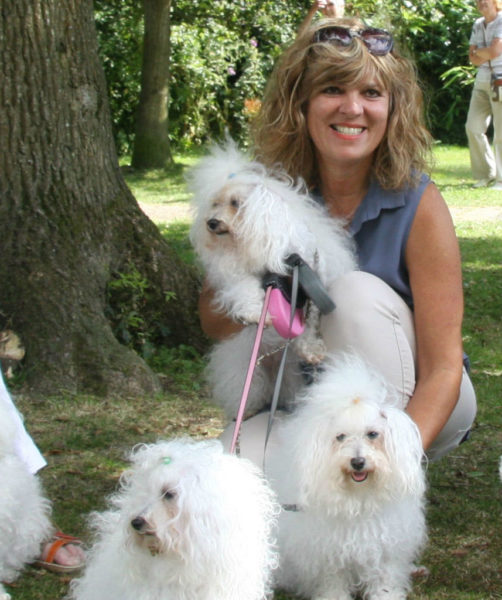 compiled by Melanie Thomas
Once again it has been a busy few weeks in the show calendar and as Spring is well and truly upon us there are lots more shows to look forward to. We are reporting on WELKS and Birmingham National Championship shows and some great achievements at OPEN SHOWS for our lovely breed.
I was not at WELKS on the 29th of April, but Chris Thatcher sent over some comments when she got home. Saying, "what a cold and damp and very overcast day it was. There was a diversion sign on the turning for Malvern saying the road was closed meaning there was a lengthy diversion. The hall we were in which is not really a hall but a hangar was freezing cold and smelt something awful and the car park was very boggy ".  Prior to the show, the weather had been really wet! But Chris was happy with her day in the end!
6-month old Gonni at WELKS 2018
Our judge at WELKS was Mrs Raye Parry who gave BOB to Virginia Dowty's INT/IR/GIB/DUTCH CH LITTLE WHITE WONDER OTHELLO MATTEO SHCM and BB to Greta Franklin's STAREXPRESS MYSTERY GIRL. BP at her first Championship show and at only 6-months old was Chris Thatcher's GONNI TORRE DELLE PASSERE WITH DEVONIA (IT IMP). Jane Towers boy ENJANICKA MIDNIGHT BLUE won his class as did the Mulligan's girl DONOCIELO CASSIA. Virginia Dowty told us that BOB Bolognese Otti was shortlisted in last 7 in Toy Group at WELKS under Gp judge Hans Van den Berg.
6-month old Trilly at Birmingham National 2018
I was at Birmingham National on the 10th of May and knowing that Dennis Mulligan would not be there, I took my camera. After posting 16 pictures from the day my Facebook was on fire! People really loved to see the dogs at shows, I can confirm that fact. Our Judge was well known to us Andrew Stewart as he used to show Bolognese and had judged us 4 times previously. This time we were not freezing and we didn't have to wait too long to get in the ring. Shirley Hewitson brought her new imported puppy Trilly out for the first time, hopefully we will see her again many times and watch her develop.
principle winners at Birmingham National 2018
Andrew Stewart found his BOB in Virginia Dowty's INT/IR/GIB/DUTCH CH LITTLE WHITE WONDER OTHELLO MATTEO SHCM and BB Karen Golden's Kaylo Van Het Balgzand (Imp NLD). BP was Chris Thatcher's GONNI TORRE DELLE PASSERE WITH DEVONIA (IT IMP). BV was my 10-year old girl Figgarony Andromache at Belstown. Jane Towers  Hector ENJANICKA MIDNIGHT BLUE won Post Grad Dog, GLOVER Mrs L Lagspring Cilla Black won Post Grad Bitch, HEWITSON Mrs S Belstown Cheeky Pumpkin At Moorhey Limit Bitch. Andrew's critique was out within a few days, CLICK HERE to read the full critique. Andrew commented in his critique that a few exhibitors need advice on presentation, I for one and I know Chris will be happy to help. I find the Bolognese coat easy, just keep it clear of knots with a metal comb, bath the day before or 2-days before,  just leave to dry naturally and lift the coat a little with a rake just before you go in the ring. As Andrew said, over grooming takes out the flocks. Obviously there are other little tips and coats vary, just ask me or Chris Thatcher.
Virginia Dowty was in Ireland on the 6th of May where GS Multi Ch Little White Wonder Othello Matteo ShCm was BOB at South Tipperary Championship show in glorious sunshine.
OPEN SHOWS
Jane Towers has been campaigning Hector saying, "It was lovely to return this year to Wellingborough & District Canine Society open show on the 14th of April. Last year this was Hector's first show and this year they put on classes for Bolognese and he did us proud. BOB under Bolognese judge Donna Whincup then onto gaining group 2". Good result well done Hector.
On the 15th of April Donocielo Ceasario, owned by Carol & Dennis Mulligan was BOB AVNSC Toy followed by GROUP 3 Toy at the Camberley & District Canine Society Open Show under judge Jane Paradise. Again good result for Bolognese!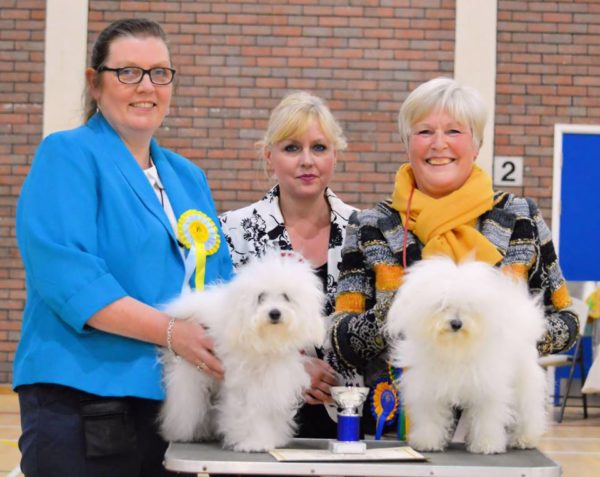 BOB & BP at South Eastern Toy Dog show with judge Miss Nikki Hunter
Bolognese had an incredible day today at South Eastern Toy Dog show in sunny Slough on the 5th of May, there were 8 Bolognese. My girls did well in the Brace Stakes and AV Veteran, Giulietta was shortlisted in Puppy BIS and Hector was 3rd place in BIS! Lovely to see the Bolognese doing so well again. It was a very hot day outside, the entries seamed down on previous years and some people who entered did not come as it was a bank holiday and great weather. The breed judging went through really quickly, but we had to wait quite a while for the variety classes to start, so it was still a long day.
Also on the 5th of May Belstown Merlau Black Bird, Reggie was BOB in AVNSC  at Westmorland Canine Society in Kendal. Reggie went through from the Post Gard class, under judge Sharon Thompson.
Another Bolognese gets BOB AVNSC. From an entry of 26 dogs Jane Tower's Hector was BOB AVNSC at Banbury & District Canine Association on the 7th of May, under Mrs M Chapman. Fabulous result yet again for our breed!
Also on the 7th of May Karen Golden reported that her girl Kaylo Van Het Balgzand was BOB at Merseyside Toy Dog OPEN SHOW. Karen said, "the judge Jane Waterfield made some beautiful comments about Kaylo".
Scottish Kennel Club Championship show is on the 19th of May and Bath CS on the 25th. We have 20 entries at Bath under Mrs T M Jackson.
It seems that the list of achievements for our breed gets longer and longer each time we do a News Roundup and I'm sure there are others that we don't get to hear about.
If you see any errors in the information provided, please email info@bolognesedogclubuk.co.uk and we will make the changes straight away. Also, please let us know your show news, as much input from members as possible please and remember to take pictures!
Previous NEWS
BOLOGNESE News Roundup 09/4/18
BOLOGNESE News Roundup 28/2/2018
BOLOGNESE News Roundup 30/1/18
BOLOGNESE News Roundup 13/12/17
BOLOGNESE News Roundup 14/11/17
BOLOGNESE News Roundup 8/9/17
BOLOGNESE News Roundup 18/8/17
BOLOGNESE News Roundup 7/8/17
BOLOGNESE News Roundup 20/7/17
BOLOGNESE News Roundup 29/6/17
BOLOGNESE News Roundup 21/6/17