BOLOGNESE News Roundup 09/4/2018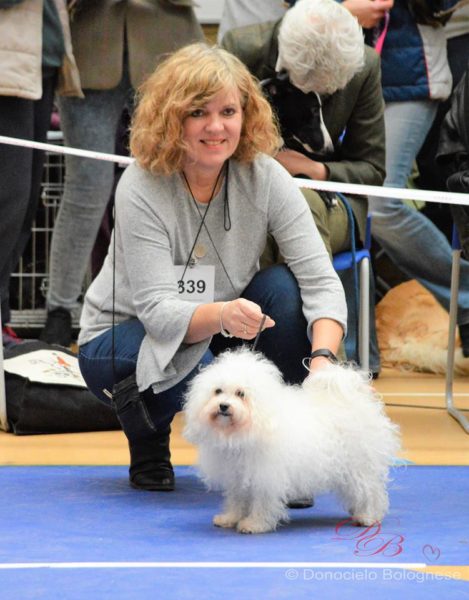 compiled by Melanie Thomas
The 31st of March was a big day in the show calendar for our breed, UK Toydog Championship show and a club show on the same day. It was also a memorable day as the BOB Bolognese winner went on to be awarded 3rd BIS at UK Toy, best results ever for the breed. In this News Roundup we will report on the UK Toy day and other open shows at home and abroad where Bolognese have again achieved excellent results.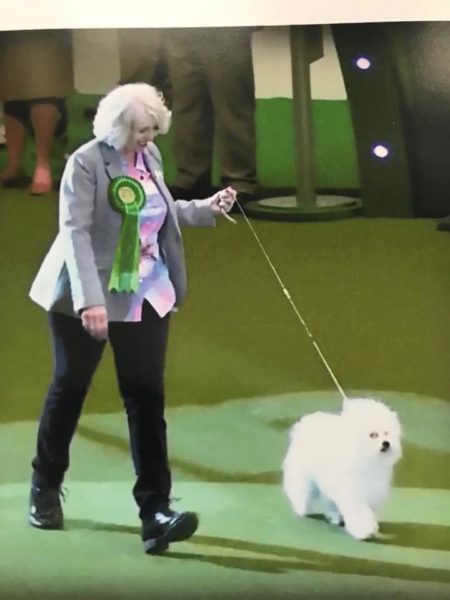 Kaylo BOB Crufts 2018
Our Crufts 2018  BOB was KAYLO VH BALGZAND (IMP NLD), owned by Karen Golden and bred in The Netherlands by Carolien Jongejans. Crufts is a special show which warranted its own report, CLICK HERE for our Crufts 2018 SHOW REPORT and HERE for Judge Jeff Horswell's critique. Interesting fact from Crufts is that breeder Carolien Jongejans has had three Best of Breed winners at Crufts. This year with Kaylo Van Het Balgzand, in 2015 with Kaylo's mum Hope Van Het Balgzand and again in 2010 with Kaylo's grandmother Chanel. What a rare and amazing achievement.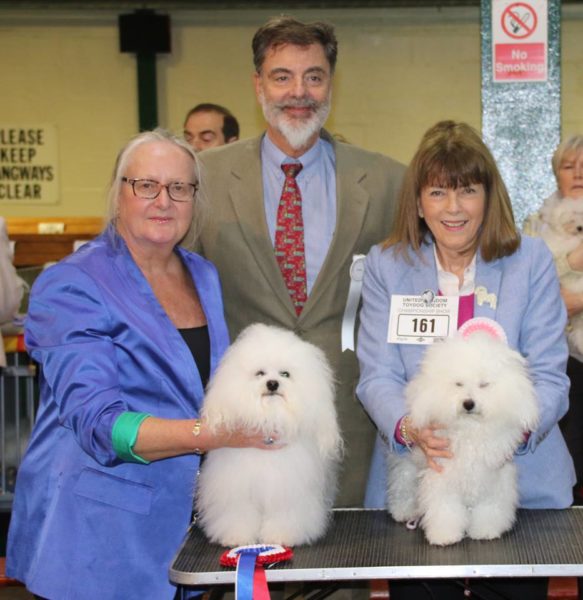 BOB & BOS at UK Toy 2018
UK Toy was a long day for Bolognese exhibitors. The Championship show was first and we were late in the ring, meaning that the club show didn't start till around 4pm. It was cold and drafty at our benches and in our ring. Although the entry was good for both shows, there were quite a few absences, so some classes had no or few dogs on the day. There were noticeably more bitches than dogs. Bolognese judge Peter Young appeared knowledgeable and diligent when going over the dogs.  BD & BOB at UK Toy was Ir Ch Int Ch Dutch Gib Little White Wonder Othello, owned by Virginia DOWTY, BB was Starexpress Mystery Girl owned by Greta FRANKLIN, BV Figgarony Andromache at Belstown and BP Donocielo Giulietta owned by Mr & Mrs Mulligan. It was great to see a dog of almost 10-years old Strophair Luigi  take the RBD place at his last show as he is being retired. RBB was Donocielo Cassia. There were quite a few people with puppies coming out soon, Chris Thatcher and Shirley Hewitson both have lovely female imports from Italy. From Jane Towers recent litter, 3 puppies are due to be shown. The sire of this litter is also Italian and all 3 puppies were at UK Toy for socialisation.
BV UK Toydog seen here with her great granddaughter BP
Although a long day for dogs and owners, UK Toy 2018 was an amazing day for the breed as BIS judge Mrs T M Jackson placed the Bolognese 3rd in show!
At the BBC OPEN show our judge was Mr K Berry, the full critique is on our facebook page www.facebook.com/BologneseDogClubUK, here are the principle winners, who are all members of the Bolognese Dog Club UK, congratulations to you all.
BOB & BD Dowty IR GIB DUT Ch Little White Wonder Othello Matteo
RBD Dowty & Davidson Lafford Hero
BB Franklin Starexpress Mystery Girl
RBB Mulligan Donocielo Cassia
BP Mulligan Donocielo Giulietta
BV Hopkins Strophair Luigi
More Show News
On the 4th of March, Donocielo Seraphina had another great day taking RBAVNSC Toy at the Folkestone, Hythe & District Canine Society Open Show under judge Mrs Jane Lilley.
News from Ireland
News came in about St Patricks Day Ch and Celtic Winners show from Virginia Dowty. Otti took BOB, GS, CACIBS and Celtic Winner, Clynymona Jo I 'm Alone took Bitch Stars and CACIBS and Celtic Winner, also Lafford Hero Clarchien Rock With You (Senga) won their Celtic Junior Winner titles.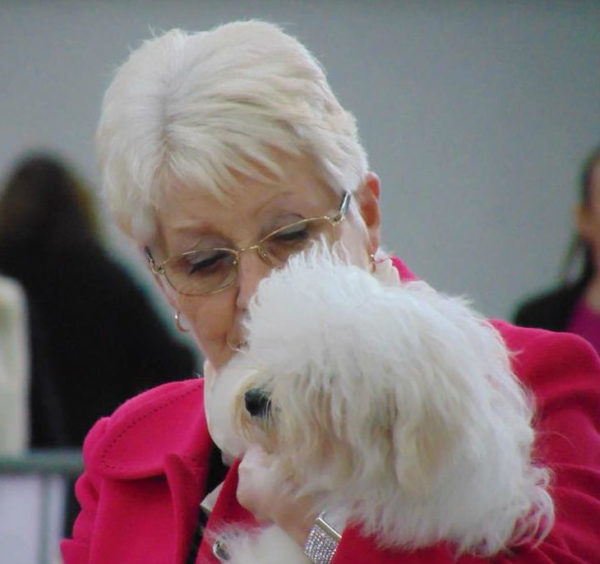 Gonni at her first show
News just in from Chris Thatcher
Great day at Exonian Canine Society Open Show. New puppy Gonni 'Gonni Torre Delle Passere with Devonia' was best puppy NSC and Toy Puppy Group 3 at 6 months and 2 days of age, under Judge Mrs. C. Champion.
Overseas NEWS
Virginia Dowty, with help from her granddaughter Izzy, made up 3 Luxembourg Ch on the 8th of April at Luxembourg International Show under German judge Jean Bruse. Multi Ch Little White Wonder Othello Matteo(Otti) wins BOB, CACIB, CAC and Ch of Luxembourg. Clarchien Rock With You (Senga) JB, BB, Jun CAC and Jun Luxembourg Ch. Lafford Hero JD, RBD, Jun CAC and Junior Luxembourg Ch.
Well done to everybody. Shows coming up are WELKS where our judge is Raye Parry, Birmingham National where our judge is Andrew Stewart, Bath where our judge is Mrs T M Jackson and Three Counties where our judge is Nick Gourney. Lets hope the weather improves!
If you see any errors in the information provided, please email info@bolognesedogclubuk.co.uk and we will make the changes straight away. Also, please let us know your show news, as much input from members as possible please and remember to take pictures!
Previous NEWS
BOLOGNESE News Roundup 28/2/2018
BOLOGNESE News Roundup 30/1/18
BOLOGNESE News Roundup 13/12/17
BOLOGNESE News Roundup 14/11/17
BOLOGNESE News Roundup 8/9/17
BOLOGNESE News Roundup 18/8/17
BOLOGNESE News Roundup 7/8/17
BOLOGNESE News Roundup 20/7/17
BOLOGNESE News Roundup 29/6/17
BOLOGNESE News Roundup 21/6/17