BOLOGNESE News Roundup 24/05/2019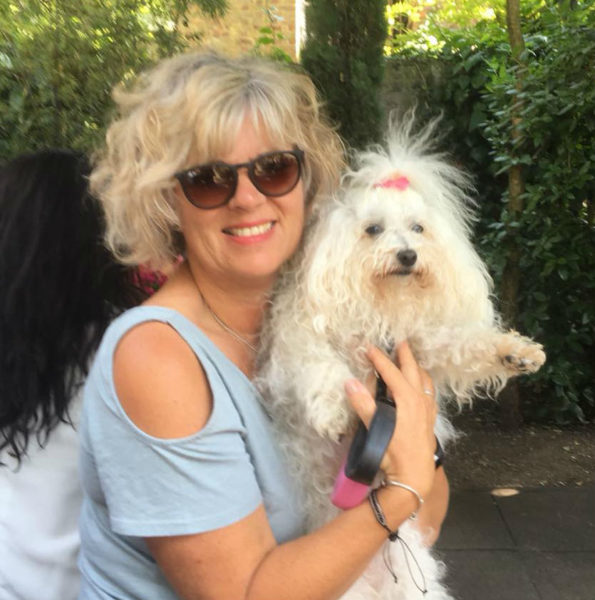 Since our last News Round in April, we have enjoyed a busy mix of social days, Championship and Open Shows. We can today report on West on England Ladies Kennel Association CH Show (WELKS), Birmingham Dog Show Society CH Show (The National) and Scottish Kennel Club CH show (SKC).
WELKS 26th April 2019
Sadly there was an above average number of absences at WELKS (recorded as 17) mainly due to illness. Our Bolognese judge was Miss Bethan Evans. We were given the choice of inside or outside ring and as it was windy, we chose to be judged inside after a large entry of Golden Retrievers. From 1 male and 1 female puppy my BELSTOWN HARRY THE POTTER was the best male puppy. Jane Towers handling the BP who was only 6-months old and at her first championship show. BOB went to the male LITTLE WHITE WONDER OTHELLO MATTEO and BB CLYNYMONA JO I'M ALONE both owned by Virginia Dowty with both winners having Championship status from wins overseas. Five exhibitors in all attended WELKS and little Archie visited with owners Tracey & Nick. We can also report that Virginia's Bolognese Donald achieved a good 2nd in the Veteran Stakes Class.
The National 10th May 2019
Less absences, but again entries could have been better for The National where our judge was Mr Mike Gadsby. At this show our BOB was the bitch Karen Golden's Kaylo Van Het Balgzand and BD Lafford Hero co-owned by Virginia Dowty. I was not able to go to this show, but Karen reported that she found the judge very thorough and kind to the dogs.
SKC 19th May 2019
There were only 2 competitors at SKC, which isn't unusual. LITTLE WHITE WONDER OTHELLO MATTEO was BOB under MR K BERRY and CLYNYMONA JO I'M ALONE BB, both dogs owned by Virginia Dowty.
Our next Championship show is Bath on Bank Holiday Monday, where we are in the ring at 9am. I hope the early start doesn't put people off attending as I for one will have to leave home at 5AM! We have 19 entries at Bath under Mr K S Wilberg who I'm told is Swedish but has lived in the UK for many years.
OPEN SHOWS
I attended South Eastern Toy Dog in Watford with Paul & Jacky Fuller. It was nice to spend the day getting to know Paul & Jacky and fabulous to see Paul showing his dog in the BIS ring. Our judge was Grace Godwin. Belstown Harry The Potter was BP and 'Purdy' Rhosynangel Seren BOB. The show society thought they would not be able to put the show on this year as their normal venue in Slough was not available. But, they managed to secure a lovely venue in Watford surrounded by open spaces ideal for walking the dogs!
I was one of 3 exhibitors at Redditch & District CS show which was also a rare breeds show scheduling all rare breeds. We had an amazing 13 entries here, but many fewer actually came. Our judge Paul Conway was very complimentary saying that he would really like to own a Bolognese one day.
Jane Towers and myself stayed all day, watching the politics of the day pan out. There was no PA system and people missed the stakes classes, which was really bad as some had brought their rare breeds partly for the Rare Breed Stakes, but never got in it! LITTLE WHITE WONDER OTHELLO MATTEO was BOB Bolognese and 2nd in the Toy Group and Donald was 2nd in the AV Veteran. The BP Bolognese was 3rd in the Puppy Toy Group and Best Puppy Rare Breed in show. So even though our numbers were expected to be bigger, we still made an impression at the show!
Chris Thatcher let me know about her day out on the 12th of May saying, "after a pretty rubbish start to the day with the traffic I am pleased to say that it turned out very well with a BOB and Toy Group 4 at West Country Club Open Show with my girl  Gonnni Torre Delle Passere with Devonia, our judge was Ellie Mordeicai".
Also on the 12th of May we hear that Greta Franklin's male Starexpress Italian Dream 'Dylan' won BOB & BIS 4 at Merseyside Toy Dog, under  breed judge Ken Bartlett Best in BIS judge Shelda Hornby.
Jane Towers has sent in a lovely report of her show activities at OPEN SHOWS. Jane took a young puppy sired by her boy Hector to Wellingborough and District CS for her first show on the 13th of April. Jane said, "she happily went around the ring to be rewarded with a second place to a very engaging little peke also on her first show". Jane added, "Caro Enjanicka Toscana Mio gained a respectable 2nd in PG being beaten by the eventual group 1 winner again a Peke. 'Hector' Enjanicka Midnight Blue gained a first in Open. Our judge was Liz Rushton".
Jane Towers & Jennie Hegarty attended Camberley and District Canine Society on the 14th of April. Derfel Owen was the AVNSC judge and he had also  judged Bolognese in the past and is usually present at the British Bolognese Club show stewarding. There were 5 classes for AVNSC with 33 entries. Jennie Hegarty's bitch Enjanicka Toscana Amore Mio 'Fizz' won Yearling, Boo won Puppy, 'Caro' Enjanicka Toscana Mio won PG and Enjanicka Midnight Blue 'Hector' won OPEN. Jane said, I was absolutely gobsmacked. It was a real rarity for our breed to make up almost every place in the challenge for BOB AVNSC".
CRITIQUES
In the next feature, we will be reporting on Bath, Southern Counties, Three Counties, Blackpool & Windsor Championship shows as well as OPEN SHOWS, lets hope our Bolognese continue to do us proud!
Thanks goes to all contributors to this feature. If you see any errors in the information provided, please email info@bolognesedogclubuk.co.uk and we will make the changes straight away. Also, please let us know your show news, as much input from members as possible please and remember to take pictures!
Previous NEWS
BOLOGNESE News Roundup 06/04/19
BOLOGNESE News Roundup 24/12/18
BOLOGNESE News Roundup 22/10/18
BOLOGNESE News Roundup 9/9/2018
BOLOGNESE News Roundup 16/8/2018
BOLOGNESE News Roundup 14/6/2018
BOLOGNESE News Roundup 16/5/18
BOLOGNESE News Roundup 09/4/18
BOLOGNESE News Roundup 28/2/2018
BOLOGNESE News Roundup 30/1/18
BOLOGNESE News Roundup 13/12/17
BOLOGNESE News Roundup 14/11/17
BOLOGNESE News Roundup 8/9/17
BOLOGNESE News Roundup 18/8/17
BOLOGNESE News Roundup 7/8/17
BOLOGNESE News Roundup 20/7/17
BOLOGNESE News Roundup 29/6/17
BOLOGNESE News Roundup 21/6/17