BOLOGNESE News Roundup 09/09/2018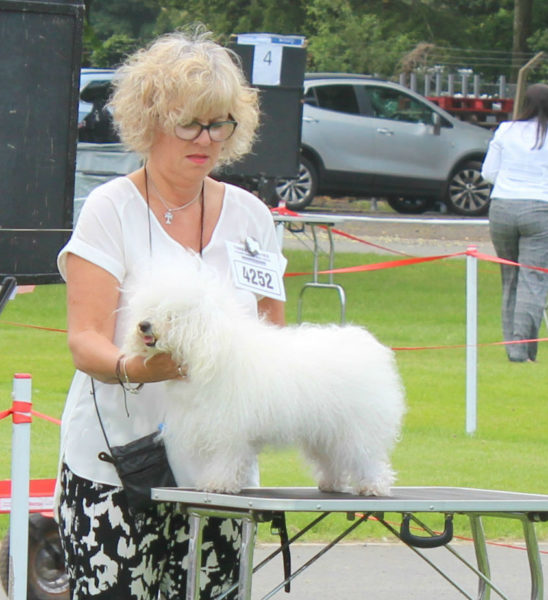 compiled by Melanie Thomas
(main picture by Dennis Mulligan of the Toy Group at Richmond Championship Show 2018) 
Hope that you are enjoying this regular show news feature. I can't go to many shows, so please keep sending in your contributions, so we can make an interesting report of the Bolognese show world. It is imperative that people communicate with me about their showing experiences. Since the last report, there have been shows in Wales, Birmingham and in Surrey and we have news and pictures to share.
Welsh Kennel Club Championship Show
On the 17th August a group of Bolognese competitors gathered in Builth Wells in Mid Wales to show their dogs under Mr E Engh from Norway. From 6 dogs and 8 bitches, Virginia Dowty's Ir Ch Clynymona Jo I'm Alone was awarded BOB with Multi Ch Little White Wonder Othello Matteo taking BOS. Jane Towers youngster Enjanicka Toscana Mio Caro was BP. Shirley Hewitson's Belstown Cheeky Pumpkin At Moorhey won her PG class. Peter Haig and Greta Franklin also made the trip.
News came back from Wales saying, there was a lot of hanging around. Bolognese were scheduled in the ring after the Smooth Coat Chihuahuas. But, unfortunately Espen Engh was in another ring judging two breeds beforehand which he didn't start until 12 o'clock. So, the judging didn't actually start in the ring until about 3.15. The show was being cleared away around them. Even so, the judge did not rush and took his time over his evaluation of the dogs even though he was due to do hound puppy group at 4pm. He was also very complimentary on how all the exhibits looked. The stewards were great and made jokes and added some much needed humour to the proceedings as they appreciated Bolognese competitors had been waiting all day. Full results can be found on Higham Press.
Also in Wales Jane Towers reported that her puppy Caro was 2nd in Minor Puppy Bitch Eukanuba Pup of the Year Stakes under Jean Lawless, as well as Best Puppy and Best Bitch in Petcetera AV rare breed stakes (toy and hound) under Dr R James – well worth the trip to Wales!
City of Birmingham Championship Show
A good entry at Birmingham City under Derek Smith. The show started promptly after the British Bolognese Club OPEN SHOW in the same ring. Multi Ch Little White Wonder Othello Matteo owned by Virginia Dowty took BOB. BOS was Greta Franklin's Starexpress Mystery Girl and PB a new boy Phendelle Photo Finish owned and bred by Hilary McArdell. Nice to see new males being shown. An award was given for Best Junior at City of Birmingham and this went to the Mulligan's Donocielo Giulietta. Jane Towers Enjanicka Midnight Blue won PGD and Shirley Hewitson's Belstown Cheeky Pumpkin At Moorhey won PGB both from decent sized classes. Full results can be found on Higham Press.
British Bolognese Club OPEN SHOW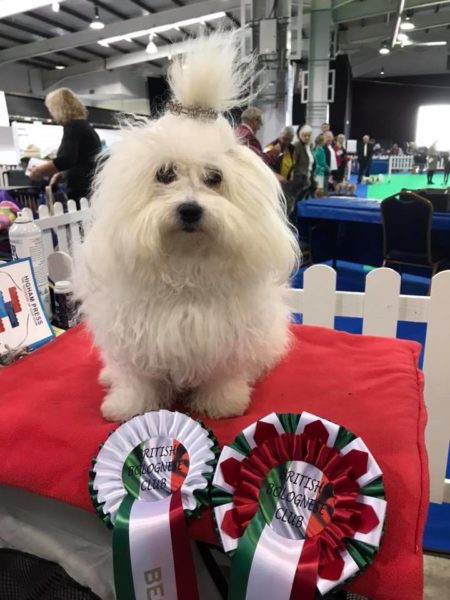 KAYLO VH BALGZAND BIS at Bolognese Club Show
On the same day as City of Birmingham was The British Bolognese Club OPEN SHOW, the second one of the year. It was a 9am start, so competitors had to be up early! The judge was breed specialist Mark Burns, in the main ring, which was lovely. BOB went to KAYLO VH BALGZAND owned by Karen Golden with Virginia Dowty's Lafford Hero taking the BD spot. RBP went to Gonni Torre Delle Passere With Devonia owned by Chris & Brian Thatcher.
Richmond Championship Show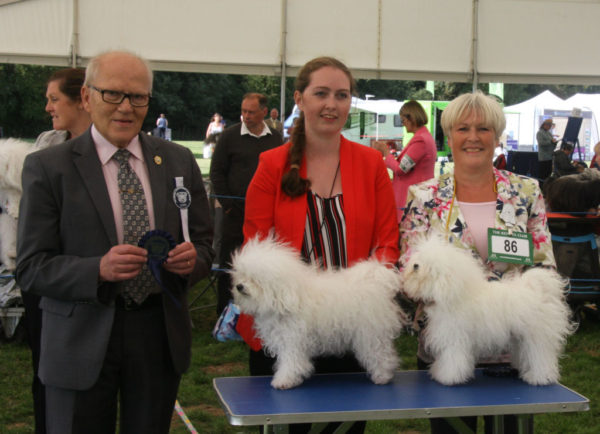 BOB & BP at Richmond
Great weather for Richmond Championship show on the 7th of September. Our judge Harry Tast was from Finland. There was not too much hanging around and there was a nice group of exhibitors, with lots of puppy girls. BOB went to Donocielo Seraphina a 4-year old girl achieving her first BOB at a Championship Show. BP went to Jane Towers Enjanicka Toscana Mio Caro, from a strong class of female puppies.
The main thrust of dog shows have passed now for 2018, although Darlington Dog Show Society have their Championship Show in September and Mr J Murdoch will be judging Bolognese. There is another show in Wales in October as well as Midland Counties which is one of the last qualifying shows for Crufts 2019. So we have almost gone full circle again, preparing and showing our dogs around the UK and even abroad. It will be interesting to see what Crufts brings and the show circuit for 2019!
Remember, if you are interested in the show side of the breed, you can find show news, results and judges critiques on the website. Go to the 'Our Dogs' area from the top bar and then choose the 'Show Results' option.
If you see any errors in the information provided, please email info@bolognesedogclubuk.co.uk and we will make the changes straight away. Also, please let us know your show news, as much input from members as possible please and remember to take pictures!
Previous NEWS
BOLOGNESE News Roundup 16/8/2018
BOLOGNESE News Roundup 14/6/2018
BOLOGNESE News Roundup 16/5/18
BOLOGNESE News Roundup 09/4/18
BOLOGNESE News Roundup 28/2/2018
BOLOGNESE News Roundup 30/1/18
BOLOGNESE News Roundup 13/12/17
BOLOGNESE News Roundup 14/11/17
BOLOGNESE News Roundup 8/9/17
BOLOGNESE News Roundup 18/8/17
BOLOGNESE News Roundup 7/8/17
BOLOGNESE News Roundup 20/7/17
BOLOGNESE News Roundup 29/6/17
BOLOGNESE News Roundup 21/6/17