BOLOGNESE News Roundup 14/6/2018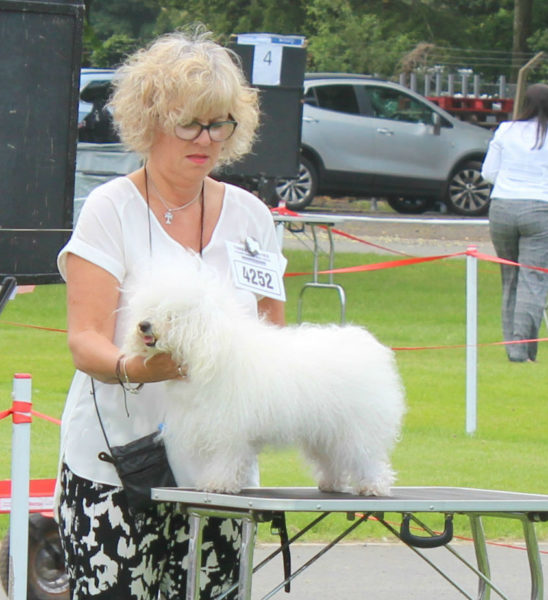 compiled by Melanie Thomas
In this News Roundup we can report on Bath & Three Counties Championship shows and pass on the good news from Bolognese at open shows around the country. A Bolognese has gone BIS and a bolognese puppy has won the Toy Puppy Group, both at Open Shows. The brits have also been represented in France at Championnat de France show with BP and BB.
Bath & Three Counties Championship shows could not have been more different as far as the weather was concerned. Basically, Bath on the 25th of May was wet and cold and Three Counties on the 9th of June was lovely and warm and dry.
We were able to keep dry in the tents at Bath and use the inside part of the rings. It was nice and dry inside, albeit a bit cold! Our judge at Bath was Mrs T M Jackson and she awarded BOB to Virginia Dowty's Multi Ch Little White Wonder Othello Matteo and BB to Mr & Mrs Mulligan's  Donocielo Cassia. BP went to 6-month old Enjanicka Toscana Mio Caro, owned and bred by Jane Towers. My Figgarony Andromache At Belstown as the only Veteran, got the award and went on to represent the breed in the Veteran Group. Later in the day the weather dried up and the temperatures improved, which was  good for those waiting for the groups.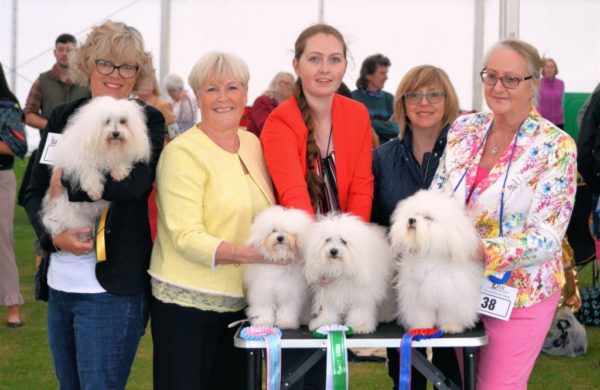 Principle winners at Bath Championship Show (picture by Dennis Mulligan)
There were a clear shortage of males being shown at Bath & Three Counties. At Bath there were no Puppies, Juniors or PG Dogs. There were only 4 male Bolognese at Bath. Other club members dogs winning their classes at Bath were, Enjanicka Midnight Blue 'Hector' (also RBD), Sweet Thing Dream Lady 'Athena' and Donocielo Seraphina (also RBB).
Principle winners at Three Counties Championship show
Three Counties a few weeks later was ideal weather for dog showing, dry and warm, but overcast. Most exhibitors spent the show outside and after 116 Chihuahuas, we got in the ring early afternoon. Our judge at Three Counties Nick Gourley knew the breed well and his critique was published the very next day! Nick found his BOB in the virtually unstoppable Multi Ch Little White Wonder Othello Matteo 'Otti' and BB in Mr & Mrs Mulligan's  Donocielo Cassia, with her older sister taking the RBB. BP again went to Enjanicka Toscana Mio Caro. Infact, the principle winners at Bath & Three Counties were the same. My Figgarony Andromache At Belstown 'Candy' again won the Veteran Class, but unfortunately, no veteran rosette and no Veteran Group. Candy will be 10-years old on the 4th of July and there were 8 of her progeny being shown at Three Counties, her daugher, plus 6 of her grandchildren and her great granddaughter. She was the grandmother to both the BB and RBB. Candy was bred by Jill Richards, her sire was a well known dog called Eros and her mother was bred by Chris Thatcher. CLICK HERE to read critique from Three Counties.
Southern Counties
Jane Towers kindly sent me a report on Southern Counties Championship show which was attended by quite a few Bolognese on the 1st of June. Jane said, "Although Bolognese didn't have a class, AVNSC consisted of only Bolognese so we actually end up with our own classes. It started off as a very warm humid day which turned into beautiful sunshine with a nice breeze by lunchtime so we were able to use the lovely big in out rings. Judge Howard Ogden was so lovely with the dogs. It was a very well organised show with lots of trade stands and shopping opportunities. It was great to have overseas judges for main groups (Sweden) and Puppy Group (USA) 'Hector' Enjanicka Midnight Blue was BOB 'Caro' Enjanicka Toscana Mio Caro BP & RBB ". DONOCIELO CEASARIO won the OD class and was RBD, DONOCIELO CASSIA won the LB class and was also BB & DONOCIELO SERAPHINA won the OB class. Caro the puppy was shortlisted in the Puppy Group, which was a great achievement at such a young age. The breed judge was Howard Ogden and our Puppy Group judge Ron Menaker (USA). As Southern Counties show had an unexpectedly large entry of Bolognese, hopefully we will get classes again at this show in the future.
There was also a show in Edinburgh, Scotland, SKC on the 19th of May, only attended by Virginia Dowty and Kathleen Holliday. Otti went through as BOB.
Championnat de France
On the 2nd of June Chris Thatcher took two dogs over to France for the Championnat de France show where she was picked 1st in the Bolognese Puppy Class with Gonni Torre Delle Passere with Devonia and Best Puppy in Breed. With Devonia's Red Hot Summer Chris was awarded CAC and CACIB for Open Bitch. Chris said, "I last went to this show in 2011 and enjoyed it again in 2018. There is no benching so you can park yourself wherever you like. You are given a list of breeds in your group and a time for judging which is very precise. The time given for the Bolognese to commence was 12.24. I have to say the timing given was not far out. In France they do not pick the winner of the class first, they announce it in reverse order.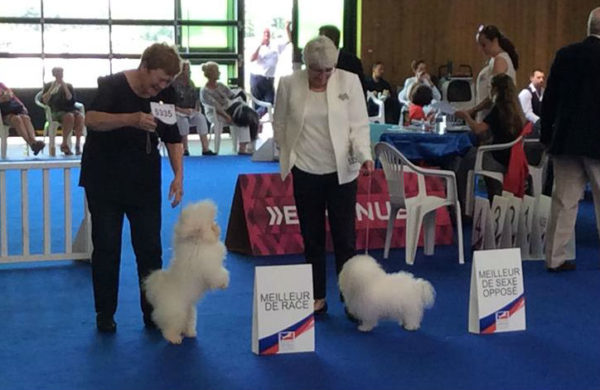 Chris & Rosa in France along with the BOB winner
Chris explains, "There were 5 groups showing on the Sunday and the Puppy Group at the end of the day consists of all these breeds in together. They do not go over the dogs in the group. The dogs are taken into the big ring and the judge just picks out 4. As you can imagine with so many dogs in the ring at once it was rather chaotic. It seemed to me it was just a case of pick your favourite breed".
OPEN SHOWS
Carol & Dennis Mulligan had a great day at Gravesend and Medway Towns CS Open Show under judge Derfel Owen on the 20th of May. From a class of 20 dogs entered in AVNSC Toy, Donocielo Giulietta was given BP followed by BOB. This was followed by her going against the other Toy breeds and being awarded TOY PUPPY GROUP 1 and TOY GROUP 3 at the age of 10 months!
Kaylo BIS at Spire Toy Dog Show
On the 28th of May Karen Golden was at Spire Toy Dog Show where Kaylo Van Het Balgzand was BOB and went on to win BIS under judge Sheila Boyes.
Some loyal competitors are travelled up to Scotland for Border Union Championship show in Kelso at the weekend. There are 6 classes scheduled for Bolognese in Scotland and our judge is MRS IRENE McMANUS. There are 11 dogs due to be at Border Union show, hope the weather is fine. Blackpool Championship show will held on the 22nd of June and we have an entry of 21 made up from 13 dogs under judge MARGARET BOULCOTT. After which we will all be looking forward to Windsor Championship show on the 28th of June where Frank Kane will be judging the breed. Windsor is a favourite show of mine, as I used to work and live in Windsor and I went to school, just up the road in Datchet. We will report the news from the upcoming shows in the next BOLOGNESE Newsround.
If you see any errors in the information provided, please email info@bolognesedogclubuk.co.uk and we will make the changes straight away. Also, please let us know your show news, as much input from members as possible please and remember to take pictures!
Previous NEWS
BOLOGNESE News Roundup 16/5/17
BOLOGNESE News Roundup 09/4/18
BOLOGNESE News Roundup 28/2/2018
BOLOGNESE News Roundup 30/1/18
BOLOGNESE News Roundup 13/12/17
BOLOGNESE News Roundup 14/11/17
BOLOGNESE News Roundup 8/9/17
BOLOGNESE News Roundup 18/8/17
BOLOGNESE News Roundup 7/8/17
BOLOGNESE News Roundup 20/7/17
BOLOGNESE News Roundup 29/6/17
BOLOGNESE News Roundup 21/6/17