BOLOGNESE News Roundup 13/12/17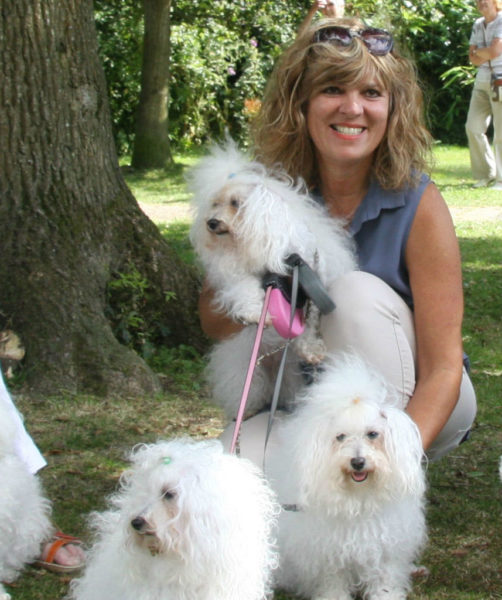 Compiled by Melanie Thomas
We were lucky with LKA as the snow came down the next day and caused havoc on the roads, but on Saturday the weather was cold, but dry. Easy show to get in and out of, but we were right by the doors, so it was a bit drafty for some of us. It was the afternoon before we got in the ring, but we did have lovely food to keep us going, including homemade cakes, cheese and biscuits, mince pies, cupcakes and chocolates. Our judge Virginia Dowty was lovely with the dogs and showed her real interest in the breed. Virginia had organised lovely fancy Xmas hair clips, winners cards and shopping bags as gifts for winners, which people loved, nice touch Virginia.
principle winners at LKA 2017 with judge Virginia Dowty
Our BOB was the male and his daughter owned in partnership with Jackie JOHNSON Biancopale Shining Star was BB, so a real family affair.  BV to Shirley HEWITSON's Int Ch NL Ch Predatino Bengi Of Moorhey. Club member Jitka Gazarek Riesova from the CHEQ Republic tells me that the BP winner is her breeding and she was really happy to see him in the picture as a principle winner. Other class winners at LKA included Enjanicka Midnight Blue (JD & RBD), Bellablakes Bugatis Bow (LD), Stanhome Katharine Hepburn (PB), Starexpress Calendar Girl With Stanhome (JB), Phendelle Donna (PGB), Devonia's Red Hot Summer (OB & RBB), Figgarony Andromache At Belstown (VB).
ENJANICKA MIDNIGHT BLUE 'Hector' at home after LKA
Also at LKA Jane Towers took her boy ENJANICKA MIDNIGHT BLUE 'Hector' to the combined Toy, Utility, Pastoral and Working  Special Beginners Stakes (dog) under judge David Roberts where she was thrilled that he was placed 2nd in a class of 23. Jane said, "we were up against Pugs, Cotons, Standard Poodles, Dalmatians Tibetan Terriers to name but a few. So for a rare breed to get a second I feel was a feather in the cap for our little breed."
Biancopales Shining Star (Siena)
Jackie Johnson had some good news regarding her girl Biancopales Shining Star who was at 2 shows over the 25th & 26th of November. At Southport & Birkdale KA Open Show, Siena came 1st in her class, Limit, then got rewarded RBOB. Then the following day at Spire Toy Dog Show, Siena came 1st in Open, then went on to get BOB. Under Judge Irene Horner BOB & Group 4 at Southport & Birkdale KA was Kaylo Van Het Balgzand owned by Karen Golden. Karen said Southport & Birkdale was a busy show.

Ottie in Amsterdam with Bolognese judge and handler Paul Connolly
Great news for Int, Gib, Irish Ch Little White Wonder Othello Matteo (Otti). Whilst Virginia Dowty was in Birmingham judging LKA, Otti was BOB, CAC & CACIB under Leno Finne (Finland) at the Amsterdam Winners, making him up to a new  Dutch Champion. Prior to Amsterdam Ottie was in Ireland where he was also BOB at Cloghran Championship show and shortlisted Gp 9. Also in Amsterdam at the Holland Cup Ottie was BOB, CAC, CACIB.
Virginia's bitch Clarchien Happy was awarded BOS, CAC & CACIB twice in Amsterdam making her a new Dutch Champion. Multi Ch Bolognese Star Audrey at Havanese Stars was BV and Dutch Vet Champion at Holland Cup (Amsterdam).
One more Championship show before Crufts. Our judge for Manchester Dog Show Society is Greta Franklin on the 19th of January 2018, entries close today at midday, but they may be extended at www.dog.biz. Stockport Toydog Association OPEN SHOW is on the 14th of January 2018, entries close on 15th of December also on www.dog.biz. The Bolognese Dog Club UK website has a useful EVENT area where we try to include all dog shows with Bolognese classes, with judges, venues and closing dates. Please let us know of any shows that are not included, members can even post shows themselves if they log in and then use the black bar at the top of the page (choose NEW EVENT).
Printed Newsletters will be arriving with all members any day in the post, hope you enjoy them. Annual membership is due on the 1st of January 2018, please use the MEMBER Payment area to pay on PayPal, or you can send a cheque or a direct payment. CLICK HERE for details of how to pay.
If you see any errors in the information provided, please email info@bolognesedogclubuk.co.uk and we will make the changes straight away. Happy Christmas to everybody and we hope that you and your dogs enjoy the holidays.
Previous NEWS
BOLOGNESE News Roundup 14/11/17
BOLOGNESE News Roundup 8/9/17
BOLOGNESE News Roundup 18/8/17
BOLOGNESE News Roundup 7/8/17
BOLOGNESE News Roundup 20/7/17
BOLOGNESE News Roundup 29/6/17
BOLOGNESE News Roundup 21/6/17