BOLOGNESE News Roundup 25/09/2019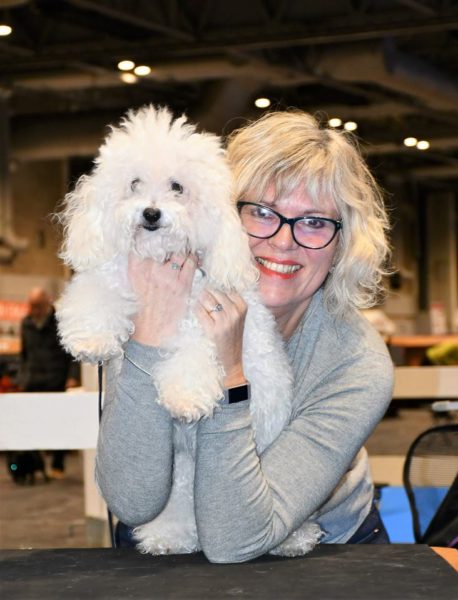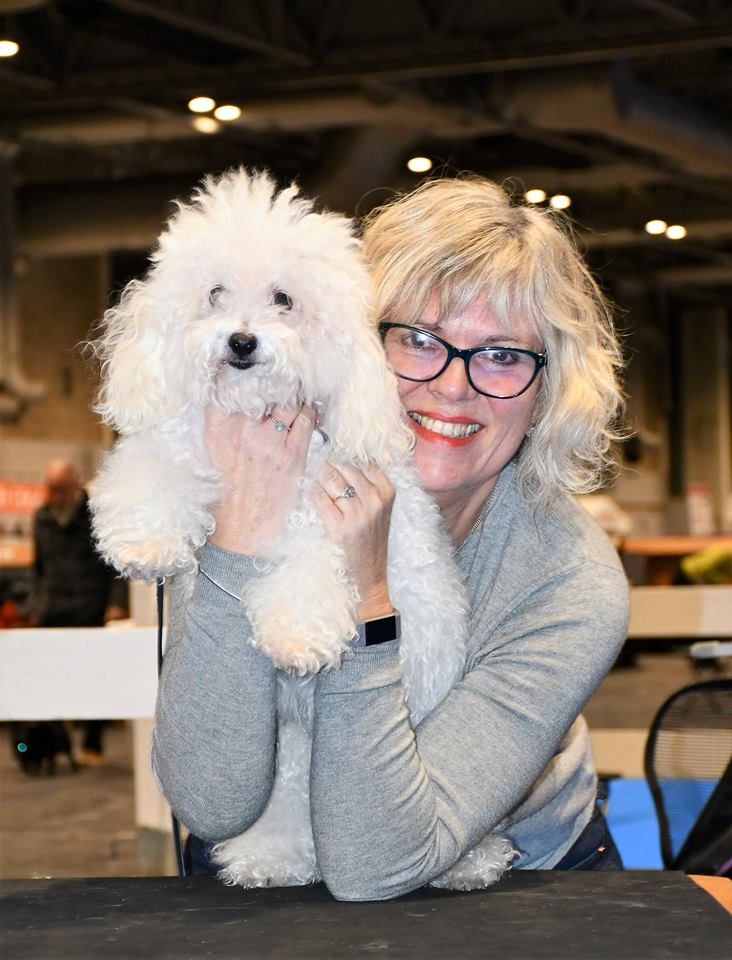 The Summer is over and the evenings are drawing in, the outdoor shows are finished for another year. As I have been campaigning a puppy this year, I have been to a good many championships shows across the UK, but am relieved that he is now a junior and the pressure is off. The early starts, the journeys and the costs have been tough. But, I have now put in the hard work and I'm looking forward to the razzmatazz of Crufts 2020.
It's a shame that we have not seen Shirley Hewitson this summer and hope she will be well enough to exhibit again soon. Mark & Diane Whateley have been away on their long trip around Europe and they had an amazing time with the dogs. Mark & Diane have also been missed around the shows, but we should be seeing them again soon.
There are lots of shows to report on in this News Roundup and news from Open Shows and Ireland. Please get in touch with your show news, it's lovely to have your input.
We will now be working on putting our 2020 Bolognese Dog Club Calendar together and our annual printed Newsletter which rounds up the year's news. So lots to do before the end of the year. If you have not already, please send in your pictures for consideration for the 2020 Calendar.
Reserve Best Dog Award Withheld at Leeds Championship Show
A slightly different array of exhibitors attended Leeds show on the 27th of July but still a disappointing entry. The judge at this show had judged Bolognese at Crufts 2016 and at Welsh Kennel Club Aug 2018, less that a year before Leeds, which is far from ideal. Mr E Engh from Norway found his BOB in Jane Towers Enjanicka Midnight Blue and BOS also from the same owner Enjanicka Toscana Mio Caro. Lyn Glover's Lagspring Cilla Black was awarded the Special Beginner prize. RBD was withheld at this show, which is unusual in the UK, but happens more in Europe. The Judge explains his reason for withholding RBD in his critique.  CLICK HERE for full results. Judges Critique is available HERE.
Mixed Classes at Paignton Championship Show
August 6th was the day for Paignton Championship show in the South West. A weekday show with mixed classes and a poor entry. Only 2 exhibitors made it to paignton. It was a shame for our judge Mr N Gourley, who is more than familiar with the breed. BOB went to the Multi Champion Little White Wonder Othello Matteo 'Otti', owned by Virginia Dowty. Reserve BD went to the puppy dog and BB also went to the puppy bitch. CLICK HERE for full results.
Bournemouth Championship Show 12th August
I was at Bournemouth and we were also joined by Chris Thatcher and Hilary & Peter McArdle. As far as competitors were concerned, this show was a little better attended, but still only 1 or 2 dogs per class. Being a weekday again probably didn't help entries at Bournemouth. There were some really dark clouds in the sky, but somehow it stayed dry, although it was windy and not too pleasant at times. Our judge was Mrs R Parry and Virginia Dowty's Otti was again BOB and the bitch puppy BB. Hilary McArdle won the PGB class with Phendelle Flamingo Fling and Virginia Dowty LB with Clarchien Rock With You. CLICK HERE for full results.
A wet day for Welsh Kennel Club Show 16th August
The same exhibitors were in Wales as were at Bournemouth with the addition of Greta Franklin. Our Judge was a vet, Dr A Schemel. The weather was wet, so we were inside. I stayed over, but nearly missed my class, administrative error, but all was well in the end luckily! Otti, took BOB for the third show running. Hilary McArdle was thrilled to get the BB award, Little White Wonder Vittorio Hero was PB owned in partnership with Virginia Dowty. Donald, Multi Ch Bolognese Star Donald At Havanese Stars was BV, owned and showed by Virginia Dowty. My Belstown Grace's Carol was shown for the first time for over a year to qualify for Crufts in the VB class. CLICK HERE for full results.
Two Shows in Stafford on 30th August
For those who travelled to Stafford on the 30th August, they were able to compete at the City of Birmingham Championship Show and the British Bolognese Club OPEN SHOW on the same day in the same ring. It was a 9am start though for the club show, which made it very difficult for many people again on a weekday with potential traffic. I wasn't there, but hear that we were given the main ring, which was large and carpeted and lovely to show the dogs in.
At the City of Birmingham Championship Show, Frank Kane found his BOB in Karen Golden's girl Kaylo Van Het Balgzand, PB was the youngster co-owned by Virginia Dowty Little White Wonder Vittorio Hero, Otti was BD. Hilary McArdle's Phendelle Flamingo Fling won PGB class and Joy Hough's Donocielo Alessandro At Strophair PGD. CLICK HERE for full results. Judges Critique can be read HERE.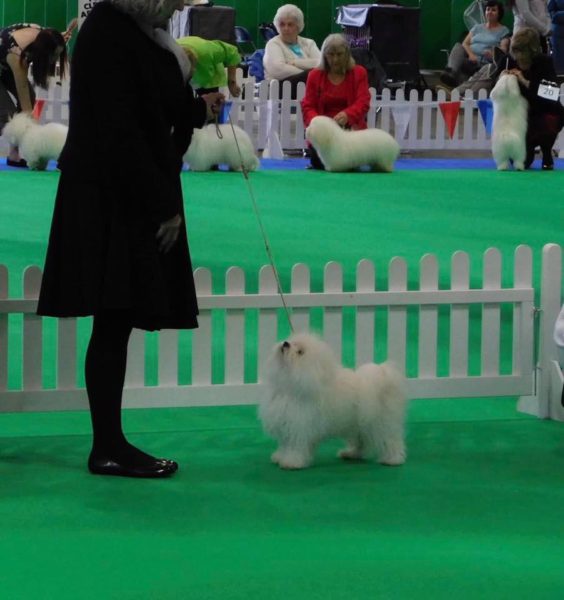 The British Bolognese Club Open Show
Carl Sparrow, a Pomeranian man, was the judge for the Club Show. BOB was Lafford Hero, co-owned by Virginia Dowty, BOS was Karen Golden's Kaylo Van Het Balgzand and BP Little White Wonder Vittorio Hero co-owned by Virginia Dowty.
A Chilly Richmond Championship Show
Richmond Championship show was on a Friday, the weather had made a dramatic turn towards Autumn, it was cold, wet AND windy! However, the turn out was better than at previous shows. Dennis & Carol Mulligan had made it over from their new home on the Isle of Wight, Jenny Hegarty brought Fizz for the Special Beginners class and Paul & Jacky Fuller brought their dogs Rhosynangel Cerys & Rhosynangel Seren. So, along with the usual suspects, there was a reasonable group of Bolognese exhibitors on the day. We were second in the ring, so the wait wasn't too bad. BOB was Lafford Hero co-owned by Virginia Dowty and BOS Donocielo Cassia owned by Carol & Dennis Mulligan and handled by their daughter Becky.  Enjanicka Toscana Amore Mio owned by Jenny Hegarty took the award for Special Beginners. As we had Bolognese Photographer Dennis Mulligan in attendance, we managed to get a group picture with our judge Rony Doedijns from The Netherlands. Other class winners were, Donocielo Seraphina (OB), Rhosynangel Seren (PGB), Rhosynangel Cerys (JB), Donocielo Ceasario (LD), Phendelle Photo Finish (PGD), Belstown Harry The Potter (JD) and Little White Wonder Vittorio Hero (PD). CLICK HERE for full results.
Darlington Championship Show
Lyn Glover made it to Darlington along with Virginia Dowty & Jane Towers. The female Ch Clynymona Jo I'm Alone took the BOB this time under Miss D Spavin with the Veteran Bolognese Star Donald At Havanese Stars BD. No feedback about the day came back from Darlington, so I can only report the results.
OPEN SHOWS
So lovely to hear from Jacky & Paul Fuller who told us, "we were at the Kingston Open Show show on Sunday 21st July with Jennie Hegarty. Our Missy came 1st and Jennie's Fizz came 2nd in Special Yearling and our Purdey was 1st in the Open Class. Purdey was BOB and Missy reserve BOB and Best Special Yearling. They were the only bolognese there but we all had fun."
We also heard from Chris Thatcher on the 24th of Aug, saying,  "great day yesterday with good company at Newton Abbot & South Devon Open Show. Gonni 1st in Open AVNSC and then Best AVNSC and shortlisted in group under Judge Angie Baker. Fabulous weather as well."
I took my 13-month Belstown Harry The Potter to The South of England Showground for Worthing & District Open Show on the 22nd September. The show was inside because of the wet weather, which I was pleased about as he shows better inside. Harry went through from winning AVNSC Junior to RBOB, with some decent competition. The judge Dave Vella replaced Peter Jolly who I was told was in hospital after a fall. Judging was delayed as 6 horses had managed to get on the A23 and the road was closed both ways until they managed to get the owner down to collect them!
Thanks also to Virginia Dowty for her report. Virginia told us, "We had a momentous week in Ireland after WKC. At Bichon Breeds Of Ireland Ch show under Italian Bichon breeds specialist Elizabetta de Luca, OTTI won RBIS, Puppy VITO BPIS, DONALD BVIS. OTTI won a Gp1, & 4, in a huge Toy/Gp9 which is a lot bigger than in UK and 5 x BOB. DONALD had 2 x 2nd places in Veteran Stakes. We couldn't do Brace as Josie came in season 2 as we arrived in Ireland. DONALD also became Irish Veteran Ch after all his Veteran wins. Picture is Otti winning Toy Gp/9 under June Gould at Killarney Ch where he also won BIS 7. That is BIS 7 (out of 10) so he wasn't last in BIS!"
Judges Critiques
Judges Critique – East of England 2019
Judges Critique – City of Birmingham Championship Show
Judges Critique – LEEDS Championship Show
In the next feature, we will be reporting on South Wales, Midland Counties & LKA Championship shows as well as OPEN SHOWS, lets hope our Bolognese continue to do us proud! I am unlikely to be attending these shows, so please let me know any news about the day and also take some pictures.
Thanks goes to all contributors. We have been running this feature for over 2-years now providing a lovely way to remember the dogs and their achievements for years to come. If you see any errors in the information provided, please email info@bolognesedogclubuk.co.uk and we will make the changes straight away.
Previous NEWS
BOLOGNESE News Roundup 10/07/2019
BOLOGNESE News Roundup 24/05/2019
BOLOGNESE News Roundup 06/04/19
BOLOGNESE News Roundup 24/12/18
BOLOGNESE News Roundup 22/10/18
BOLOGNESE News Roundup 9/9/2018
BOLOGNESE News Roundup 16/8/2018
BOLOGNESE News Roundup 14/6/2018
BOLOGNESE News Roundup 16/5/18
BOLOGNESE News Roundup 09/4/18
BOLOGNESE News Roundup 28/2/2018
BOLOGNESE News Roundup 30/1/18
BOLOGNESE News Roundup 13/12/17
BOLOGNESE News Roundup 14/11/17
BOLOGNESE News Roundup 8/9/17
BOLOGNESE News Roundup 18/8/17
BOLOGNESE News Roundup 7/8/17
BOLOGNESE News Roundup 20/7/17
BOLOGNESE News Roundup 29/6/17
BOLOGNESE News Roundup 21/6/17