17 Bolognese for London MEET UP
We chose a new venue in West London for our Bolognese MEET UP on the 2nd of June 2019. We met at Chiswick House & Gardens which couldn't of been easier to find and easier to park. The weather was very hot, although overcast some of the time, it was scorching when the sun came out around lunchtime. We met under a tree by the cafe, everybody we were expecting came plus a few extras, which was a welcome bonus. Paul Irvine and his son Khush and wife Neelu had only returned from holiday the day before, but managed to make it. Carol Martin with her husband Gary and their Bolognese Florence & Fabio were also a surprise, but really nice to see them. Amazingly, a lady called Dinah was walking in the gardens with her Bolognese Charlie having no idea about our club or our event. Dinah bumped into somebody with a Bolognese asking where the cafe was so came to meet us all and is now going to join the club. Dinah was proud to tell us that Charlie is 11-years only, but looked just like a youngster.
Chiswick House and Gardens is a vast area, with lovely old trees, monuments, status, avenues, woods a lake and walks, there is so much to see. Apparently it has a Rose Garden as well, but we didn't go to see that. The cafe was busy, but they managed well and the queues were not long. There was lots of outdoor seating, although we needed more shade. When you are there you would never realize that you were so near to central London.
We took a walk down to the lake where its was open and away from the cafe, so we could let the dogs off for a run. Due to the heat, we didn't want to walk too far. Also we spent lots of time chatting, it was hard to move people on, people just enjoyed mingling. The gardens were busy, so lots of people came over to talk to us, the children were fascinated by so many fluffy white dogs all together. Some of us had met before at last year's London MEET UP in Greenwich Park. However, we met for the first time Peta Al Rais and her 2 dogs Dante and Cecco, who had the most amazing full coats. Peta lives between Dubai and London. We also met Sagal Omar who has recently joined the club and her young Bolognese Indy. Sagal said that she was grateful to other Bolognese owners for giving her advice particularly on grooming and the coat. Tina Vadaneaux's Bolognese girl Minty walks in the gardens regularly, so she was at home loved chasing her ball. My girl Lily was reunited with her 9-month old daughter Georgie who is owned by Niamh McNaughton who also lives locally.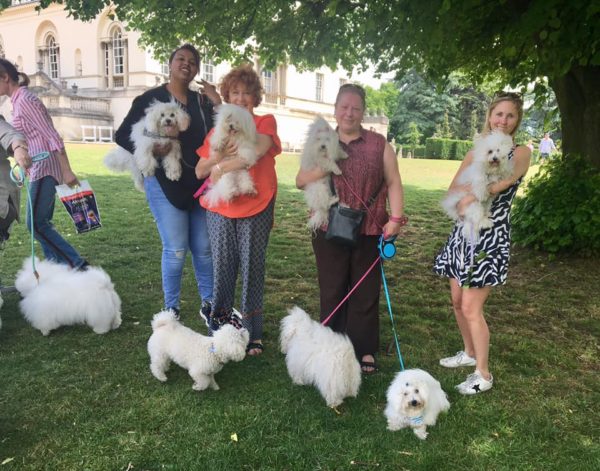 After a break for lunch we moved under the trees where is was pleasantly cool with a nice breeze. We drew the raffle which the main prize we are pleased to say was won by Paul Irvine. This time we had quite a few runner up prizes, so lots of people went off with a toy or treat for their dog. It was not difficult to find a judge for our fun competitions as so many people were milling around us. A lovely lady with a baby was more than happy to be our judge. Prettiest Girl winner was MINTY, Handsomest dog was INDY and best Hair Doo was Dante. It was all a bit of fun, but we still clapped and cheered. How lovely that Diane & Mark Whateley from The Midlands with their Bolognese Max, Cara & Bella, could make the MEET UP as they were staying down in London for Mark's work. Good timing Mark! Lily Georgiou and her dad Mario brought their cheeky Bolognese Luigi, who was not shy to make his presence known! Jenny Hegarty & Fizz, who also came to Greenwich Park again loved being part of the Bolognese appreciation society. Thanks Jenny for your moral support when I first lost the book of raffle tickets and then run out of raffle tickets!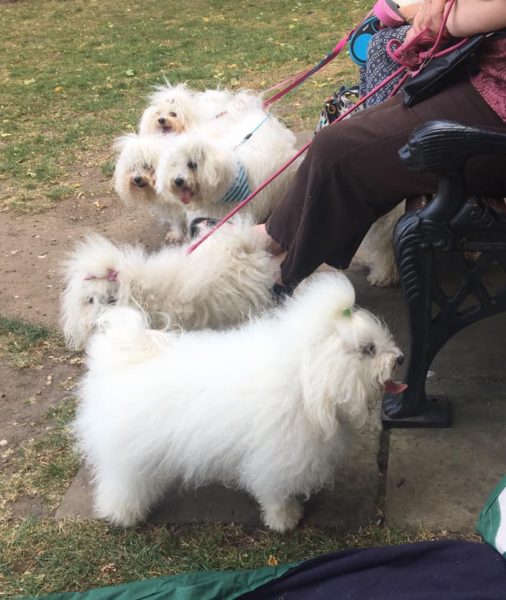 We would like to thank Tina Vadaneaux for suggesting this fabulous venue and to everybody that came along. The MEET UP's this year have all been lovely and held in great spots around the country. In the last 3-years we really have been to some lovely places. We are not holding any now until September, when we will again be in Somerset with Chris Thatcher and Bolognese from the South West. If anybody else would like to host a Bolognese walk and get together, don't be shy, let us know and we will publicise the event and help you with a raffle and prizes.