Crufts 2018 Report of the Day
We had an entry of 56 dogs for Crufts 2018 under judge Jeff Horswell. Our judge had 98 Japanese Shiba Inu in a different ring before us, but we did start about 2pm, so not that bad at all. Jeff Horswell obviously didn't stop for lunch as he was grabbing food on the run between classes! Our judge was quick and efficient and the dogs had a lovely large ring to show off in. Some of the results were a little different to what we have become used to but he obviously had his reasons for placing dogs as he did.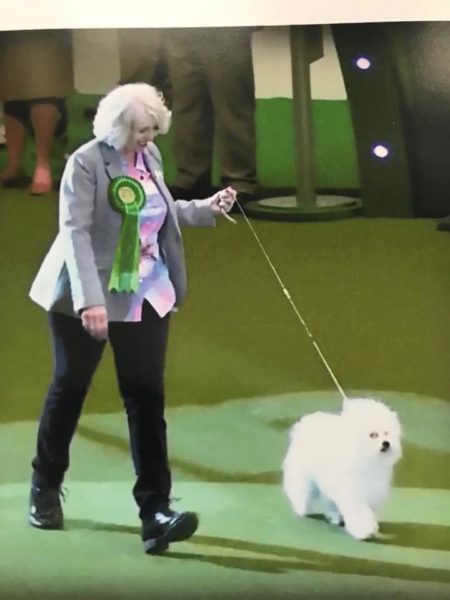 Kaylo
BB & BOB was KAYLO VH BALGZAND owned and handled by Karen Golden and bred in The Netherlands by Carolien Jongejans. Karen was of course over the moon with the result, albeit a bit nervous of the main ring with the lights and cameras. We asked Karen what it was like. Karen said, "the atmosphere in the group was electric but exciting too. I was initially worried. I know if her breeder Carolien Jongejans was able to come I would have asked her if she would handle Kaylo for me. In the end I just forgot about the TV presence and thought…. Goldie, just go for it!". The video of Kaylo in the ring was flawless, so Karen actually had nothing to worry about. RBB went to STAREXPRESS MYSTERY GIRL owned, bred and handled by Greta Franklin.
Donald
Best opposite sex was the winner of the Good Citizens class INT/FR/IR/GIB CH BOLOGNESE STAR DONALD AT HAVANESE STARS, co-owned by Virginia Dowty. Donald is almost 7-years old. We asked Virginia about Donald, she said "He got his Bronze level Good Citizen Dog cert 3 years ago. Donald was top Bolognese 2 years running but hasn't been shown for 3 years. It just goes to show Good Citizen isn't to be sniffed at!". As a Champion and registered with an FCI KC, Donald is automatically qualified for Crufts. Good Citizen dogs have to pass tests on a number disciplines such as basic obedience. There are currently around 1,800 dog training clubs and other organisations around the country actively administering the scheme.. CLICK HERE to find out about the Good Citizen Dog Training Scheme.
There was a buzz about the benches as Mark Whately had been interviewed and featured on Channel 4 whilst being on the Bolognese Discover Dogs stand the day before. Mark seemed chuffed about being on the TV for the Crufts programme and had a nice smile on his face when people asked.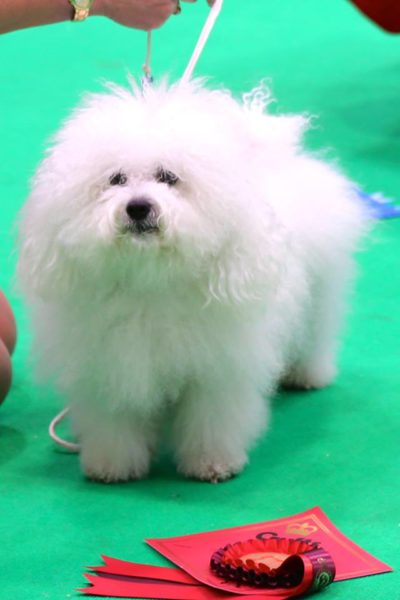 Harvey
We welcomed a few overseas exhibitors which livened things up and differentiated the show from other Championship shows. Tina Schwarz came over from Germany with a couple of dogs. It was her first Crufts, travelling all the way from Berlin with her husband. The trip was worthwhile as Tina handled GER/INT CH HARVEY WHITE LION VOM HOF DOMINIQUE to win Open Dog and be awarded Reserve Best Dog. Tina seamed happy.
Claire Tibbe from Belgium, was happy to be back at Crufts after a 3-year absence due to illness. Claire handled 2 girls both registered to Fay Walker AEMILIA'S BELLFLOWER & AEMILIA'S ENGLISH ROSE both won their classes meaning that they are now qualified for Crufts 2019. Claire said she spent a beautiful week holiday in Toddington a very beautiful region in England. 2 Crufts winners in the bitch classes went to Claire, great day for her.
We also had an entry from one of our members Ikuko Hisaka in the United States but unfortunately she was unable to attend due to the difficulty of getting her dog into the UK. A further entry was from from Mrs Hall-Roberts in France. We had quite a few other visitors around the ring namely Daniela Tosselli from Italy this year without her dogs which must be a first for many years. Other members who made an appearance were Mr & Mrs Poulter and Caroline Moore. Chris Thatcher said, "it was great to catch up with Jessica Van Driel I believe the last time she came over to Crufts was 2010 we had a great discussion about the way the Bolognese breed are heading". Jessica also had her son Thomas with her.
Other club members with Crufts winners were
Shirley Hewitson with INT CH PREDATINO BENGI OF MOORHEY, VD
Kathleen Holliday with BELSTOWN MERLAU BLACKBIRD, JD
Carol Lees with LAFFORD MILKY BAR KID LD
Melanie Thomas with FIGGARONY ANDROMACHE AT BELSTOWN VB & Best Veteran
Carol Mulligan with DONOCIELO GIULIETTA MPB & Best Puppy
Peter & Hilary McCardell with PHENDELLE FLAMINGO FLING JB
Greta Franklin with STAREXPRESS MYSTERY GIRL LB
After the judging, it was not possible to use the ring for a group photograph as the Coton de Tulear where next in. We found an open space to get together in a horseshoe and blocked the thoroughfare for a while! It wasn't easy, but Dennis Mulligan managed to get a great shot of the whole group. Jane Corbishley a lovely Bolognese enthusiast took some great pictures of the day as well, in and out of the ring and videos. Jane kindly shared her pictures on facebook along with quite a few other people, so Facebook was red hot for a good few days!
There was some sadness for regular Bolognese exhibitors, due to the empty bench where Julie Epstein should of been with her dog Bentley. Julie was a member of this club, but she sadly passed away after a short illness just a few weeks before Crufts. Bill and Heather Blakeway did a very nice tribute to Julie Epstein which was left on the bench for people to sign.
After the judging there was plenty of food to be shared. The traditional picnic this year was organised by Jane Owen and Joy Hough. We had homemade sausage rolls, cakes, cupcakes, a lovely home made quiche, cheese and biscuits, fabulous homemade fudge, so much lovely food! It was Sue Johnson's husband's 80th birthday and she had made some Bolognese decorations for a tray cake, with an 80th candle. There is always a problem of where to lay out the food. Maybe next year we should just take the bull by the horns and bring a fold up table!
Although there were a few handlers and foreign exhibitors at Crufts this year, it was noticeable that all the principle winners were regular show goers who have represented the breed regularly at shows over the last 12-months and also for a few years before that!
All in all, win or lose people had a great social time. The quest now starts to qualify the dogs all over again in readiness for next year's Crufts.