SPOT LIGHT – Kaylo Van Het Balgzand
Kaylo Van Het Balgzand is lovingly known as 'Our Lucie May'. Lucie came to us at just over 6 months old from the kennel Van Het Balgzand in Holland. She was bred by Mrs Carolien Jongejans who had a special love for Bolognese for many years. In September 2016 we welcomed Lucie into our lives. Lucie is our 3rd Bolognese. The love of the breed and the companionship they offer is so unique it can become infectious for sure.
Her two sisters Moorhey Dolly Daisy and Moorhey Angelica had no problem welcoming Lucie into the pack and soon she felt relaxed with us all. The Bolognese have really enhanced our life.
Lucie has always loved to be in the show ring and has done us all proud, in 2018 she was awarded Best of Breed at Crufts. I was very proud of her and her breeder, who in fact has now had 3 Best of Breed awards at Crufts. Lucie's mum Hope was a Best of Breed winner at Crufts and so was her Grandmother Channel.
Lucie, Hope & Channel (grandmother, mother & daughter) all BOB winners at Crufts. They are like peas in a pod they say!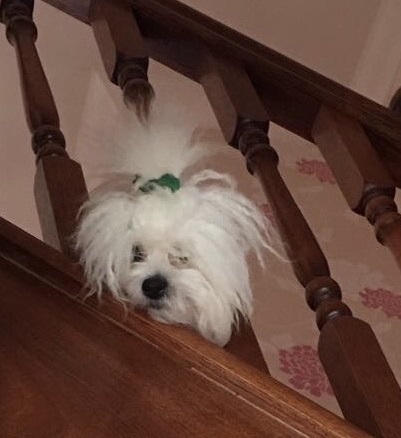 Lucie is a very cheeky girl and hides anywhere she can when the grooming brush comes out. Everyday I feel blessed these beautiful Bolognese have been a part of my life. They are loyal, loving and definitely want to be with you every moment.
RELATED POSTS
Kaylo Van Het Balgzand is BIS at Spire Toy Dog
Extract taken from Crufts 2018 Report of the Day
BB & BOB was KAYLO VH BALGZAND owned and handled by Karen Golden and bred in The Netherlands by Carolien Jongejans. Karen was of course over the moon with the result, albeit a bit nervous of the main ring with the lights and cameras. We asked Karen what it was like. Karen said, "the atmosphere in the group was electric but exciting too. I was initially worried. I know if her breeder Carolien Jongejans was able to come I would have asked her if she would handle Kaylo for me. In the end I just forgot about the TV presence and thought…. Goldie, just go for it!". The video of Kaylo in the ring was flawless, so Karen actually had nothing to worry about.