SPOT LIGHT – Multi Ch Bolognese Star Audrey at Havanese Stars
Audrey was bred in Switzerland, her sire was Multi Ch Lenny Valasske Hory (who I co-owned with Marguerite Seeberger) he was BIS Crufts 2007 and he was the top Bolognese in Europe at that time her dam was from Hungary Daphne Dolni Dobrouce. She came to me when she was just over 6 months old and won BOB at her first show several days later. However I nearly lost her the day she arrived, as the Embleton's from Ireland brought her over from Switzerland for me as they had been there for a show, and I met them in the UK. Just minutes after they handed her over she slipped her lead, ran off and was hit by a car. Fortunately she was so light she must have just flipped in the air, I rushed her to the vet, luckily there was very little damage and she quickly made a miraculous recovery.
She was very easy going as a puppy but has always had a mind of her own and quite vocal which she still is when she wants something and she always asks to go out for wee unlike many of the others! She has travelled all over Europe with me, in planes, boats and trains, and has been made up as an Int Ch and gaining her titles in France, Spain, Gibraltar, Morocco, Ireland, Switzerland.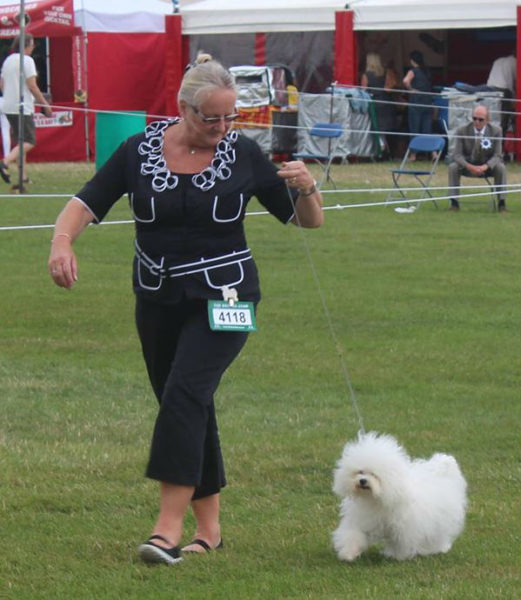 Her really memorable big wins came as a Veteran, winning and being placed in many Veteran Stakes and Groups in UK and Ireland. There have been so many highlights in her show career, including BV female World Show 2016, Toy Group Veteran winner at WKC 2015 and BV bitch at Crufts 2014/15/16/17. Up until last year she was still winning BB in breed classes in the UK. Audrey was lucky enough to win several BIS's including Club and Isle of Man shows.
She only ever had one litter, and I kept a bitch from that but she was only shown as puppy. She has remained in very good health all her life, hardly ever going to the vet, she is PRA clear, patellas 100%, runs around like a spring chicken, and still has fabulous eyes but when she developed a slight heart murmur earlier this year we decided aged nearly 12 it was time to retire her from the show ring.
You never know she may make a one off appearance again! but really her showing days are over now.