SPOT LIGHT – Donocielo Seraphina
On 2 April 2014 we had our first litter of puppies. The proud parents were Mia (Belstown Mistletoe Nellie) and Predatino Bengi (owned by Shirley Hewitson). After a very long, stressful 8 hour labour, 6 beautiful Easter puppies were born, 2 girls and 4 boys.
In their early days, the smallest of the litter, 'pink' girl, stood out from the others with her confident, cheeky personality. As the weeks passed it soon became clear that, although small in stature, she was the feisty one, always in the thick of it, bossing her brothers about. She was given the name Seraphina.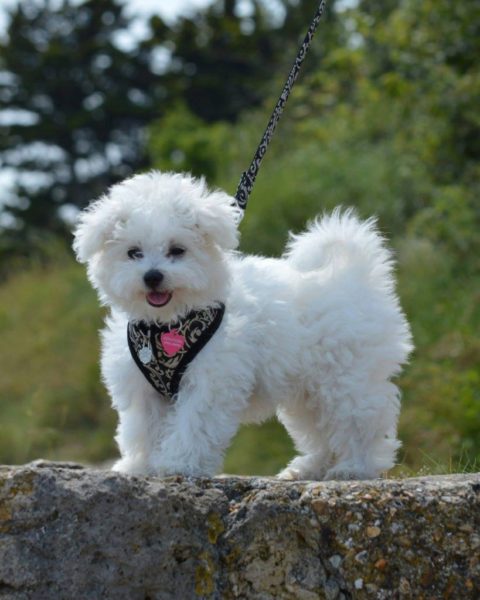 At the age of 6 months, alongside her litter brother (Alfie) and sister (Bear) she began her show career. At her very first Open Show she was awarded Best Toy Puppy and from the judges' comments we knew we had a very special little girl. She has always loved strutting her stuff around the ring and loving all the attention and fuss. Ultra confident and calm are the two words that probably best describe her temperament. Through the years she has entered numerous Open and Championship Shows attaining top honours and group placing. This year at Crufts, under Judge Mr Howard Ogden, Seraphina was awarded Best Bitch. What an immensely proud moment for us, having bred her ourselves.
Back in 2017 we had travelled with her all the way to Italy to meet Lorena Eli and her husband Marco. Seraphina was introduced to World Dog Show Winner Zeus which resulted in 4 beautiful puppies 8 weeks later. This litter included daughter Giulietta and brother Marcello who has since gone on to win numerous European Champion titles.
A plaque was awarded by Warlingham Dog Club to Seraphina and my daughter Becky for their achievements winning multiple BOB's, Group Placings and Best Bitch at Crufts in 2019. Seraphina now lives with us on Isle of Wight. Our 'island girl' enjoys her time playing on the beach and going for long walks in the countryside with the rest of her Bolo family. Although we have taken a rest from showing at the moment, she will be back in the ring next year!
Carol Mulligan
www.donocielo.com