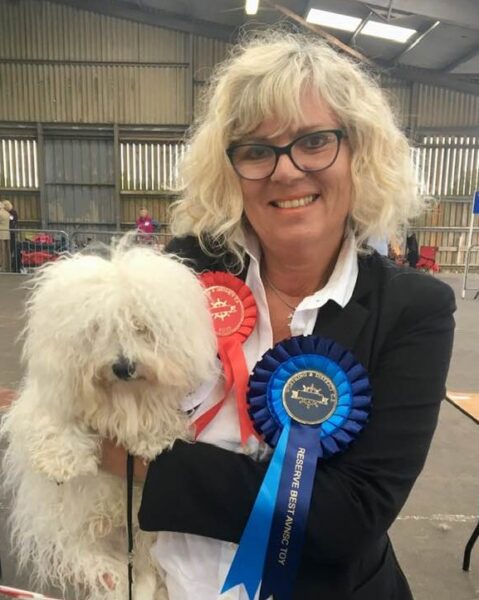 Since my last report there have been 7 Championship Shows in England Scotland and Wales. We ask Bolognese pro-members to contribute to this report and we are proud to promote their wins. It is also lovely to welcome Amy Lovell and praise her commitment to training and showing her new Devonia puppy Obi. Amy's hard work has shown through in her results so far. We can report on Blackpool, Windsor, East of England, Paignton, Bournemouth, WELKS and some open shows with and without Bolognese Classes. If we don't have feedback, obviously we are not able to report on the show. Please email feedback from shows to info@bolognesedogclubuk.co.uk
CHAMPIONSHIP SHOWS
BLACKPOOL & District Canine Society 24th June 2022
Mark & Diane's Lyckalotte Enzo Ferrari at Arkadian went away with the RBD award at Blackpool under judge Adam Davidson. Numbers unfortunately where low but this is often the case at Blackpool, Enzo came from the Yearling Class. Diane said, "Despite the wind and rain yesterday at Blackpool Championship Show, Enzo was Reserve Best Dog and Best Junior in Breed with 1sts in Junior and Yearling under judge Adam Davidson. Max and Amy also got 1sts in their classes".
WINDSOR Championship Dog Show 1st July 2022
Windsor was a Donocielo Day with Carol & Dennis winning BOB & BV with Donocielo Cassia and BD with Donocielo Michelangelo, my Belstown Harry The Potter took RBD. Chris & Brian Thatcher won Puppy Dog with Pelyhes Odin with Devonia Imp Hu and Good Citizen class went to Bette Hopkins Enjanicka Toscana Ti Adoro. LB was The Whateleys Arkadian Beloved Diana. There were a few more exhibitors at Windsor, but numbers were still down on previous years. Windsor was a nice show, our judge Tim Ball had judged us a few times before, we didn't have to wait too long and the weather was a pleasant June day. It was wonderful to see that Donocielo Cassia was also Shortlisted in the Toy Veteran Group by Irene McManus.
Bette Hopkins said, "we had a lovely day at Windsor Champ Show. Very chuffed that Alba and Bijou came fourth in Brace and won a fiver! Two of the placed teams were Bolognese which made it even better! Afterwards we caught up with Bollie friends over drinks in the sunshine. A very well organised show with lovely views of Windsor Castle from the car park".
Judges Critique – Windsor Championship Show 2022
East of England Agricultural Society 9th July 2022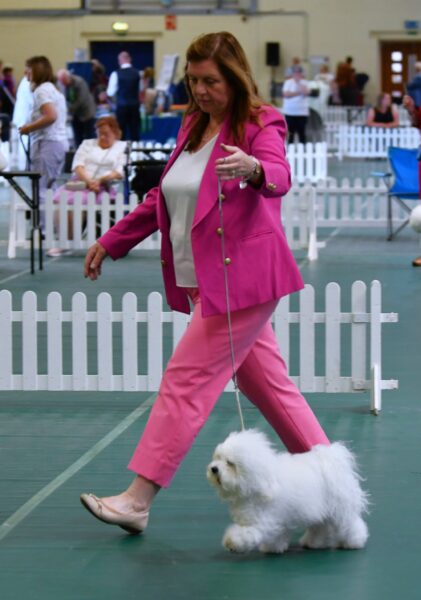 It was a hot day at East of England under judge Christine Rushbrook. The Donocielo partnership were given the BD with Meko and the Devonia partnership followed close behind with Odin and RBD. Reserve BB was Donocielo Seraphina who was also BV. We can also congratulate the Arkadian team for winning LD Marcus Maximus and Bette Hopkins with Lyckalotte Elegante Athena for PGB & LB with Enjanicka Toscana Ti Adoro
Paignton & District Fanciers Association 5th August 2022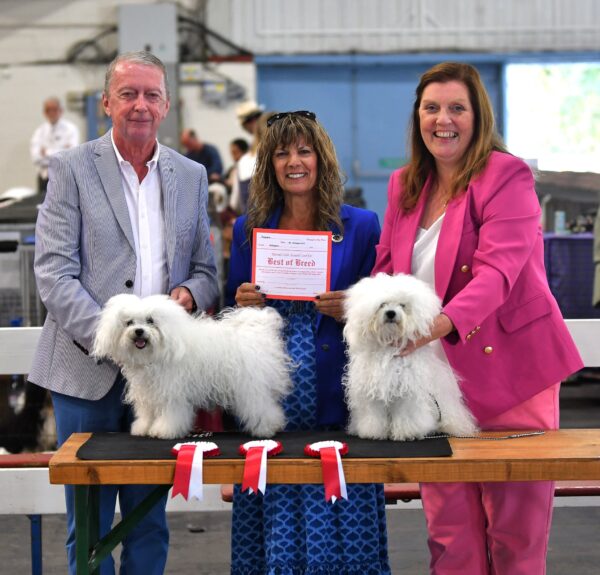 This was a canine family show and also a nod for the veterans. The Mulligans Donocielo Seraphina, at 8 years old, took BV & BOB under Mrs Sue Smith and Seraphina's son Donocielo Michelangelo was BD. RBD was given to Kobanyai Pelyhes Odin with Devonia owned by Chris & Brian Thatcher. Well done to Jenny Hegarty and  Enjanicka Toscana Amore Mio 'Fizz' for the Best Good Citizen in breed award.
Bournemouth Canine Association 15th August 2022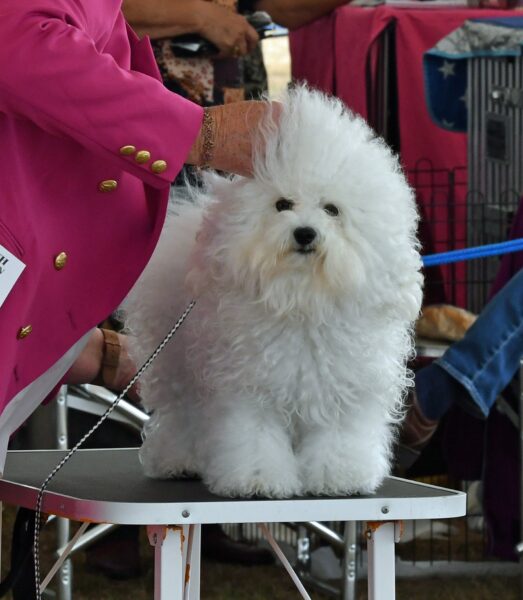 Donocielo Michelangelo continued his run of success, by taking BOB at Bournemouth at just 17-months old. The RBD going to the Whateley's Lyckalotte Enzo Ferrari at Arkadian. It was Donocielo Cassia's turn this time for RBB and Enjanicka Toscana Amore Mio Fizz owned by Jennie Hegarty was our Special Biginners, Fizz had a good day by winning the Post Graduate class too. Our judge was Mr G G Thomas. Bournemouth Championship show was just after the second heat wave of the year. Thank goodness the heatwave broke, so the day was bearable and not too hot.
Welsh KC 20th August 2022
A few exhibitors made it to lovely Wales for Welsh KC Championship show, where our judge was Chris Lawson. Chris Thatcher's puppy in partnership with Amy Lovell, Devonia's Anzio, took the  Puppy Dog class, Chris & Brian's import Kobanyai Pelyhes Odin with Devonia his Junior class and their Devonia's Calabria the PGB class.  Diane & Mark Whateley's Arkadian Marcus Maximus was Limit Dog. Devonia's Anzio owned by Chris Thatcher & Amy Lovell took the RDB from the puppy class.
OPEN SHOWS
Newton Abbot & South Devon Canine Society & The Vale of Glamorgan show
August 2022
Newcomer to the breed Amy Lovell had a lovely day out at Newton Abbot & South Devon Canine Society open show. Devonia's Anzio aka Obi 1st AVNSC post Grad out of strong group of 5. Best AVNSC puppy and Group 2 Toy Puppy Group. Again another fantastic day at The Vale of Glamorgan show. Devonia's Anzio aka Obi picking up 1st AVNSC Puppy Best AVNSC Puppy and Puppy Group 2. Amy said, "thankyou all Bolo people for welcoming me into the breed and being so complimentary of Obi".
Taunton & District Canine Association
19th June 2022
Great day for Odin, Kobanyai Pelyhes Odin with Devonia at Taunton & District Canine Association Open Show. 1st in Post Graduate class and Best Puppy then Puppy Group 3 under Judge Sophie Langdon. Chris Thatcher said, " it was great to catch up with family and friends. A good social and fun day".
Thame and Oxfordshire County Canine Society Premier Open Show
17th August 2022
Judges Gill Taylor (Royella)/breed classes & Lynne Crane (Cranvarl)/ Group and Stakes classes
Feedback from Diane Whateley. "It was an early start for Bolognese with us being second in the ring after the Papillons. We had 8 dogs with 9 entries but unfortunately two absentees. Despite that it was a good entry for us in an Open Show. The rings were in/out rings but there was little space for under cover grooming. The weather was mixed with some sunshine and cloud but very windy which left some of us feeling cold, especially later in the day. There were 4 classes: Puppy – 1 entry who sadly couldn't make it. Special Yearling – 1st Whateley's Lyckalotte Enzo Ferrari at Arkadian (BOB), 2nd Hopkins' Lyckalotte Elegante Athena Limit – 1st Hegarty's Enjanicka Toscana Amore Mio. Open. 1st Whateley's Arkadian Marcus Maximus (RBIB), 2nd Hopkins' Enjanicka Toscana Ti Adoro, 3rd Whateley's Arkadian Beloved Diana, 4th Hegarty's Enjanicka Toscana Amore Mio.
We then had a long, and chilly, wait for the Group, AV Stakes and Brace classes which didn't start until after 5pm. In AV Toy, Lyckalotte Enzo Ferrari was placed 2nd Special Yearling, with Lyckalotte Elegante Athena taking the VHC. Enjanicka Toscana Ti Adoro got 2nd place in Limit. In the Brace stakes, Lyckalotte Elegante Athena & Enjanicka Toscana Ti Adoro got a well deserved Reserve for handler Bette Hopkins".
Feedback also from
Bette Hopkins
, saying,
"we waited seven hours for Best Toy and AVToy classes. Left the show just before 7pm. A good turnout for the Bolognese. Bijou got a well-deserved second in AV Toy Limit and Alba VHC in Yearling. The jewel in our crown was a brilliant round in Brace, coming fourth to some very experienced contenders. They really excelled themselves and hardly came out of sync. They made me feel very proud. Today we are all exhausted!"
.
Horley & District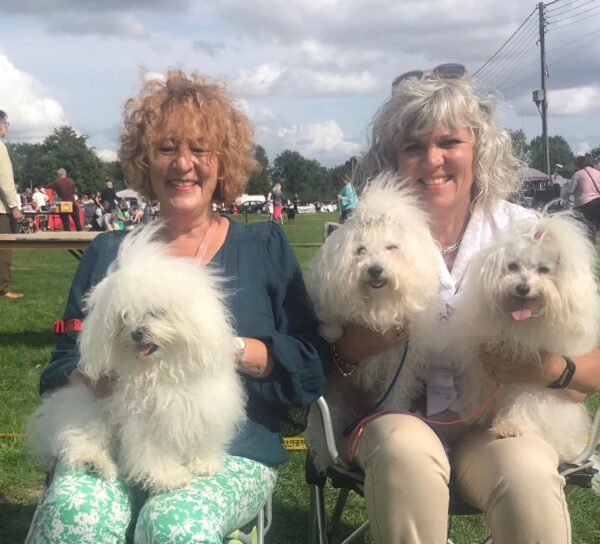 28th August 2022
Horley & District put classes on for us with judge Peter Young who has judged us several times before. So, even though it was a bank holiday, myself and Jennie Hegarty made the trip. It was totally outside, some people had gazebos, but luckily it did stay dry, albeit, cold and windy at times. It was quite a big open show, with just one catering stand with very long queues, so coffee was in short supply! The ground was not good, so both dogs played up a bit, it was rough with lots of livestock smells. There were only 2 Bolognese Fizz and Harry, so we both won our classes, but we couldn't stay for the groups as we both needed to get home. Lily who is nearly 12-years old came also for a day out, thinking every person was going to give her a treat.
Thanks everybody for contributing to this report which makes for a lasting memory which will always be easily accessible on our website for all to see.