OXFORD MEET UP – How did it go?
11 bolognese and 15 people met in The Trout Inn in near OXFORD on Sunday 23rd May. The pub was amazing and we sat outside on the terrace by The River Thames. The pub was very busy, so lunch was a bit slow, BUT it didn't matter as we had plenty of time to get to know each other.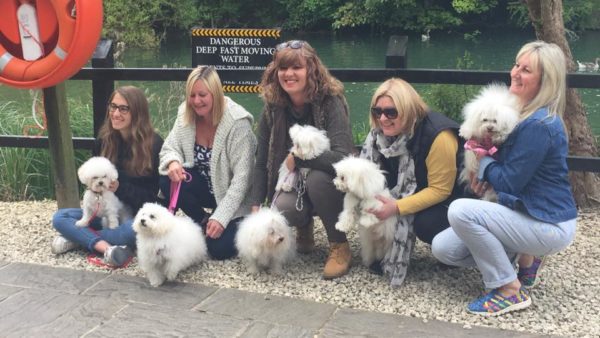 The weather was perfect. Dianne & Stuart Dixon came all the way from LEEDS, they owned a Bolognese for many years and lost her, so recently took on a young girl called Pixie who was very sweet. Laura & Michael came from London with their puppy Rory, Annie & Dave from Basingstoke with Teddy who is 4-years old. Cindy had her 2 Bolognese Teddy & Petal. Candy & Penny where there with Melanie and Hector, Lulu & Peppe with Jane. Jane's daughter was also there with Ken.
Paul Irvine came all the way from London too, he has recently lost his much loved Bolognese Khushbir, but is pleased to be collecting 2 Bolognese on Saturday to join his family. Paul Irvine & Laura and Michael realized that they live in the same part of London.
We raised some money for the club with a raffle and a lucky dip and then judged a Prettiest Bitch and Handsomest Dog award, judged by Paul, his wife and son who is 11-years old. After lunch, we went for a walk down by the river, it was fabulous to see so many Bolognese running around. I don't think the people in the pub could believe their eyes as we all filed past!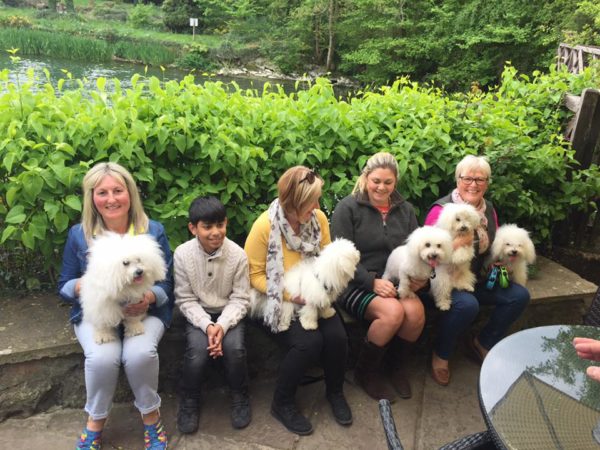 After the walk we had an icecream and said our goodbyes. We met at 12 and didn't part till 4, it was great, like a big family. I think the dogs would of been tired by the time they got home. We will definitely repeat this MEET UP next year as it was a definite success. There are pictures on the club facebook page at www.facebook.com/BologneseDogClubUK
Here are a few more shots as well