Midlands Meet up 14th May 2023
After a week of awful weather and wondering whether the MEET UP would go ahead, it was decided on Friday to take the plunge and go for it.
I did wonder on the way up to the venue what the weather would be like as it was really overcast and misty on the motorway. Unfortunately, due to heavy traffic it took Brian and I nearly 3 hours to get to the venue, Tracy had organised which was The Garden Tea Rooms in Great Witley, Worcestershire.  Nick had been kind enough to put a sign at the entrance to the venue otherwise I don't think we would have found it very easily. By the time we arrived everyone had already had a good chat and had got to know each other, although some had met at previous meet ups. The weather was surprisingly kind to us and the sun came up for some of the time. Those that attended today was Mark & Debbie Taylor with Tiger and Bear, The Morley family (Michael, Michelle, Lewis and Paige) with Luna, Muriel Grenfell-hill and Luca, Nick & Tracy with Archie and Marco and Brian and myself with Odin and Kali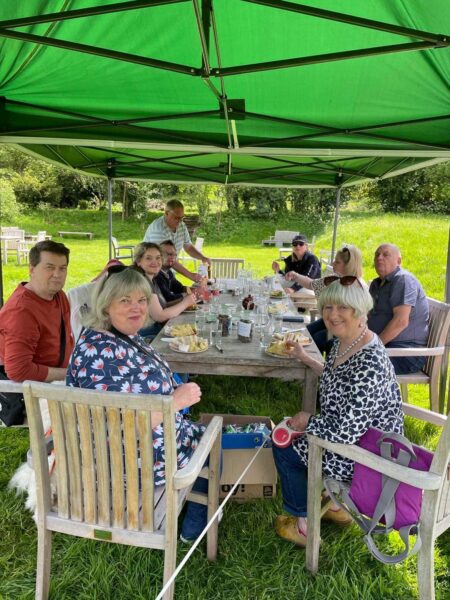 We all enjoyed a light lunch and chat continued mostly about the dogs, their habits, coats and a like. We had a couple of jars of treats one for guess the number of biscuits and the other guess the weight of the biscuits one was won by Michael and the other by Nick. Tracy then managed to find someone to judge a couple of fun classes, Prettiest Bitch was won by Luna, Best Veteran by Tiger, Most Handsome Dog and Best Hairdo was won by Odin.  Unfortunately, no puppies today.
Chat continued and we had further beverages and the time just slipped away until it was time for us to go home and not having achieved a walk!
Guess what, on the way home it rained again! So, we were really lucky today.
MEET UPS are a great way of people being able to socialize with likeminded people also for newish owners to be able to talk to long term owners about any problems or difficulties with grooming that they may be experiencing.
We have received some lovely feedback and here are some comments. Debbie Taylor said, "Fabulous day meeting you all & getting my fluffy Bolly fix! We were very lucky with the weather too – I just love these meet-ups". Michelle Morley, "It was lovely to meet you all and your gorgeous little fur babies". Muriel Grenfell-Hill, "We had a lovely get together. Thank you so much for organising it Tracey and Chris. It was lovely to meet you all and your wonderful beautiful little dogs!"