MEMBER STORY – Cindy Costello
Hi my Bolo friends,
Most of you will already know me from this amazing Bolo Dog Club, Bolo meet ups or following my photos and stories on Facebook of my life with my two beloved Bolognese Teddy & Petal. It goes without saying my heart is truly smitten with the Bolognese Breed.
Where did the story begin?
I first came across the breed after losing my sweet little Yorkie Terrier Oliver, who suffered health problems for several years. I was heartbroken after losing him so young. It was then I decided to research my next breed thoroughly and look for the least amount of known health problems as possible. The minute I laid eyes on the Bolognese Breed I knew where my heart lay. The fact that they are such a healthy breed attracted me even more.
My next big decision was finding the best Bolognese breeder. I was prepared to wait for however long it took for my puppy. Whilst I waited, I learnt as much about the breed as possible. I was searching on the internet for a breeder, when I stumbled on 'Moorhey Bolognese' website. Well, how lucky was I to find Shirley Hewitson, 'Mummy Shirley' as I call her now!
After chatting to Shirley and meeting her a couple of times prior to having my little boy Bolo Teddy I had found my perfect breeder. Finding the right breeder who is prepared to spend time with you explaining the Bolognese breed and making sure it is right for you and your family is paramount in my eyes. Also a breeder being there for you no matter what after you bring your puppy home and in the  years to come. Shirley always is there for me and every other family that has been blessed with a Moorhey Bolognese.
And then there were two
So getting back to my story. My little boy Teddy was my first Bolo, then 18-months later myself and my hubby were blessed to have little Petal another Moorhey Cherub. The best decision we ever made was for us and for Teddy was to have Petal. From day one Petal fitted into our family just perfectly and my Bolo babies became the very best of buddys. Teddy is now 7-years old he will be 8 in November, so look out for his birthday photos. Teddy is such a poser for the camera. Little Petal turned 6-years old in May. I can honestly say everyday they fill my heart with love, laughter, endless smiles and fun like you wouldn't believe.
Teddy's personality
Teddy and Petal have such different characters although they have the same daddy, Int. Ch. Predatino Bengi of Moorhey. Teddy is on the go from morning till night, he's my shadow follows me everywhere literally, sometimes I think we should of called him shadow! The very first photo I saw of him I knew he had to be called Teddy, he was the most beautiful cutest Teddy Bear I'd ever seen. Teddy loves his walks, he's always a happy chappy always giving us that cheeky Bolo smile, we all know the one! Teddy has never forgotten what Mommy Shirley always says to call her puppies. The words Puppy, Puppy, Puppy never fails to bring him running with a waggy tail. His little party trick makes everyone smile and melts a few hearts with the famous Bolo Meerkat pose on two back legs, he walks forwards, backwards and sideways. When chasing a pigeon he manages to run on two back legs with a few bounces along the way.
I think Teddy's funniest story was when we were on our holidays in the cotswolds sitting inside a lovely country pub having Sunday lunch when a couple came in with a cute puppy in their arms. Whilst everyone was admiring the puppy, Teddy thought now is my chance to pinch the beef off daddy's plate and he pulled it right off. Gravy ended up all over his daddy's lap and down his top. It was so funny the pub was in uproar!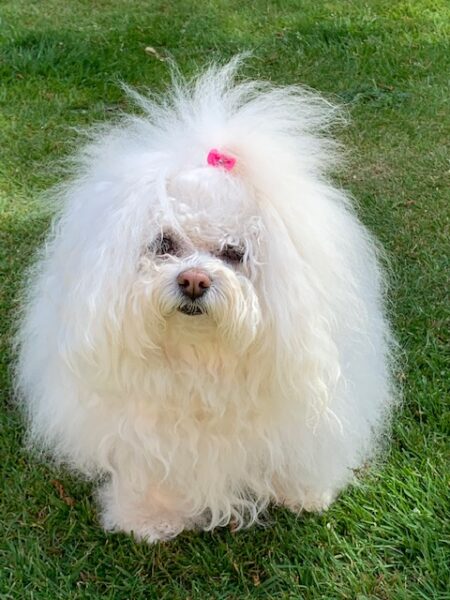 Petal's personality
Petal is a very laid back little girl, she loves to chill in bed till at least noon, longer if she can. We always say Petal is a true princess and needs her beauty sleep. She oozes confidence does Petal, she is so sweet, has the most perfect character. Petal loves to play with her brother and helps him chase the pigeons. She is a fun little girl and makes everyone smile. She sure is a heart melter when she sits up and waves her paws to get attention. Petal always gets whatever she wants, even being tickled 24/7. I think one of Petal's funniest moments and there's been many, was when we were enjoying a light lunch out in a beautiful park not far from our home. Sitting outside a small cafe Petal was snuggled down on my lap. I was chatting away when my cousin Vicki started to laugh and said "look at Petal". It was so funny she was pulling the cheese off my toasted tuna melt, she loves cheese so much we call her Minnie Mouse sometimes!
Socialising
Teddy and Petal are lucky enough to have many play days with their Bolo cousin Angel, who is also a Moorhey baby. We call them the 3 musketeers and they adore each other. Believe it or not, their favourite pastime together is chasing pigeons round the garden, Team Bolo! As puppies, Teddy and Petal settled in from day one, they were both very confident puppies. I must say it does help when your breeder socialises them before they go to their forever homes and gets them used to being groomed from an early age.
My grooming routine
As we all know, grooming is so important to get right with a Bolognese. I learned a lot from Shirley regards grooming techniques, getting the best grooming tools, shampoos and conditioners. I am lucky as I love grooming them and they don't mind it at all. It is a daily routine for us to groom thoroughly everyday. I just love the natural full Bolognese coat. Teddy and Petal have their full natural coats, I find it much easier with their full coats to keep grooming daily. Using the best brushes, combs and products keeps my babies knot free. If I groom Petal first Teddy is waiting next in line to be groomed, so funny he will climb up my legs and tap me as much as to say don't forget me mommy. Teddy loves to be groomed, I think from day one I made it fun. At first as they were puppies I just groomed in short stages. If they got fed up with being groomed, we would play a bit, have a treat and lots of cuddles always the key along with lots of praise. I have a room just for grooming and I think that's important you have a place where they know it's for pampering.
Being a member of the Bolognese Dog Club has been truly fantastic for me. Not only do I find the Bolo tips we all share helpful, but the hard work and dedication Melanie and the team put together for us all to enjoy, from the meet ups to the health tips, show news, club merchandise and the heartwarming stories we share makes our Bolo Club the best!!
Finally, to sum up, the Bolognese Breed, these are little Angels with furry wings sent from heaven to warm the hearts of all us Bolo mums & dads. I feel truly blessed to say these little white wonders have exceeded my expectations in more ways than one.
Keep enjoying your Bolo Babies I certainly will, just remember everyday is a fun day with a Bolo!
Thanks for reading
Love Cindy xx