SHOW NEWS Dog Shows Back in Earnest
After cancellation of many shows and then shows operating with mega restrictions, we can now report that dog shows are fully up and running again. Our Pro Members have been travelling the length and breath of the country to support Bolognese classes at Championship and Open Shows with reasonable entries at some shows. We can report on WELKS, The National, Bath, SKC and Three Counties as well as some Open Shows. Thanks to those who have sent reports and pictures and well done everybody on your results and commitment to the cause. We also have a good number of shows yet to happen this season and hopefully these too will be well attended and make for some good results all round. Bolognese have come up trumps in Stakes and Rare Breed classes, so well done guys. Some of the images you need to click on to see in full.
WELKS (West of England Ladies Kennel Society) 22nd April 2022
by Chris Thatcher
WELKS Championship Show, the first 'outdoor' show of the year. A show set in the Malvern Hills and a lovely setting when the weather is good. Whilst on the motorway it started to rain, the skies got darker so ominous for the day ahead. Bolognese were following Bichon Frise which I am pleased to say were showing indoors. There was plenty of room and a large ring so at least we were not all on top of each other. Judge was Howard Ogden who had previously judged us at Southern Counties last year so some of the dogs in the show ring were the same as last year and in fact his BOB was the same. Principal winners were BD Mulligan's Donocielo Michelangelo, RBD my own Kobanyal Pelyhes Odin with Devonia, BB and BOB Mulligan's Donocielo Cassia, RBB Donocielo's Seraphina, BP was Thatcher's Kobanyal Pelyhes Odin with Devonia. A walk around the showground after judging proved to be a little cold, many of the working breeds were shown outside, obviously hardier than the toy folks!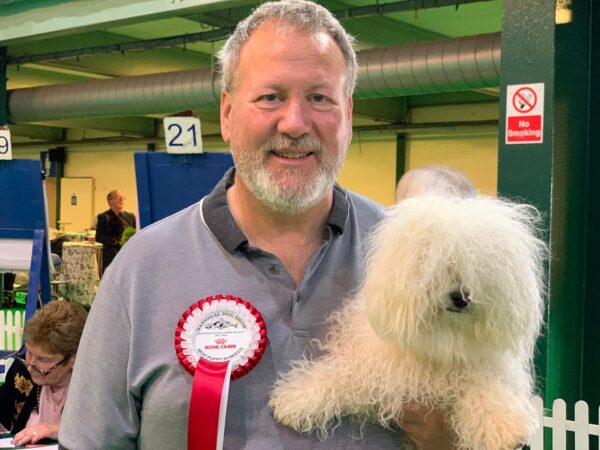 The National 5th May 2022
by Mark & Diane Whateley
Our judge was Mrs Jenny Miller. Thursday was Toy and Utility day at The National. Outside it was a beautiful sunny day but inside Bingley Hall at Stafford Showground it was rather chilly. Bolognese were scheduled in ring 21 after 88 Cavalier King Charles Spaniel Bitches and benched at the back of the hall, some way away from the ring. As soon as we were called we all made a beeline to get a position ringside. We still had a wait to get in the ring though and judging didn't start until around 1pm. There were 20 dogs entered with about 4 or 5 absentees so classes were quite small. Our Judge Jenny Miller was very gentle with the dogs and extremely thorough in her assessment.
It was great to see Bette Hopkins who managed to show Alba, despite having her right arm in plaster. Hugh did a sterling job handling the other girl, Bijou, to get a 1st place. Vikki Marshall, who judged at the British Bolognese Club recently, handled one of the Devonia contingent helping out Mum, Chris Thatcher. It was Lyckalotte Enzo Ferrari at Arkadian's last Championship show as a Puppy and he didn't disappoint, getting Best Puppy in Breed. Sadly we didn't get to show him in the Eukanuba Puppy Stakes as it's timing clashed with the breed classes. Our other dogs, Max, Cara and Amy also did us proud. In the Groups neither our Best of Breed or Best Puppy in Breed were shortlisted to the final 8 but both represented the breed with style & aplomb.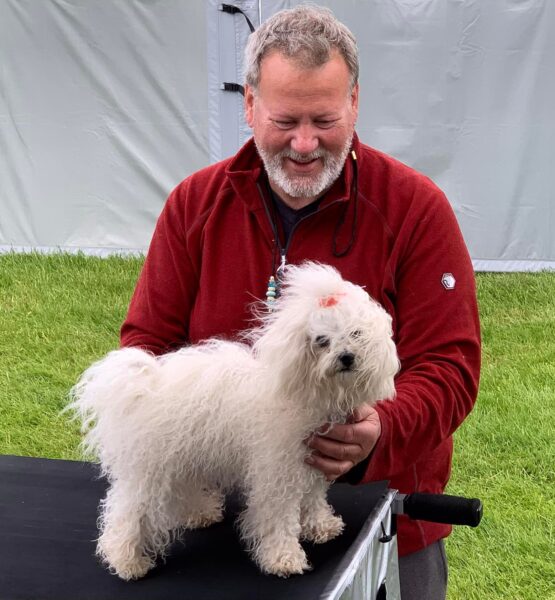 SKC (Scottish Kennel Club) 22nd May 2022
Our judge at SKC was Mrs D Spavin. Well done to Karen Golden for BB with Van Het Balgzand and to Diane & Mark Whateley for RBD with Lyckalotte Enzo Ferrari at Arkadian. We asked Diane how the day went. She said, "we were inside and the weather was fine. The venue was good and well laid out. We were moved to a ring on the opposite side of the hall to help speed things along. There was a separate hall for traders and good facilities. The judge was very good with the dogs and showed great patience".
Bath Championship Show 27th May 2022
by Melanie Thomas
Bath was a lovely show, well laid out and it was a bright sunny day. Entries were quite good as well, so you would of thought all would of been positive. However at 10am we were told by the steward in our ring that we would have a long wait as our judge Mr N Marsh was judging a Pug show and then the King Charles Spaniels, so there would be a long wait. I was on the show ground at 10 and we were not in the ring till 4, meaning 7-hours of hanging around. Our judge was lovely and still smiling even though he had not had a break all day. I had to head off as soon at the dogs were judged as I had a 3-hour journey home. The judge and the BOB were whisked away for the Group judging and to finish off the Pugs. So sadly no group pictures were taken at Bath this year.
It was a Donocielo day with youngster Michelangelo as BOB, his mother Seraphina BB & BV and Cassia RBB. Chris Thatcher also had a good day with Kobanyai Pelyhes Odin with Devonia Imp Hu being awarded BP and my Belstown Harry The Potter was RBD. Mark & Diane Whateley's dogs (Arkadian) Enzo Ferrari, Beloved Diana and  Marcus Maximus also won their classes.
Southern Counties 4th June 2022
by Melanie Thomas
Our judge at Southern Counties was Tiina Taulos from Finland, her English was limited so she had a translator to help her write her critiques. Entries were a little up on Bath with 2 more exhibitors including Bette Hopkins with Bijou and Alba. We were in the ring after Poodles and Coton De Tulears, so not as long a wait this time. The weather was blowy, but bright and we were inside which was nice and protected from the wind. So everything went smoothly at Southern Counties this year.
Our judge found her BD in Chris & Brian Thatcher's Kobanyal Pelyhes Odin with Devonia. Odin is only 10-months and a recent import, so a fabulous day for Chris & Brian. The Mulligans Donocielo Michelangelo was Best Junior, Belstown Harry The Potter won Open Dog, Donocielo Seraphina BV,  Devonia's Calabria won the Junior Bitch class and Enjanicka Toscana Ti Adoro took Limit Bitch. A foreign judge did seem to attract the entries at this show.
The Rare Breed classes were mixed Toy and Utility and were judged by Keith Baldwin. Bolognese and Coton De Tulear dominated the entries. Diane & Mark Whateley's Lyckalotte Enzo Ferrari at Arkadian went RBD and Bette Hopkin's Enjanicka Toscana Ti Adoro was 2nd in Open Bitch in the Rare Breed Stakes. Lyckalotte Elegante Athena and Belstown Beloved Amee at Arkadian were also placed in Open Bitch Rare Breed Stakes.
Three Counties 10th June 2022
by Chris Thatcher
Travelling up the weather was pretty rough, lots of rain which really puts a damper on the day. The brown car park has greatly improved as they have recently resurfaced it so it was far easier to park and to transport trollies into the showground. After loading up the trolley it was a case of putting on waterproof jacket together with hood and going as fast as possible into where we were showing. I could not quite believe that a couple of breeds were actually showing outside!
We were following Pomeranians so had quite a wait with plenty of time to prepare the dogs. Our turn came and our judge entered the ring and so began another dog show. There were 6 exhibitors with a total of 15 dogs, the only owner missing was Diane Whateley but Mark was there with the dogs. I was impressed with how he coped with the 4 dogs on his own and handled them. Diane would have been proud if she had been there. Odin had Best Puppy and went on to receive RBD so I was extremely happy. Our Judge Mr. P. Conway although I did not recognise the name I did recognise him. He was very patient with the dogs and gave them a thorough going over.
Chippenham and District Open Show 3rd April 2022
This show had good entries for an Open Show, with 4 exhibitors attending and 9 dogs entered. The show is in an equestrian centre and the floor is really not that good for coated breeds, however rubber mats were provided for the toy dogs, which helped. It was a fine day and good weather for the time of year. Our judge at this show was Amber Henshaw and she found her BOB in Belstown Beloved Amee at Arkadian. Diane & Mark Whateley said, "our little star today was Amy who was awarded 1st in Limit and went on to win BOB with a gorgeous rosette sponsored by the Bolognese Dog Club. Amy then did us proud again when she got another 1st in AV Toy Open". BP in breed went to Chris & Brian Thatchers Kobanyal Pelyhes Odin with Devonia.
Judges Critique – Chippenham & District Open Show 3rd April 2022
Reading and District Open Show 1st June 2022
Well done to Arkadian Bolognese for supporting this show in the AVNSC classes. Diane said, "all classes were mixed dogs and bitches. Enzo was 2nd in Junior, Amy 1st in Post Grad and Max VHC (Very Highly Commended) in Open".
I hope you have enjoyed reading about the shows and seeing our lovely dogs and their handlers. Don't forget any Pro Members of the Bolognese Dog Club UK can contribute at any time to these reports with text and images, we love your contributions.