CRUFTS REPORT 2023, by Melanie Thomas
Crufts 2023
I enjoyed Crufts. Having not attended many shows recently, it was nice to mix with people who have similar interests and that I don't see often. The performance and travelling that goes with a Crufts day is exhausting, but I have to say the actual show turned out to be great. It doesn't help that I live on the South Coast.
When reading the resume for Irene McManus our judge, she appeared to be well qualified having served on the Committee of Scottish Kennel for approx 30 years and held the position of Secretary at Scottish Toydog Society for  20 years, even judging the Toy Group at Crufts in 2018. Irene McManus came over most thorough and competent moving through the dogs at a good pace. I watched the judging of all the classes from the ringside (apart from the class I was in). From outside the ring, you can still see quite a lot of inconsistencies and variations. However, when it came to the judges final two dogs (Best Dog and Best Bitch) they did look very similar in type even though they were from different breeders.
We didn't have to wait too long before judging. Coton de Tulear were in the ring before us and they are nice to watch to pass the time. Judging started about 2 and finished about 4. Our entries were 40 with 2 absences, class numbers were low in some cases with a max of 5 in any one class. During the judging, I got chatting to several people with Bolognese at home, they loved to meet my dog Harry and to tell me all about their dogs and show me pictures on their phones. Whilst I was in the ring, I could hear them cheering on Harry.
We were joined by a few overseas competitors, which makes the day extra special. Siân Lewis who lives in Italy with her Bolognese handled a puppy which went on to be awarded Best Puppy. Siân manages 'The Bolognese dog FAN CLUB' Facebook Page which is very popular with enthusiasts around The World. Sian was lovely and appreciative of meeting all the other exhibitors and guests. Carolien Jongejans came from The Netherlands with a dog and bitch in the open classes.  Julie & Paul Connolly from Ireland showed old timer Little White Wonder Othello Matteo know as Otti in the Open Class and he was looking as good as ever at 9 years of age. We also had the privilege to see International Champion Cristina's Nabucco Ch World 2021 entered by professional handler Salvo Foti from Italy in the Open Dog Class. Researching this dog, owned by Teresa Saporito, I can see that he is  a multi champion winning all number of accolades including Best in Show Italian Breeds. It was a privilege to see this dog shown in Birmingham, but it was not his day for top honours only achieving a 4th in his class.
Carolien Jongejans took Open Dog and Best Dog with International Champion Merlin Van Het Balgzand. Carolien bred last years Best Of Breed Bolognese Kaylo Van Het Balgzand, known at Lucie, who is now a veteran. Amy Lovell & Chris Thatcher's Devonia Anzio took Reserve Dog at 14 months of age. Amy is relatively new to showing Bolognese and has been campaigning this youngster tirelessly over recent months with fantastic results. We asked Amy how she found her Bolognese Crufts experience. Amy said, "I was looking forward to meeting some of the overseas exhibitors. I was benched next to a very nice  exhibitor Carolien and found it very interesting watching the different grooming techniques she used. Obi was in Junior Dog as he was 14months old. Obi was excited and moved well. He won his class we then had a short wait for the dog challenge whereby he had to compete against some more mature beautiful dogs. When the judge called Devonia's Anzio aka Obi out for Reserve Best Dog Breed I was so happy and so was his breeder, Chris Thatcher. We left in high spirits after a very successful and enjoyable day". 
Diane & Mark Whateley left with 2nds & 3rd showing Max & Cara in the Veteran classes and Enzo in Limit. Diane said, "It was lovely to have so many supporters around the ring this year. We really appreciated those that took photographs and videos as we rarely get chance to do that ourselves. It was also good to see the return of our foreign exhibitors. There was a real party atmosphere. Congratulations to all the winners and well done everyone".
Chris Thatcher bred and co owns the Reserve Best Dog Devonia's Anzio. She handled her import Kobanyal Pelyhes Odin with Devonia and was 1st in the Limit Dog class. Chris said, "I enjoyed seeing the overseas exhibitors and catching up with other supporters. After judging all the food and nibbles came out for everyone to enjoy. Most exhibitors stopped to have a chat and catch up. As numbers were still relativity low, more exhibitors are now qualified for next years Crufts, so see you all in 2024".
It was nice to see Hilary & Peter Mcardell who have not been around the Bolognese benches so much recently. Hilary's girls did well in the bitch classes taking home a 1st and a 2nd place. Jennie Hegarty showed Fizz and her new puppy Fabio who managed to 'woo the crowd' as the only Minor Puppy exhibit. Fizz was one of two entries in the Good Citizen Class, which was won by Bette Hopkins and Bijou. It was a difficult Crufts for Bette as she did not have her partner Hugh by her side. Hugh had been a support for Bette at shows for some years and many of us enjoyed his company. Bette said, "I had mixed emotions, but enjoyed my day at Crufts. It always gives me a buzz being on that large expanse of green carpet.  I love it when we all go in together before judging starts and you can just feel the excitement and anticipation in the air and the dogs feel it too".
It was nice to catch up with Bolognese Dog Club members visiting Crufts for the day. This year club members were given a little 'Crufts' gift of a pen pad set. Club member Libby Hough has been poorly since we last saw her at the MEET UP in the Autumn. Libby visited us with her mum Anne and her Bolognese on her lap as Rosa is training to be her Assistant Dog. Elizabeth Lovie, Jim and her daughter Niculina would never miss a Crufts and they had a good day with a couple of first places under their belts. From the oldest to the youngest, Best Veteran Tumbril Timelord & Best Puppy Tumbril Tokyorose were from the same breeder. Amanda Lawson was at home convalescing, but it was nice that her daughter called by and had a chat about heir dogs at home. Denise Simpson visited from the Isle of Man. Denise knew Virginia Dowty and took on one of her Bolognese Happy who she does sometimes show on the Isle of Man. It was nice to see Tracy Rock and Nick Wilce at Crufts. Tracy & Nick are our trusted Merchandise Dispatch Department and its good to see them in person rather than communicating by phone, email or text. Joy and Norman Hough were enjoying their trip to Crufts without their dogs this year, it would not have been the same without them being there.
Now to the top honour, our Best of Breed was Donociela Cassia  approaching 8-years of age. Cassie as she is known, was handled impeccably by Becky Mulligan and owned and bred by her parents Carol & Dennis Mulligan. Sadly Dennis was not there to see this amazing achievement as he was at home on the Isle of Wight puppy sitting. But, there were cheers down the phone as soon as was physically possible. As I bred Cassie's mother, I too was so over the moon to see the BOB going to Cassie especially when she had been up against dogs of such high acclaim including Multi Champions. We asked Becky what it was like to BOB at Crufts, "When you win BOB you  think that the job is done, but then you remember you have to go in the main ring for the Toy group. Due to the TV aspect of Crufts, the schedule for the groups is so rigid meaning immediately after Cassie had been awarded BOB, and we had taken the obligatory group photo, we rushed off to the main arena for the group. Being in the collecting area, waiting to go in the big ring, can be slightly overwhelming with the pictures, vet check, paperwork etc, however at the same time its interesting to see what goes on behind the scenes. I always vowed that I would never go in the main ring at Crufts and would make mum go in, however when it actually got to that point she gave me no option and told me I was going in. With some apprehension I did walk Cassie in to the big ring and to be honest it isn't as bad as I thought".  CLICK HERE to read Cassie's Crufts Journey, by Becky Mulligan
Buying their first Bolognese Mia from me, Carol & Dennis Mulligan have been showing their dogs for a good few years and have bred some lovely litters. Donociela were awarded Best Dog at Crufts 2022 with Michelangelo 'Meko'. They have also won the OUR DOGS Top Dog in Breed 2022 and Top Breeder in Breed 2022. However, on the day it was Cassie that turned the head of our judge Irene McManus and how exciting it was for all involved. The story was covered in Island Echo paper on The Isle of Wight and the Isle of White Canine Society were also thrilled for Becky and her parents. Reserve Best Bitch went to Enjanicka Evening Emerald.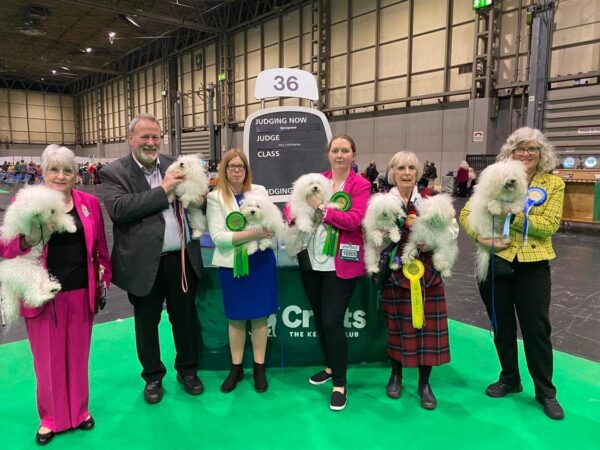 Debbie Taylor was brilliant, she was about ALL day helping with the photography. I cant say how important it is to get pictures to remember the day and when they are shared on Facebook, they are enjoyed by enthusiast around The World. After Crufts our Facebook Page is literally on fire! Debbie took pictures around the benches and so did I which provided a lovely selection. Debbie also took a group picture in the ring after the judging with our judge, a pictures of our lovely Pro Members and a group video. Debbie said she loved the day and she was so excited that Cassie went Best of Breed as one of her dogs is related.
Final mention of Belstown Harry The Potter who did me proud to gain 2nd in Limit Dog. I have been taking Harry weekly to ring craft, taking the best care of his coat and using supplements and powders for tear staining. All I can say is, it feels good when everything comes together on the day.
Well done everybody who took along their beautiful well presented and handled Bolognese. I for one know what goes into the breeding, grooming, presentation, training and showing – not forgetting the time, money and commitment. Congratulations to everybody on your awards.
CLICK HERE for full Crufts 2023 results
Melanie Thomas
BELSTOWN Bolognese