Saying Goodbye to Paolo and Welcoming Dino, by Tara Kelly
2020 – Saying Goodbye to Paolo and Welcoming Dino.
My name is Tara Kelly and I live in Dublin, Ireland. I am delighted to recently become a member of the Bolognese Dog Club UK.
Paolo 2005-2020
I first fell in love with the Bolognese breed in 2005. Our family pet at home, a very cute Cairn Terrier had passed away leaving us all heart broken. I started to research breeds and fell in love with the sound of this loyal, smart, and fun Bolognese breed. I contacted The Irish Kennel Club and found a breeder of Bolognese in Ireland. When I called them, they were just after having a litter of Bolognese puppies, but if I were prepared to wait a few weeks, I could come and visit them. I took the long drive to visit them and fell in love with a puppy, who I would eventually name Paolo. The whole litter were fabulous, but this little guy was shy and reserved compared to his siblings. A few more weeks later I made the long drive back to collect him. Paolo lived with me for 15 years before he passed away in 2020. During these years I got married. We had our first daughter in 2010 and twin boys in 2012 so life was very busy. Paolo was amazing through all of these times. He was always the best and most loyal companion and was so good around the children.  He loved to go for walks, he loved the park and the beach and loved getting into the car to go on an adventure. Every year we had a birthday cake for Paolo, and this was the best day for the family. Paolo would sit up at the table (a treat in itself) and look around expectantly for his cake and candles. 2020 was an usual year for all with the pandemic, but I'm grateful we were all at home and that we got to spend so much time with Paolo during his last few months. We were heartbroken when Paolo passed away. I knew this would be a difficult time, but nothing could prepare us to the sense of loneliness when he was gone.
This photo shoes Paolo on his staycation with us in Co. Clare in 2020 a few weeks before he died.
A new love – Dino
I started to wonder about getting a new puppy and if we would ever be so lucky to find a Bolognese again. I contacted the Irish Kennel Club, and I also contacted the breeder that I bought Paolo from, but this time nobody could give me a lead on breeders within Ireland. On Facebook I discovered the 'Bolognese Dog Fan Club' group where I met some lovely people and discovered lots of new resources. From there and with the assistance also of the UK Kennel Club, I made contact with Virginia Dowty. Virginia was very sympathetic in relation to the recent loss of Paolo and she offered me one of her amazing puppies. We have since learned of Virginia's death and have been so saddened by this. She was so passionate about her dogs and was always quick to answer any questions I had before and after I received her beautiful puppy. Virginia devoted much of her time to Bolognese dogs. Dino came to us in late October aged 11 weeks old. I was slightly concerned we were getting a puppy too soon, but Dino has brought so much light into our lives and we have not looked back.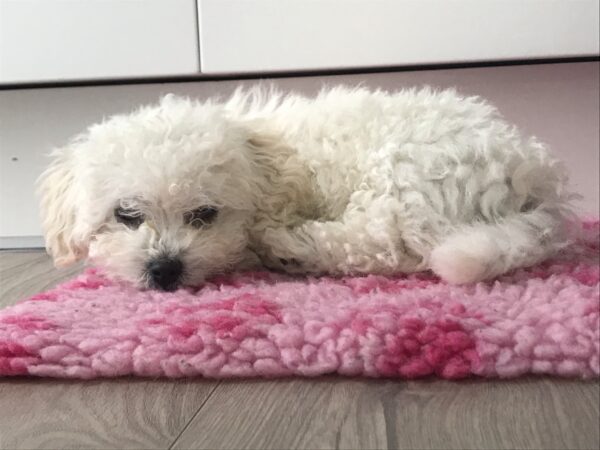 When he arrived, Dino was a soft, white ball of fluff, with the softest little paws, large black eyes and a large black nose. We kept his arrival a secret from the kids, so they awoke the next morning to this amazing surprise. Dino is now nearly 6 months old. He is so playful. He loves to play games with the kids. My twins often play 'Bolo in the middle' with him and throw toys and balls over his head and he runs to try to catch them. He loves to go outside with my daughter for a quick walk and to get lots of attention from her friends. He will stop and play with any child we meet on our walks! He very quickly learnt how to walk on the lead and with ease we trained him how to give paw, and high-fives.
Dino loves to snuggle on my lap when I am having my breakfast or at various times of the day while I am working from home.  In the evening he likes to lie out on one of his various beds with his toys and have some chill-out time. He has a lovely character and makes us laugh every day.
We miss Paolo dearly, but also have been very lucky to be blessed with this adorable puppy Dino.
We hope that Dino lives a life that is as long, happy and healthy as Paolo's was.
We may even consider trying to find a second Bolognese in the next couple of years!
Tara Kelly
Dublin IRELAND