Pedicure Tips, by Chris Thatcher
A most uninspiring subject but an equally important one because if the care of the foot is not maintained your dog will not enjoy going for walks and will be generally unhappy. General coat grooming & bathing has already been covered in the club files by a few different members, so here we are going to concentrate on the feet. A few photos have been used to help demonstrate each step.
Clipping Hair Between Pads
Bolognese feet do grow prolific hair between the pads. This must be removed otherwise if left to grow can knot between the pads and eventually cause the dog to go lame. Burs and grass seeds can also get caught in the hair between the pads and these can be extremely problematic.
Clipping the hair between the pads can be tackled in a couple of ways. Firstly, many people use scissors to do this. I personally, prefer to use small blade clippers. I find it a lot quicker than using scissors and a lot less fiddly, you are also less likely to catch the skin. The clippers I use are rechargeable and I have had them for several years. They are still working to perfection so the money spent was a very good investment. Using clippers, can clip the pads and between the toes and remove all excess hair in a matter of seconds.
If Bolognese have had their feet cared for from a tiny puppy whilst with the breeder, they will be used to keeping their feet still for any treatment. You can also use this time to play gently with the feet as though giving a massage, my dogs revel in this and are happy to keep perfectly still.
Product suggestion
Aesculap Exacta Cordless Trimmer
– approx price £143.00
rechargeable
available online or at dog shows
run-time of 90-120 minutes and a recharge time of 90 minutes
LED light display
small 24mm blade perfect for precise trimming
Nails 
Once you have completed trimming the next task can be rather more daunting. I have for years used clippers on my dogs nails and usually clipped 'on a wing and a prayer' in the hopes I did not catch the quick and make them bleed. If your dogs' nails are white, you can at least see the quick so know where to cut, but if you are lucky (or in some cases unlucky) enough to have black nails it is more of a problem.
Nail Grinders
I was talking about this with a friend who is a groomer who told me that she uses nail grinders on the dogs she grooms. She was kind enough to loan some grinders to me to try. I really could not believe how easy it was to do in a short time, I had ground down the nail to an acceptable length. I immediately, purchased a set of grinders and have not looked back since. The grinders are reasonably quiet, rechargeable, easy to hold, and the grinding head lasts for ages, handy when you have multiple numbers of dogs. My dogs got used to them in a matter of minutes and now nail shortening time is not the nightmare that it used to be. The grinders can also be used on dew claws for those of you that have dogs that have not had them removed as tiny puppies.
Product suggestion
AndisCord/Cordless Nail Grinder – approx price £44.95
rechargeable 2 speed
cordless and corded
3 hours of charge
Includes grinding stone & finishing stone
I hope that you have found my tips and suggestions useful. To finish, this picture shows a lovely trimmed foot with pedicured nails!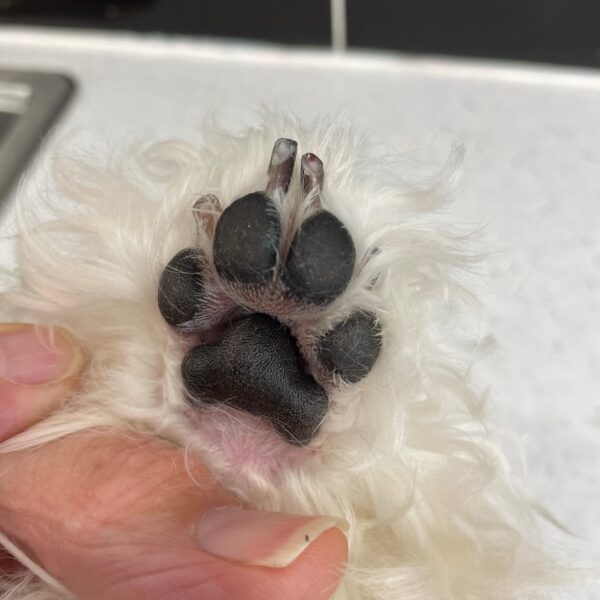 Chris Thatcher, Devonia Bolognese