MEMBER STORY – Aniko Sood
We became Bolognese owners just under two years ago. If I think about it, it seems much longer than just 21 months. Why am I saying this, simply because the memories keep flooding as I reflect on this time with our very much loved boys. They are an integral part of our family…well, they are my 'fury boys' and 'brothers' to our daughter Sophia ?.
Room for Pets
We have been living in a flat in London which was a no go for keeping dogs (or in fact any other pets). When we left the city for a town, which now offers more space, and very importantly a garden, that is when we started thinking that it is time to fulfill our dream and become dog owners. The question then came…which breed? Well, we had a list of criteria which was a dog that is non-shedding, hypoallergenic, non-smelling, doesn't require too much exercise, good with children and OK to stay on its own at times. Our search returned a handful of potential breeds which I narrowed down to two, Havanese and Bolognese. However more I read about the two breeds, I knew that Bolognese was the right one for us.
Finding a Bolognese Puppy
I started following two Hungarian breeders and at some point I was in talks with them, however the logistical side has discouraged me to proceed. I then turned to the UK Kennel club website in 2018 and got in contact with Melanie Thomas/Belstown Bolognese. The lovely Lily had a litter (sire: Bengi of Moorhey with Hungarian bloodline), however all pups were reserved by the time I contacted Melanie. BUT then there was a change of circumstances and Harvey became available. Reason I mention Hungarian bloodline is because I myself am Hungarian ?, so that was a sign. We picked him up in Oct 2018 and he celebrated Diwali with us that year and joined Sophia's trick or treat walk.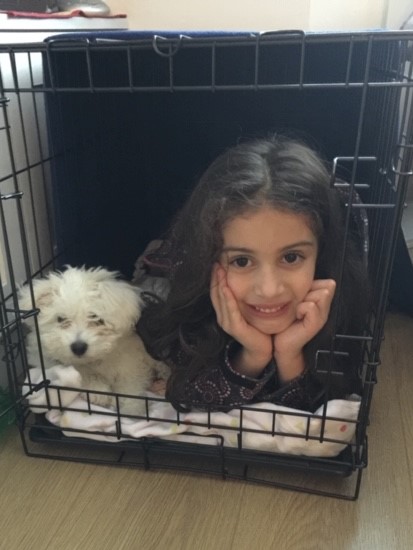 Puppy Harvey
From the start he has been very inquisitive, playful and overall a very good boy. He got toilet trained very quickly, he stayed with dog sitters and stayed on his own for a few hours at times from a young age. He is very sociable with other dogs, however, would bark at people (which can be embarrassing) and his relationship with my daughter has had its challenges. Was that jealousy or just getting to know each other's likes and dislikes or possibly the combination of these two? He has been a fussy eater and tried different diets with not much success (this issue is now resolved). We also struggled to get him a good puppy training from the start, so his adequate training hasn't started until he was about 10 months old. He came a long way and he is disciplined (on his own way), especially when my husband handles him. We started holidaying in the UK so Harvey could come with us. He loves a nice hotel room, especially the large king size beds; as soon as we enter a hotel room, he is on the bed rubbing himself to the fresh linen.
Grooming
We haven't been successful with grooming him; invested into products but as soon as he developed a small tangle, that became a matted patch which then just grew day by day. We had no intention in showing Harvey, so we decided to keep his coat short. The short coat enables us to rub his skin which he loves and could take hours of stroking.
The following year in April, when Harvey was about 8 months old, we started playing with the idea of getting a second Bolognese. What has prompted this? Well, the desire to have a little playmate for Harvey as he was just hungry for more contact with dogs in a less controlled environment.
Friend for Harvey
I have been in contact with a few breeders and then our path (through the UK Kennel club site) lead to Janis Stanley/StanHome Bolognese who had two pups left from the gorgeous eyed Tuppence's end of March litter (sire Ir CH Cornelious); a boy (Emi) and a girl (Ginni). I wish we could have taken both of them, but we had to choose. We visited Janis and the pups before deciding whether one of them was a good match for Harvey. We spent some time with Emi and Ginni while Harvey was waiting in the car. We then introduced the dogs to each other and that is when the barking started. Both pups, especially Emi has been snappy with Harvey and barked at him which made me feel anxious. I was however very proud of Harvey as he behaved himself superbly. He was excited, playful and knew exactly when to back off and give space to the pups. At the end there were some encouraging signs. Janis suggested that we think about it and let her know of our decision.
The following weekend we were in Norfolk again and Emi (short for Emanuele) joined our family at the end of September 2019 at the age of 6-months. The second meeting between the dogs was much more playful which gave me a piece of mind. The journey home was good, Harvey was bursting with excitement and Emi just curled up on my husband's lap and was very quiet. He has however settled in quickly and the two of them are truly best friends.
Emi was on raw food diet at Janis' which we wished to continue. We also considered raw food diet for Harvey before therefore it was a natural step to gradually introduce him to it, and soon both dogs were eating the same food. The fussy Harvey is now gone, and he is the first to empty his bowl. Whether this is because there is another dog in the household or whether this is the food he cannot resist…well, I let you make up your mind. They are fed Betsy's beef, Paleo Plus supplement and kibbles from McAdams. There is a rule between them from the start, they both get the food at the same time however Harvey is the one who eats first and once he finished, that is when Emi starts his meal.
Family Dynamics
There was another very positive outcome with getting a second dog, and that's the relationship between my daughter and Harvey. Naturally, having a second dog meant that our affection was now split between the two dogs. My daughter, being an only child, found this hard and felt the need of sincerely caring for Harvey to compensate him. They just adore each other now, without those fragile moments that we experienced before, and there is now a mutual respect between them. She is much more confident in handling Harvey and Emi. She took active part in their training and can handle the dogs well.
Little Emi
Emi had to get used to many things; being on a leash, travelling by car regularly, socializing with dogs and new people, new environment etc.. He started a 10-week puppy training course straight away where he was very scared and timid around other (new) dogs and people. He has however proven highly intelligent and one that works for that piece of treat. He is very gentle, caring and chilled. We started ring craft training with him which we had to pause since March. He doesn't mind the daily grooming and just makes himself comfy on your lap and ready for it. We managed to maintain his coat very easily up until his 1st birthday when something changed, and matted patches appeared out of the blue. We had to find new products which work well on his coat. (Pic 3).
When we got Emi, he had notable tear stains which we worked on and again, we tried several products and the one that we settled on is by recommendation of our vet is Ocryl. We also use other products. Consistency however goes hand in hand with these products and regular washing simply with shampoo too. There is some way to go but we are on the right path.
The two dogs adore each-other and they are inseparable. They are great playmates and best friends. They are very different in their needs and personalities which makes them just perfect for us. They enrich our life immensely. The dogs welcomed the 'stay home' message and will be strange for them once we return to more normal.
What they love most is their walks which is undoubtedly the highlight of their days. Long walks are great family activity and part of our weekly routine.
Well wishes to you all from The Sood Family
Aniko, Chandril, Sophia, Harvey & Emi
FOOTNOTE