I really grew to love the distinctly long uncut and ruffled fur of the Bolognese. I often prided myself on my amazing fur-balled Luigi, whom regularly received admiration and compliments from his fans.  Despite grooming Luigi twice a day, wiping his tears stains and brushing his teeth once a day, I seemed to not avoid the buildup of tangles. I brought him pet fur knot removing lotions and slicker brushes.
However given Luigi's pain threshold being absolutely zero, I quickly realised that he would squeal with the slightest touch. He began to snap at my hands or the bush. Sometimes both and it would be a proper bite. No matter how many treats or endeavours to make the grooming experience a playtime, it became a wrestling match. That I suppose is the nature of my 16 month old beast. So I went for a compromise by purchasing a shaver and isolating the knots and simply shaving them off. However over the months, Luigi was beginning to look like a poorly hacked hedge. Far from the beauty that he was in his younger months. Grooming was no longer therapeutic-it was stressful.
So I had to relent and take him to a professional groomer, who took his fur down low – very low! I hated it. It was only because of his odd sideways walk to the left, that I knew that it was him.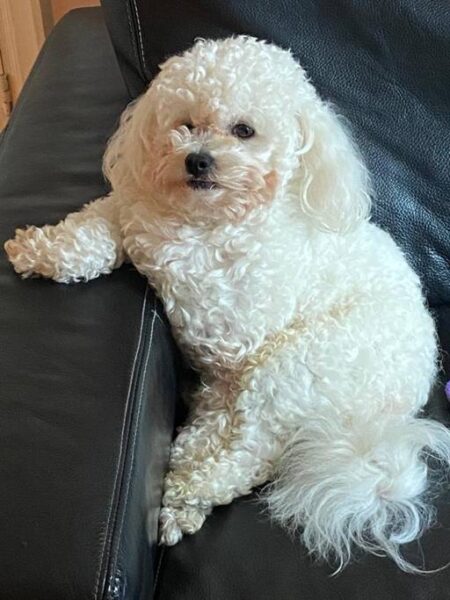 It has now been almost 4 months since Luigi was scalped. His fur is only just returning to its flocked look. I still maintain grooming twice daily and I use a metal teeth comb to pull through his fur, from the root. Focusing on his legs and on the top of his head. He still tugs if there is any sign of resistance, but I gently hold against the resistance of the comb and persist until the comb easily glides through his fur. Some natural serum sometimes help. I do hope that I can maintain his coat even when it grows to its original length. But if not, I will have to grow to love his not quite Bolognese coat. Or should I say- grow to love a distinctly short ruffled Bolognese coat.
Despite this – motherhood of Luigi is my unalloyed pleasure. Although he can be a beast when grooming, he's playful, extremely bright and endlessly adorable. My beauty! I feel enormously privileged to have such a fine handsome Bollie.
Antoinette Olivia TAYLOR
© 24 September 2021.