Good Turn Out for Kent MEET UP
We met at a new venue The White Hart pub on Sunday the 11th of July for a Bolognese get together. The pub was ideal, it had a big garden, lots of parking, was happy to accommodate us and managed to split the bill by each family, which really helped. We started to gather from about 11.30 and people enjoyed chatting and introducing themselves whilst the dogs became adjusted to being in a big group. First to arrive was Vikki & Greg with Enzo, who were followed by Kahwei & Julian with Enzo's sister Clara. Nice to see siblings getting on so well and appearing to recognise each other. We met Enzo & Clara at the Chiswick MEET UP 3 weeks earlier and they enjoyed it so much they were back again in Kent!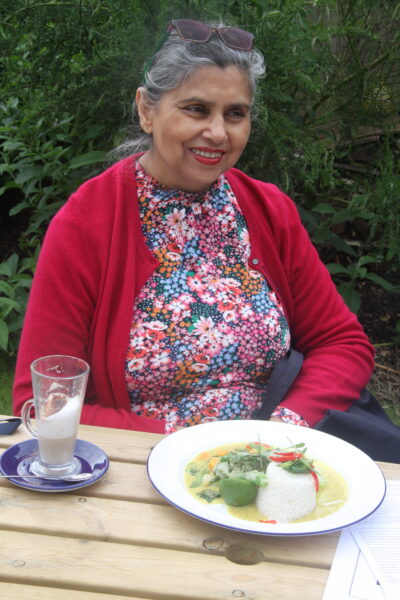 We were kept fed and watered by waitress service and the food & service was excellent. Amazingly and coincidentally there was a family dining in the garden with their little Bolognese Charlie. Charlie's owners couldn't believe all these Bolognese were there and joined in the group picture. The pub also asked for a copy of the group picture, so I think they thought it was a bit special too. We had a raffle where everybody won a prize, top prize went to Carol Martin. After the raffle & group photograph, Bronte from the pub judged the Prettiest Girl Bolognese, which went to Fizz Hegarty, the Handsomest Boy which was Max Whateley and the Best Hair which was Gianna Irvine.
We then gathered in the car park for a walk down the road to Knoll Park, which was only about 10 mins walk. The Park was amazing, mainly because of the deer which were free roaming and very tame. It was unreal to see these creatures so close, rather than in the distance or in the car headlights.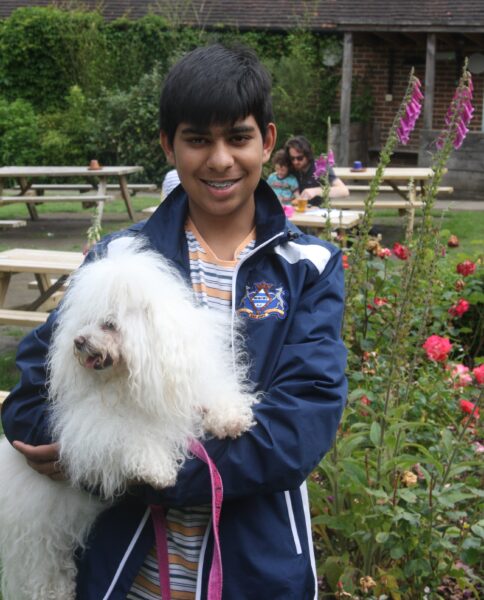 It was nice to see Paul Irvine and his lovely Neelu and son Khushie who has grown so tall since we last saw him. Paul owns Bolognese Minnie and Gianna who are in full coat and looking great. Diane & Mark Whateley from The Midlands were staying locally in their amazing luxury mobile home, so were able to bring their 4 Bolognese Max, Cara, Amy & Bella, bringing the numbers of dogs up to a group of 13, plus extra guest Charlie. Diane makes lovely bow clips for her 4 dogs, so they always look that bit special.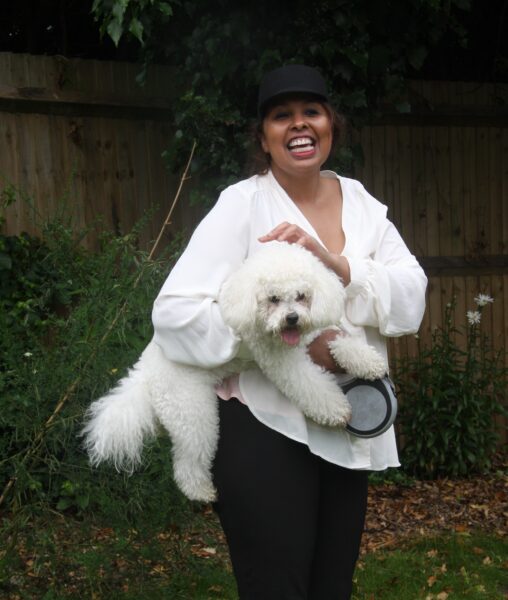 Sagal Omar also from London brought her daughter and Bolognese Indie. Sagal's daughter seemed thrilled to meet all the Bolognese. Carol & Gary Martin from London managed to make the journey with their pretty Bolognese girl Florence and Jennie Hegarty enjoyed the day with Fizz. Harry & his mum Lily blended into the group as well, enjoyed the walk and were very tired when they got home!
Thanks everybody for coming to Kent. As a new area for a MEET UP, we expected it to be a small affair, BUT surprisingly it was a large group of Bolognese and very successful event. It's nice that we have a list of good venues now and can alternate in The Midlands, West Country and in London/Kent. We find August too hot for a MEET UP, but plan one in Somerset in September/October, so watch that space for that date and venue. If you would like to arrange one in your area and know of a good place, do get in contact and we will help arrange it for you.
More pictures from this MEET UP can be viewed at our Facebook Page www.facebook.com/BologneseDogClubUK