by Melanie Thomas
Bolognese day at Crufts was Thursday the 5th March 2020. We were unsure as to whether Crufts would actually go ahead because of the Coronavirus. Uncertainty loomed right up till the Monday before, but thank goodness, it was still on. There was less hand shaking and hugging going on and the use of hand sanitising gel to help minimise risks. We were first in the ring at 9am, making for very early starts and overnight stays for many exhibitors. It did seem quiet round the ring and there was a distinctive lack of visitors round the benches. Unusual for Crufts where usually there are lots of people asking about the dogs and taking pictures. As The Kennel Club don't allow dogs to leave the show until 4pm, there were lots of tired Bolognese owners as the day progressed. A press release from The Kennel Club said that people from Northern Italy had their entries returned and their entry fees refunded. Looking at the catalogue, there were only a few exhibitors absent and they were from the UK. Lyn Glover entered, but did not come, Peter Haig entered, but was poorly, Chris Thatcher came, but did not show her dogs. In the end there was a nice bunch of Bolognese exhibitors present and showing started on time.
Our judge MRS B MULLER from SWITZERLAND is known to prefer dogs to be natural without the obvious use of powder or laquer. Competitors were aware of this, but still managed to present their dogs really well. Our judge was  charming, professional and thorough and we had a lovely steward looking after us. The ring was large and carpeted, lovely to show in. All dogs were happy in the ring. It was nice for exhibitors to meet up again with their regular show buddies and those that they do not see too often.
Tina Schwarz and her husband exhibited from Berlin gaining 2 second places with their immaculately turned out dogs. Even with the language difficulties Tina and her husband are always hospitable and good company. Carolien Jongejans came from The Netherlands winning the Junior Dog class with her youngster MERLIN VAN HET BALGZAND, she was also the breeder of the Reserve Best Bitch KAYLO V H BALGZAND 'Lucie' owned and showed by Karen Golden. Surprisingly there was one dog from Italy shown owned by Mrs Carla Perondi CH GIOTTO DI CHIESANOVA who was 2nd in Open Dog and Reserve Best Dog.
As is often the case at Crufts, there were a low number of Bolognese Puppies. Best Dog Puppy and Best Puppy was CLYNYMONA SHARLARNA'S GOLDEN BALLS owned by Virginia Dowty and Best Bitch Puppy PHENDELLE EIDA AVRIL MAY owned by Hillary McArdell. Bette Hopkins showed her veteran STROPHAIR LUIGI who looks great as he approaches his 12th birthday, Luigi took home a 1st rosette. A few interesting facts from this year's Crufts – Best Puppy Bolognese was the son of the BOB Bolognese and our Best Bitch was from the Veteran class, there were 4 bitches from the same Enjanicka litter being shown Florence, Caro, Fizz & Bijou 3 of which won their classes.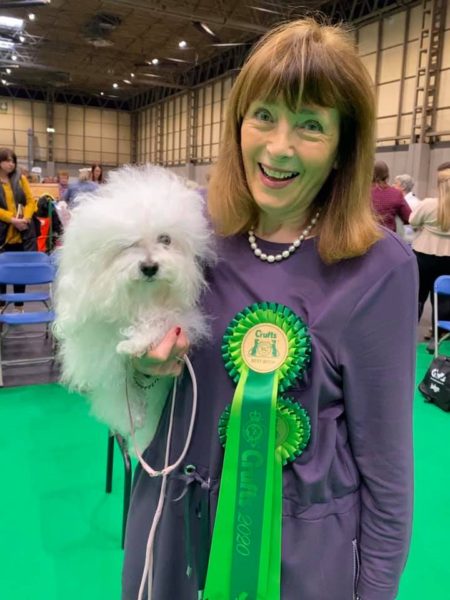 Best Veteran & Best Bitch went to Greta Franklin's girl STAREXPRESS ITALIAN SKIES. How lovely for an older Bolognese to achieve two top honours this year. I was pleased that my 18-month old boy BELSTOWN HARRY THE POTTER won Post Graduate Dog with his mother Belstown Grace's Carol 2nd in the Veteran Bitch class and his sister doing well in the Post Graduate Bitch Class. Limit dog was a larger class with Greta Franklin's STAREXPRESS ITALIAN DREAM taking the 1st, JUN WW/GER/HOL/HUN JUN CH DONOCIELO MARCELLO owned by Mr & Mrs Schwarz 2nd, Fay Walkers AEMILIA'S ROBERTO 3rd, Caroline Cockwell's DEVONIA'S LUCCA 4th and Peter Pipta's DANTE BEL DIAMOND VHC. We don't see Caroline or Peter that often at shows, so it was nice for them to have such good results. Open Dog winner IR CH/HUN CH LAFFORD HERO owned in partnership by Virginia Dowty & Adam Davidson was also BOB.
Virginia's granddaughter Izzy, aged 11-years qualified for the YKC finals at Crufts and did really well to come 3rd handling Otti. The YKC classes are very competitive and there is a lot to remember to get to the top, so well done goes to Izzy, she has a great future ahead of her as a handler.
In the Junior Bitch class TUMBRIL TICKETYBOO owned by Caroline Fabian took the 1st place, Tina Schwarz's LITTLE WHITE WONDER VIVIANA GINA DEUTSCHER JUG CH 2nd, Hilary McArdell's LITTLE WHITE WONDER VERONICA GINA AT PHENDELLE 3rd. In the Post Graduate Bitch Class Caroline Fabian's ENJANICKA TOSCANA TI AMO TO TUMBRIL took the first place, Deana Mee & Hilary McArdell's LITTLE WHITE WONDER TOSCA STEFANIA was second, Mr & Mrs Whateley's BELSTOWN BELOVED AMEE AT ARKADIAN 3rd and Mr & Mrs Fuller's RHOSYNANGEL CERYS took the Reserve place. The Limit Bitch class was a good sized class of 7, Jane Towers took 1st with ENJANICKA TOSCANA MIO CARO, Hilary McArdell 2nd with PHENDELLE FLAMINGO FLING, Mr & Mrs Whateley 3rd with BELSTOWN BELOVED AMEE AT ARKADIAN and Mr & Mrs Fuller Reserve with RHOSYNANGEL SEREN.
Open Bitch was also a nice class with Karen Golden's KAYLO V H BALGZAND SHCM winning and also taking the RBB award. 2nd and 3rd in Open Bitch went to Virginia Dowty with CLARCHIEN ROCK WITH YOU and then IR/DUTCH CH CLYNYMONA JO I'M ALONE. Greta Franklin's STAREXPRESS MYSTERY GIRL was Reserve in Open Bitch and Mr & Mrs Mulligan was VHC with DONOCIELO CASSIA. Jennie Hegarty's girl ENJANICKA TOSCANA AMORE MIO won Good Citizen and Bette Hopkins ENJANICKA TOSCANA TI ADORO was 2nd.
We didn't have the Bolognese picnic this year, first time for years. It was my birthday, so we had some birthday cake. Even without the picnic, it was a sociable event, we are a small enough breed for people to get round and chat to each other. After the judging we got permission to take a group picture in the ring, but we had to be quick as the next breed were keen to get in! Thanks goes to Dennis Mulligan for a great group picture again this year. When we were doing the group picture there must of been a Daily Mail photographer about as later that day a picture of us was unloaded on Daily Mail online. The photographer didn't ask about the breed, so it just said ' What a bunch! Owners with the same breed of dog pose for a group photo on the first day of Crufts'. Still, lots of people must have seen the photo of the lovely Bolognese.
Crufts is tiring, but exciting and it's all over for another year. Well done to all exhibitors and congratulations to the winners. We have a whole 12-months now to prepare for 2021, who knows what that will bring!
Melanie Thomas