Well today, Tuesday 3rd May 2022 marks a very special day in the Morley family as our amazing little darling boy Chico turns 16 years old! As all our fellow Bolo owners will know, your little white balls of fluff soon find their ways deeply and permanently into your hearts the minute you set eyes on them, and that is certainly true for our Chico. He is the most loving, happy go lucky, warm, affectionate and gorgeously kind hearted dog a family could ever wish for.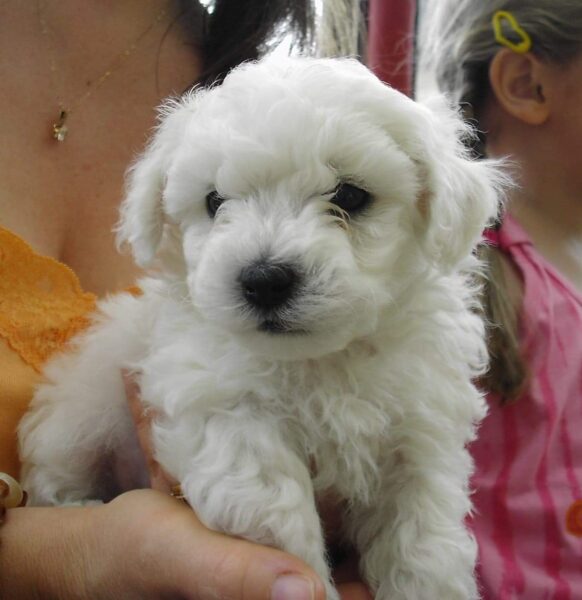 Chico was born on 3rd May 2006, one of a litter of five; three girls and two boys. I remember receiving the first pictures of Chico from Chris and Brian (Devonia Bolognese) and meeting him for the first time, we instantly fell in love, and our love has just continued to grow ever since. A lot has happened in 16 years. Barack Obama became the first black president in US history, the UK has had five prime minister's, the first iPhone came out (yes we still had to press buttons on a keypad back then!), to name but a few. But closer to home, my sister Paige and myself have grown from being the tiny kids getting their puppy to fully grown adults, our parents have celebrated their silver wedding anniversary and Chico has been there through it all. And despite a few health challenges in recent years, we are so thankful that Chico continues to thrive, even more so since we welcomed our gorgeous puppy Luna (who is actually Chico's biological niece) into the family.
Luna gives Chico no choice but to be always on his A-game!! Yes, he may not spring in the air quite so high as he once did, but he still puts us all to shame with his amazing happy, bouncy personality and absolute zest for life. It's a blessing that you came into our lives 16 years ago little man and a bigger blessing still that we are here, still doing life with you, 16 years later. Here's to another year of loving you, you gorgeous pup!
Michelle Morley
(written by Michelle's son Lewis)