A Break in The Weather For Chiswick MEET UP
We had so much rain leading up to the Chiswick House & Gardens MEET UP on the 20th June 2021, but thank goodness it cleared that morning. Although a little wet underfoot, the weather was ideal for dog walking. Last time we were there is was too hot! The park is truly a gem in the heart of London, local people are so lucky to have it. There were many dogs of all kinds walking in the park and there was a great friendly atmosphere.
A few people didn't come in the end as they were worried about the weather and some had commitments as it was Father's Day. But we had a lovely group of Bolognese and owners on the day. We met at the cafe at 11 and first to arrive was Kahwei Ng with Julian and her daughter Jessica. Kahwei brought their puppy Clara who was soon to meet her litter-brother Enzo who also came to the MEET UP. Enzo is owned by Vicky Anderson, husband Greg and daughter Lily. Clara & Enzo were 8-months and very sociable well balanced puppies. Enzo was wearing his red bowtie with matching harness. Enzo & Clara's breeder Deana Mea was there to be reunited with her puppies.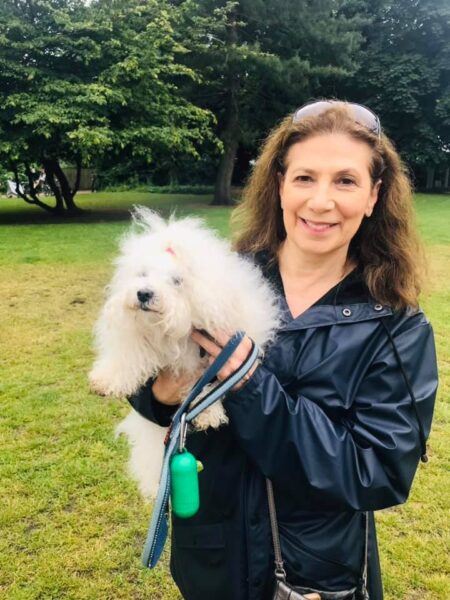 Tina Vadaneaux, who lives locally, brought her 7-year old Bolognese. Minty visits the park often and she must of been surprised to see so many Bolognese and get so much attention! Maria Caridi lives in West London and she brought her lovely Bolognese Lui. Maria has found a really good groomer for Lui and his coat was full and thick and looked impressive. Maria said she is asked all the time about Lui when out walking in London. However, Lui decided to walk right through a big muddy puddle! Jennie Hegarty came from Guildford with Fizz to find that she lives in the same town as Enzo's owner, so they plan to meet up for a walk some time.
Mario and his daughter Lily came with Luigi, who is a Bolognese male who has been particularly attracted to little Fizz on this, and other, London MEET UPS. Luigi always seems to have a smile on his face and be on a mission. My Harry and his mum Lily came along too making 8 Bolognese in total.
We took some pictures in a couple of locations and were 'picture bombed' by a miniature shih tzu, who didn't want to be left out. We took a short walk by the river and were amused by a cheeky squirrel that teazed the dogs through the railings. Meeting this way is so different from meeting at shows as we can see our dogs interacting in a natural setting.
As the weather had been wet, the cafe was not too busy, so we managed to get tables together. We had a FREE raffle/draw and everybody wont a prize. Top prizes went to Maria and Deana. We asked a lady called Sharon who was sat nearby with her Weimaraner to judge our few fun classes. Best Puppy was Clara, Best Girl Lily and Best Boy Enzo, all winners were awarded a prize and there was lots of cheering and clapping. Overall it was a great day to treasure in the most lovely setting and owners and dogs all seemed to have fun. Thanks to everybody who took park and see you again next time.
More pictures can be found on the club's Facebook Page www.facebook.com/BologneseDogClubUK
Our next MEET UP is near Sevenoaks in KENT on Sunday the 11th of July, watch Facebook and the website for full information