Paddington WINS Best in Show
Pedigree Puppy Class
We really did have a good day on the 21st May 2017 for the clubs 2nd Companion Show held under licence from The Kennel Club. The Village Hall in Sutton Benger was perfect and the outside space was large and just the ticket. We had 2 rings outside and stalls outside too. The registration was just inside the doors that opened out onto the field and everything we needed was there. Chris & Sean were busy on registration and we had 132 entries. The weather was dry and mostly sunny with a light breeze, so just about perfect dog show weather. The atmosphere was relaxed and the open space and bright day really helped.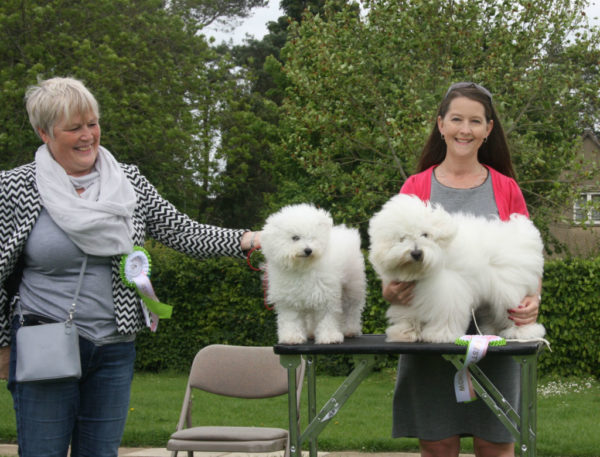 BP Dave & RBP Hector
In the Pedigree Ring the quality of the dogs was very high, there were some very promising puppies, sprightly veterans and generally quality dogs for a Companion Show. Daphne Fielding awarded Best Puppy to Dave the Coton de Tulear owned by Claire Hancock, Reserve BP to Jane Towers Bolognese Hector.
Paddington, Jan & Judge Daphne Fielding
BIS went to Paddington a Coton de Tulear owned by Jan & Ken Scott and Reserve BIS to Hector. 1st in the Havanese Class was Bailey owned by Nicola Westgate. We had fair entries of Bolognese and Havanese and excellent entries of Coton de Tulear. so there were plenty of coated white dogs at the show!
One of many fancy Dress entries
The Novelty ring was fun especially the Best Trick and Fancy Dress classes and VET Sian Naylor took her time and had a really good look over the entries. We had a representative from our nominated charity PETS AS THERAPY as well as the Local Assessor. It was lovely to get to know club member Beth Symmonds who enthusiastically took charge of the raffle, Beth brought her 2 Bolognese. Glenys and Peter Haigh brought their 3 Bolognese and entered as many classes as they could. Glenys daughter and Glenys granddog were there too all the way from Wales.
Beth doing the raffle
We have enjoyed many positive comment since the show, Claire Hancock really enjoyed her day saying, "A huge thank you to Melanie for organising the event, you and your team should be proud as everything ran efficiently and smoothly, well done." Thanks also to Ken Scott for his kind comments, Ken said "It was a well organised show, we had lovely weather and fabulous company. Thank you to the Bolognese club for the friendly welcome and allowing us to have a class of our own".
Hanna Lyall arrived early with her Rough Collie and was excited about the show, she won lots of rosettes, but the icing on the cake was when she won Best Adult Handler, she was over the moon! It was lovely to see such a bond Hanna has with Khaleesi, the pleasure the dog brings her and the work she obviously does to train her. Vikki Marshall was our handling judge and she had lots of entries in the Adult Handling which was great to see. The club was really grateful to Nick Towers and Sandra Mistlin for stewarding and for Brian Thatcher for all his hard work setting up and clearing down the show.
Sadly Annie Redman's car broke down on the M4 and they had to call the RAC to be towed home and in the afternoon they had to buy a new car! So Annie, Dave and their Bolognese Teddy did not make the show. Sadly Paul Irvine, Minnie & Gianna could not make the show in the end as his son was getting over a chest infection.
Adam Marshall aged 11, was a great help as a runner and selling the 'guess how many biscuits in a jar' competition which raised a few extra pounds. Ellie Thomas was working hard in the kitchen, with her friend Rowan. Chris organised a brilliant lunch for judges and stewards which was enjoyed whilst Brian and Sean cleared up!
There is an album of pictures on our facebook page at www.facebook.com/BologneseDogClubUK.
Here is a small selection of pictures from the show
Some of the Havanese & Coton de Tulear
BIS & RBIS Novelty Classes with judge Sian Naylor
Hanna Lyall & Khaleesi in the Best Trick Class